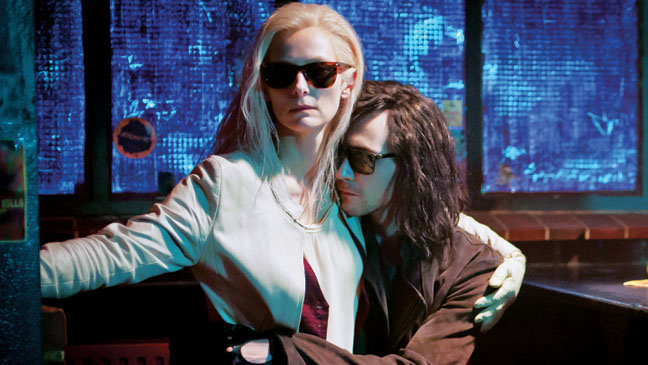 Have you ever seen a romcom vampire movie? Well here it is. Seven years in the making,
Only Lovers Left Alive
is the new Jim Jarmusch movie that his fans have been waiting for. The iconoclastic American original has insisted on doing things his way ever since his genre-busting
Stranger than Paradise
catapulted him on the international stage in 1984. Opting for a Euro-meets-Japanese-meets-American perspective on storytelling that's part avant-garde and part B-movie, Jarmusch's uncompromising ways have earned him international recognition, including numerous accolades at the Cannes Film Festival.
So what's the big deal about
Only Lovers Left Alive
? Known for a meandering style he has honed through 10 feature films over 30 plus years, Jarmusch changes it up a bit in his 11th, embracing a more focused story-telling approach where tone and mood and camera and music all blend into a seamless whole without losing the cool that is the Jarmusch brand. And it all works and comes together in a wonderful way, the lighting, locale and cinematography pulling you thorough the film like its own plot line.
The titular lovers are vampires, erudite, sophisticated and beautiful as Adam (Tom Hiddleston) and Eve (Tilda Swinton). Appropriately bathed in darkness, they're vampires living off fresh blood procured from a mercenary lab technician (Jeffrey Wright) and an old friend with impeccable contacts (William Hurt). Adam's a reclusive rock star in love with analog, tape decks, vinyl, tinkering with electronics, a composer of dirges written both for himself and the city of Detroit, its desolate dystopia seen from a car moving through the night. It's as powerful a presence as exotic Tangier, home of his female counterpart Eve, an aesthete as much in love with life as he is with death.
Survivors in an age of tainted blood,
Only Lovers Left Alive
is an allegory about AIDS and drugs, the battle between creative drives and physical needs. Jarmusch's lovers are like aging hipsters who have lived too long. Having seen it all, it's hard for them to accept the fall, friends like Plato, Byron, Keats and Shelly gone and forgotten by most, the culture that sustained them like the blood they crave now in short supply.
Mia Wasikowska and Anton Yelchin are delightful diversions, pulsating counterpoints to Adam and Eve, providing a spark of life to the prevailing morbidity. But only diversions, minor players in the eternal saga, a creation myth where the original sin is repeated over and over again.
Swinton and Hiddleston inhabit their roles so fully, it's difficult imagining anyone else as Adam and Eve, doomed to live in a decaying time. We're in the hands of a master at the top of his game from the opening scene of a spinning 45 rpm record shot from overhead, the camera turning along with the vinyl, to the very last shot of Adam and Eve, survivors to the very end, the
Only Lovers Left Alive.

Only Lovers Left Alive
opens today in New York City,