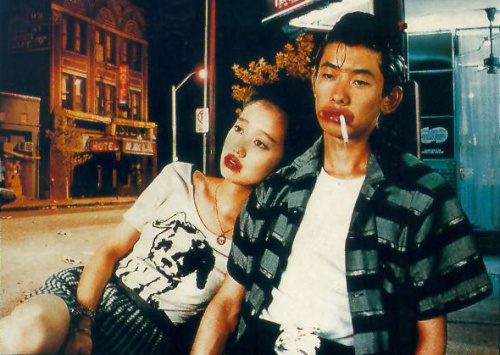 Out on DVD this week is
Mystery Train
,
Jim Jarmusch
's fabulous 1989 film set around a seedy hotel in Memphis with three separate shaggy dog stories tied together loosely by a gunshot. One is about a young, hip, Japanese couple who have come to see Sun Studio and Graceland. Another, about a woman waylaid overnight (with her husband's body in a coffin at the airport) who is visited by the ghost of Elvis. The last about a drinking British hothead, upset over his girlfriend leaving him, who involves his friends in a robbery and shooting at a liquor store. The late great
Screaming Jay Hawkins
plays the red-suited night clerk of the hotel and
Cinque Lee
is the dozing bellboy, and
Steve Buscemi
is a riot as a hapless barber. The film is luminously photographed by
Robby Mueller
, and there is a funky, deadpan humor and wit to the movie that always leaves me violently ecstatic every time I watch it. The DVD looks spectacular and there's a segment from a documentary about
Screaming Jay Hawkins
as an extra that is not to be missed. Plus, in lieu of audio commentary,
Jim Jarmusch
answers many questions about the film.