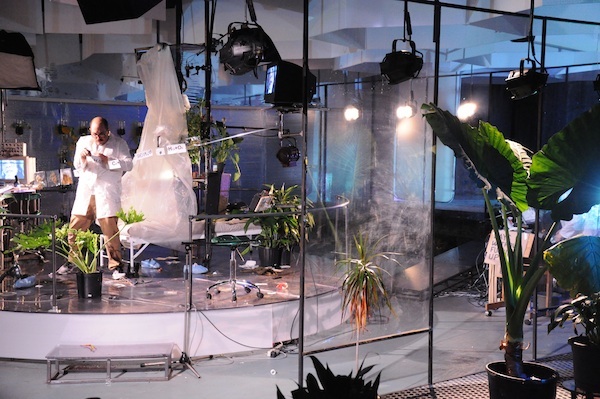 Writer/director
Jim Findlay
, co-founding partner of the seminal experimental theater group,
Collapsable Giraffe
, premieres his futuristic black comedy,
Botanica
, co-written with
Jeff Jackson
. The cast of three finds themselves sealed in a human terrarium, surrounded by hundreds of live plants. Creator/designer Findlay has been on the scene for years, working extensively with the Wooster Group since 1994, and Ridge Theater and Bang on a Can since 2001.  I spoke with Jim, a long-time friend.  
Hi Jim.  I'm a plant lover myself. What have you got for us?
It's about plants and people, and their relationship to each other; and how maybe there's something wrong with this relationship. 
How did it come about?
It started with this idea of wanting to make a show in a human terrarium.  I had a dream that Liz Sargent (one of the actors in the show) was in this terrarium, with plants covering every surface.  I woke up and knew that was the next piece I wanted to work on.  I was also interested in French surrealist literary pornography, and I had the idea to mix them together. 
It sounds like you have an amazing setting for the show.
It's three people trapped in a terrarium filled with 200 live plants.  There are two researchers who are investigating plant sentience, trying to figure out how plants communicate with each other and if they can communicate with humans. They find out some surprising things, but their research leads them down a rabbit hole. They think they understand what the plants are saying, and they may have it wrong.  And while the research is happening, the third character, the plant caretaker, is conducting a torrid love affair with his favorite plant. 
Is it the caretaker who reads literary pornography to his favorite plant?
If you love a plant, it might be a one-sided relationship. 
Tell me a little about the two researchers.
There's a lot of conflict between them, a man and a woman who have a romantic history.  It gets subsumed into their scientific work, until it becomes a part of that work, with unfortunate results, for the relationship and their work.  
So how does the play progress?
Basically, the first part of the show deals with experiments that they do on the plants, to see specifically if they can talk; the scientific approach to tap into the way plants speak.  And to answer the questions: Can we hear it?  Can we understand it?  Can we communicate with them?  Then this effort goes severely awry and backfires. 
I've spent time with plants and gardening myself, and I've found that working with the soil and growth every day to be a great restorative.
I believe in the power of plants, too.  My relationship with plants has changed since I've worked on this project for two years.  And now that I've started to know some plants on a personal basis, it's changed who I am.  The play didn't come out of a long-term relationship with plants.  It came from a dream, and then I learned about different plants and their personalities.  I've got quite a few individual plants that I have a relationship to. I've got to the point where I can assign personality to certain plants; this one is difficult, this one is happy, this one is crabby.  I think they all have personalities.  You just have to be patient.  They'll tell you who they are if you listen. 
3LD Art & Technology Center, 80 Greenwich St., (800) 838-3006. Jan. 28-Feb. 25. 8 p.m., except Jan. 29 & Feb 19, 7 p.m. $20. More info here.