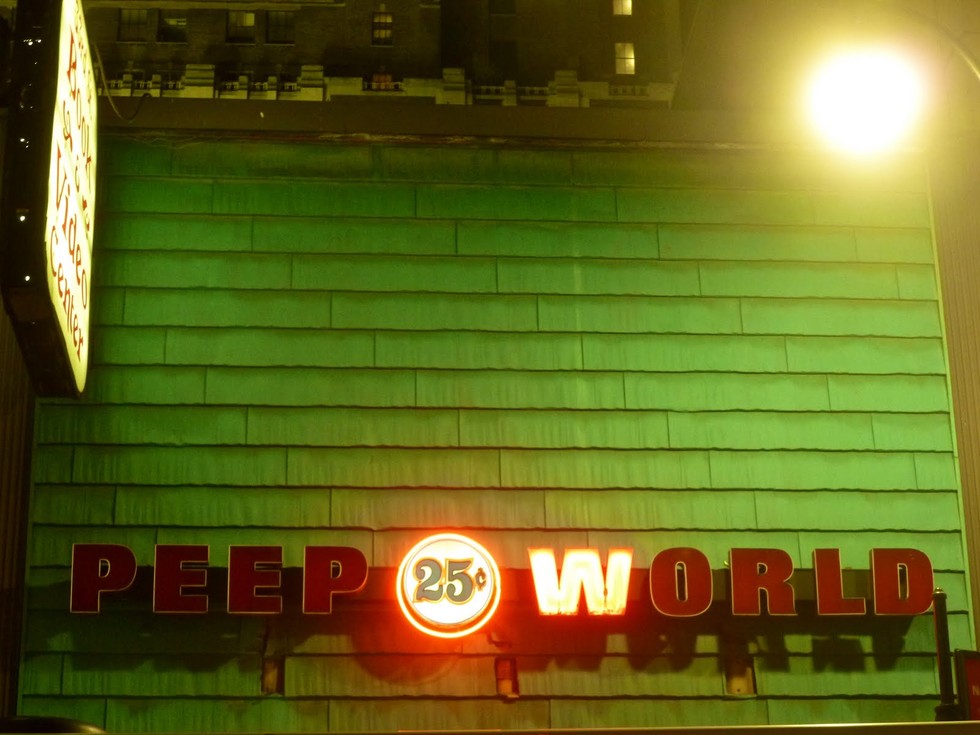 This week
Jeremiah's Vanishing New York
, a "Bitterly Nostalgic Look at a City in the Process of Going Extinct," lamented
a Hooters moving into the old Peep World space
on West 33rd Street.
Jeremiah Moss
talked to us about what's wrong with that and singled out a few other businesses in peril.
I've been reading your blog for ages. Who are you? Jeremiah Moss is a pseudonym, right?
True.

Why are you so secretive about your identity?
In the beginning it had to do with protecting my work.There's always a news item about somebody having a blog and getting fired and I don't want to deal with that.
Where are you from?
You want to talk about Hooters or what? I'm originally from New England and I've been in New York about 20 years.
Okay, have you ever been to a Hooters?
I was at a Hooters in Texas.
Why?
I was there and I thought, 'I've never been to a Hooters and I should check that out.' In Texas it seemed like a funny thing to do. I guess there was some irony in it. I like things where they belong. Hooters in Manhattan -- it doesn't belong there.
Did you ever go to Peep World?
Yes.
Out of irony?
No. It was a real New York experience. That building was originally a Horn & Hardart
Automat. In the old Peep World there were live girls upstairs then Giuliani sort of shut all that down. Peep World in its last days was mostly about sex toys and videos and peep booths. It had this really weird entrance attached to a newsstand so you could enter from the street or if you were being furtive you could enter through the newsstand. The secret doorway added to its mystery.
And now it will be a Hooters.
DNA Info has that story. Hooters applied for a liquor license in July so that's how we know. Hooters considers themselves a family restaurant. They have a children's menu and children's gear like onesies saying 'I'm a boob man.' I find it really creepy when babies are sexualized like that. I get that babies are breastfeeding and all that. Then there's 'Your Crib or Mine?' The waitresses wear these short shorts and cutoff tops and have large breasts, a Barbie doll look, a Playboy magazine veneer about them, a very air-brushed, silicone-injected, plastic-molded idea of femaleness and what is sexy for an audience of middle-aged American frat guys. It's very much a sports bar with big screen TVs. That's not New York City. That's fine in Texas, in Tennessee, in Clearwater, Florida where it came from. It's another global corporate chain like 7-Eleven or Applebee's.  
The city used to change in a way that kept a certain equilibrium. A mom and pop grocery would go out of business and be replaced by a mom and pop Laundromat. Or one immigrant group moves in and then moves out to Queens and another immigrant group takes their place. These spaces were always accessible to people who didn't have a lot of money and they'd be an asset to the neighborhood. We need Laundromats and grocery stores. When small businesses are run out because rents are skyrocketing, because somebody's bought their property and is going to put in an IHOP or 7-Eleven or a chain bank, that's a major catastrophic change for the city. Two things happened to bring it about: Bloomberg and 9/11. Bloomberg makes no bones about calling New York City a luxury product. He bears a lot of responsibility for it. With 9/11 it's more nebulous. On 9/11 the city became America. Before, New York was always seen as separate. People thought it was full of communists and queers. Now we're all one. I saw this influx of people who came from other places but didn't want to become New Yorkers. They wanted to turn it into the suburbs and didn't want to assimilate. When Hooters comes in, it's what New Yorkers want. It's something I can't get my head around. Why would you come to New York and try to make it into the place you left?
I thought it was tourists going to these chain restaurants, not New Yorkers.

It's New Yorkers. I can't tell you how many arguments I get into in my comments section, how many people say they love 7-Eleven and have been living here for five years. That's what makes these chains so successful. There are no surprises, they're safe. Since 9/11 we want to feel safe and secure, no scary surprises around the corner.
What's been the most heartbreaking loss for you recently?

There's one that didn't get any attention, Lascoff Drugson the Upper East Side. It was this gorgeous drugstore that looked like a cathedral and had been around for 100 years. It had all these apothecary shop artifacts, jars with labels that said leeches. One day it was gone, all these beautiful architectural details ripped out of it.
What is it now?
It's empty as far as I know.
What about Mars Bar and Holiday Cocktail Lounge?
Those were great losses, absolutely. It's about losing a place with history. Holiday was where Auden and Ginsberg hung out. At Mars Bar artists could show their work. These places were welcoming to people who were creative and marginal. These people are being run out of the neighborhood. What's left in the East Village is frat boys and bachelorettes and they're screaming and drunk.
What places are you worried about now?
I worry about Ray's Candy, of course, and all the bookstores. I worry about Hector's diner in the Meatpacking District and Manatus diner on Bleecker Street. They are an endangered species in hostile territory.