Put simply, Jefferson Hack is a publishing trailblazer. The Brit founded the indie fashion and lifestyle mag Dazed (formerly Dazed & Confused) when he was 19, along with photographer, close collaborator and fellow London College of Printing student Rankin, and has since gone on to found the titles AnOther and Another Man and the video channel Nowness. We spoke with Hack about his storied career in the business and his new book We Can't Do This Alone: Jefferson Hack the System, a "radical manifesto for independent publishing" that includes contributions from the likes of Tilda Swinton and Björk. On the occasion of Hack's new book and Dazed's 25th anniversary (the magazine just revealed one of the anniversary covers featuring a stunning Pamela Anderson), we talked to the editor and publisher to learn a bit more about his early beginnings (the late photographer Corinne Day's knickers included) and his vision for the future of independent publishing in the digital age.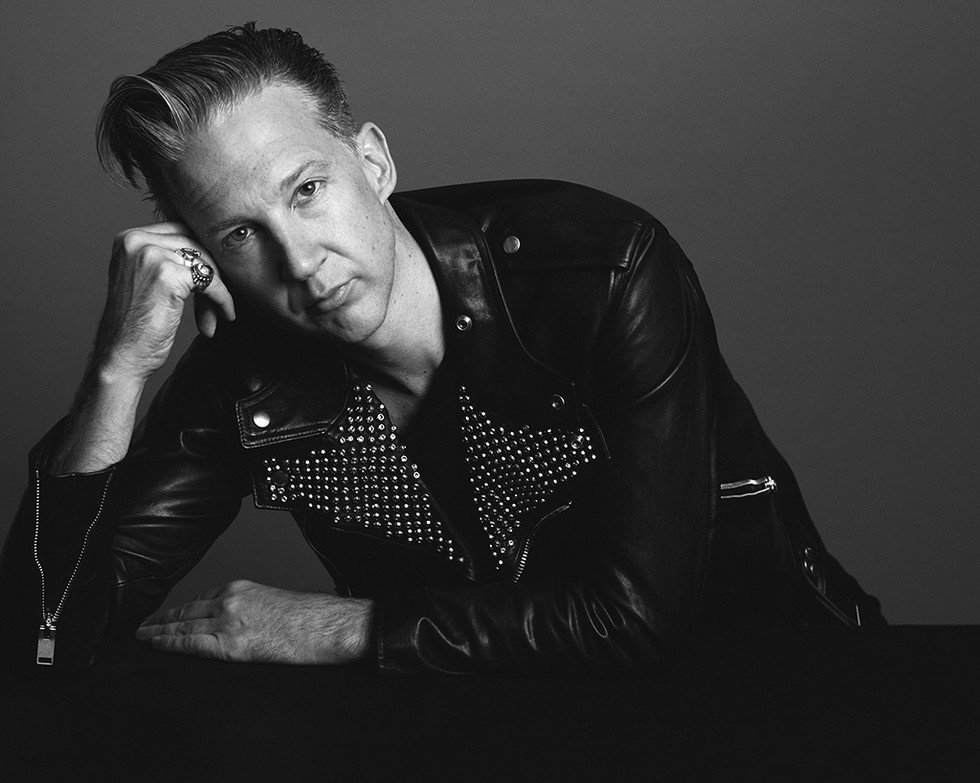 Hack wears a jacket and t-shirt by Saint Laurent and rings by The Great Frog
You've just debuted your new book, We Can't Do This Alone: Jefferson Hack the System. Can you tell us a bit more about it?
The book is a collection of my past projects with new interviews and new artwork, so it's a hybrid of past and present … I realized that I sort of sit between worlds, in this liminal space between disciplines. I wanted this book to be able to share that point of observation that I have. [In the book], I talk to some of my key previous collaborators -- people that I've worked with over the years, like Björk, Tilda Swinton and Hans Ulrich Obrist -- and ask them for their perspective on the work that we've done together, and help them join the dots on what it means to be independent, what it means to curate, what it means to be part of a cultural resistance movement.
What does this idea of a "cultural resistance movement" mean to you?
In the book I interviewed Tilda, and I said, "Let's get a little bit deeper in defining what I think 'cultural resistance movement' means, as it's something I borrowed from you. I always thought of a cultural resistance movement as us publishing in resistance to the mainstream media." The way [Swinton] was defining it was, "You don't have to define yourself in relation to an other. You just define yourself in relation to your own truth." And that is true cultural resistance, because then you're able to be stronger because you're not defined by an other, you're defined by who you are. It links directly to a sort of independent way of publishing, which is that we own our own voice, we own our own media, so we only are really in competition with ourselves.
You founded Dazed when you were 19. How did you manage that? Did you have investors or external support?
We never had any [investors] because no one ever believed in us, and we never knew how to put a business plan together, or pitch or do any of that. So it came from a very pure creative place, and we started the magazine as a fanzine, and we sort of sold an ad per issue to pay for it. And there was a commercial reality to it, but it was very naïve.
We were quite arrogant when we started, and I think part of that was naiveté. With Dazed, we made every mistake you could ever make. We missed deadlines. We pissed advertisers off. We printed things like Corinne Day's bloody knickers in the magazine and pissed off loads of advertisers that wouldn't come in. I wrote, "If you can't afford it, steal it," and pissed off all the distributors, pissed off the news agents. But we had the power of a collective ambition; we had a group of then young people to form this collective, Dazed & Confused … who all brought an incredible amount of energy to the momentum, and that momentum just propelled it forward.
What have been the biggest changes since you founded the publication?
I'm really proud that we're still independent, that we have a controlling ownership and that the people that work at the magazine are in a sense controlling the destiny of the magazine and its voice. That's huge for me, because it means that it authentically represents what we're feeling intuitively about what's going on in culture. I feel incredibly grateful that the baton can be passed to a new and exciting era for Dazed, and that it still exists and that it's still cutting [edge]. I feel blessed. What's changed the most is that I don't contribute, I don't write for it, I don't edit. I just create the conditions for their creativity to flourish. And I protect their space and encourage them to be the best they can. They channel the ethos and the spirit, but for their times. It's their magazine, not mine. It's got nothing to do with me anymore.
Dazed is a real powerhouse now. How do you ensure that as it grows, the magazine maintains its independent spirit?
I banned the word "content" in our offices. We don't make content -- we make stories. Content just sounds like a unit of production. A story, by the very nature of that word, implies ... that there is an arc, and some sense of drama and enlightenment and some journey and some reward or question that you're going to be left with. When I was 12 or 13 and I picked up my first copy of Interview magazine … and I started reading incredible writers and journalists like Tom Wolfe and Ingrid Sischy, I was transported into this world of fashion and lifestyle and music, all through the pages of magazines. And those magazines were teleportation vehicles; they were able to transport me into downtown New York, into the culture, into the music, into the artistic milieu, into the bohemian lifestyle — all things I didn't have access to.
I think what I felt was a deeper understanding of the things I was looking for through the power of storytelling. And for me, any story, whether it's in print or in video, short form, long form or online, has to have that same touch. And if it doesn't, what's the point?
Styling by Peghah Maleknejad
Grooming by David Harborow at Streeters using Bumble and Bumble.