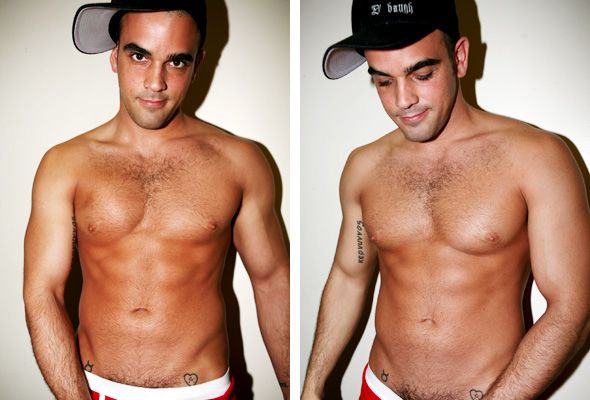 Hey there, and welcome to JD Ferguson Presents the Porn Stars, our feisty Friday feature in which JD interviews and photographs the hottest studs in the gay porn biz. This week, he took on Damien Crosse, Newcomer of the Year nominee and Titan exclusive, who is not only known for his beautiful endowment but also for his devilish eyes and innocent face. As one of the best tops in the industry, Crosse spent an afternoon with JD, who had one word to describe Damien's reputation-worthy piece: "UN-f-ing-believable.
Age: 25
Hometown: Miami, FL
Sign: Aquarius
Company you shoot porn with: Titan
Measurements: 8.5" uncut

What's the most memorable sex scene you've done and why?
Perhaps the one I've shot most recently for a not-yet-released Joe Gage film with Tyler Saint and Jesse Santana. Why? A urinal trough, outdoor sex and double penetration.

What's on your iPod?
Morrissey... even though his music is slightly less sexy, he's still one hot fucker.

What's on your bedside table?
The Gravity Bukket Bong... an ingenious accordion-like smoking device that I only use to smoke flavored tabacco.

How many MySpace friends do you have?
Over 6,000 and I know every single one of them personally.

What turns you on?
I'm a sucker for a hot stream of piss and a messy happy trail.

What turns you off?
Cologne, deoderant and cockiness lacking any entertainment value.

Lube: wet or glide?
I swear by Pjur Bodyglide... you gotta give it up to silicone.
What's next for Damien Crosse?
Even though I'm but six months new to New York, my boyfriend Angelo and I got our eyes set on Los Angeles. Being bicoastal would be hot, but we're not settling for anything less than transcontinental.
***
More "JD Ferguson Presents..."
Matt Cole
Tommy DeLuca
Ben Andrews
Luke Stevens
Zach Randall
Jason Ridge
Buck Angel