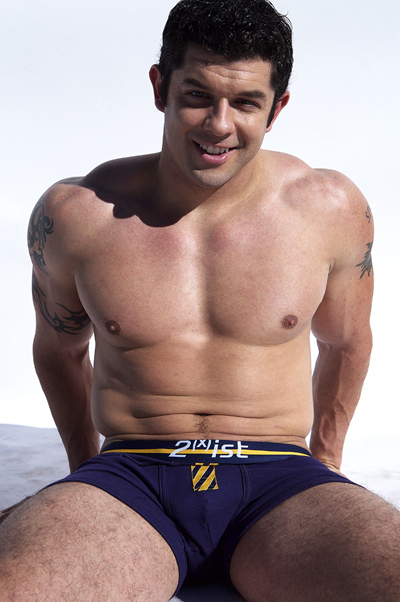 It doesn't get anymore L.A. "Adult Film Star" than Josh Griffin. After just a short six months in the business, this newcomer spends his nights entertaining the masses as a go-go boy and his days working towards finishing grad school. I've never met anyone more excited about doing porn than Josh. So without further ado, ladies and germs, I give you Josh Griffin.
What company you shoot for?
Primarily Channel 1 Releasing. I have two movies (Josh Vaughan's Best Men and Fuckin' Around (release set for Jan 2009); I have done one scene for Brent Everett and am looking to do some work for Steve Cruz.
Where are you from originally?
The great state of Texas... I can't figure out why so many industry boys are from there. Aside from me, there is my roommate Blake Riley, Cameron Marshall, Josh Vaughan, Guy Parker, Jesse Santana...
Are you single?
Yes, but have been seeing someone for the last month. We are taking it slow, so by the time this is published that may change!
What's the last song you downloaded?
Lady GaGa - "Poker Face"
What's in your refrigerator?
Leftover pizza, milk, water, turkey cold cuts and cheese
MySpace or Facebook?
Both! On MySpace I can be found through my email: jgriffinc1@aol.com. And on Facebook, I'm under "Josh Griffin."
What's your favorite food?
Comfort food: I love cheap old Kraft macaroni and cheese.
What's your favorite movie of all time?
Of all movies that I love my favorite one has to be Airplane!... Surely I can't be serious... I am serious and don't call me Shirley.
Most recent movie you saw?
Twilight. I really didn't like it... It was like Dawson's Creek with vampires. Really lame.
What's on your bedside table?
Oh lord! Ummm... strawberry flavored lube, my alarm clock and a lamp.
If you could have sex with any celebrity who would it be?
Male: Channing Tatum
Female: Reese Witherspoon
If you were trapped on a desert island who would you want to be trapped with?
The guy I am currently dating, because he is so intelligent, well-rounded, entertaining and of course the sex is amazing; Blake Riley because he's my brother and love him to death.
What TV shows do you watch?
Huge 24 fan... I have never missed an episode.
Cats or dogs?
Dogs, by far!
How are you staying warm this winter?
The guy I am currently seeing, of course!
What are you working on right now?
Finals for my grad school... Ugh it's a pain, but the end result will be worth it!
What's next for Josh Griffin?
Well I am truly hoping for an exclusive offer with Channel 1. I truly appreciate everyone there and so I really hope I can continue to work for Chi Chi and Doug. They bring an amazing element to all projects. Also I am looking forward to completing my Masters degree next winter.
What are your thoughts on President Elect Obama?
It will certainly be interesting to see how well he follows through on his campaign promises. So many politicians, both Republican and Democrat, campaign on the platform of change, of being different, adding a new element to Washington... So rarely do they. More often than not, things remain the same.
How, if at all, do you think Obama's election will effect the porn industry?
Hopefully it will allow 2257 to be reviewed, eased, and made more streamlined.
What's the background on your computer?
A black and white picture of my friend Mark handing me a drink at a club I was dancing at one night. Same picture as my MySpace background.
Where do you see yourself in 10 years?
Hopefully in a position where I am financially secure and able to live and enjoy life with minimal stress.
***
Previously on JD Ferguson Presents...