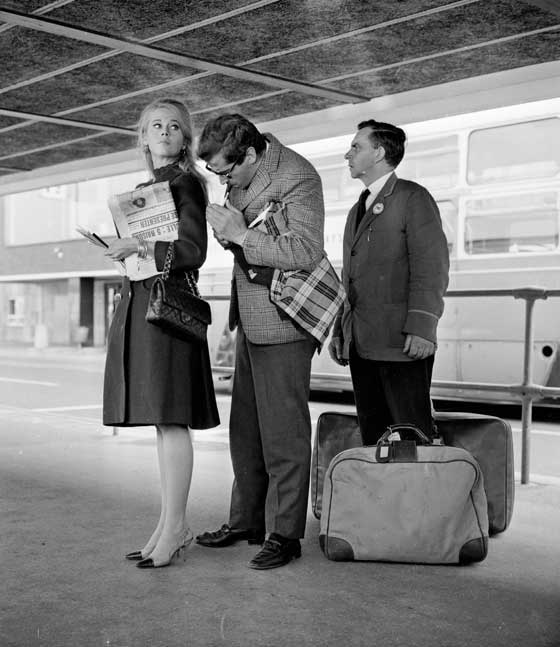 At 74, Jane Fonda is a legend. She's won two Academy Awards, made history as a progressive political activist and produced the number-one-selling VHS tape of all time, Jane Fonda's Workout. And she doesn't seem to be slowing down. In addition to guest-starring on Aaron Sorkin's HBO series The Newsroom, as the deliciously evil Leona Lansing, she will appear as Nancy Reagan in Lee Daniel's forthcoming film The Butler and has an ABC comedy in development called Now What?. Although she's forever linked with Hollywood, and calls Los Angeles home, Jane has always felt that France is her second home. Here, she details her lifelong love affair with la belle France.
I remember the first time I went to Paris -- I was 16. And that was the first time that I'd been to Europe. I was just blown away. The cobblestones, the color of the walls, the rooftops, the buildings along the Seine. Everything just touched my senses very deeply. At that point, I never dreamed about living there, but I loved it.
My father Henry Fonda was married to an Italian from Venice, Afdera Franchetti, and I think she was a baroness. She was very much a jetsetter and persuaded him to rent a home right on the edge of a cliff in Villefranche-sur-Mer, and we spent the summer there. Various people would come and visit, like Elsa Maxwell, Senator Kennedy and Jackie, Jacqueline de Ribes, Gianni Agnelli and his wife. It was pretty swank. We went to Picasso's atelier and we met with Cocteau. That was quite a summer. We drove from the south of France over the Pyrenees into Pamplona to watch the bulls run and Hemingway was there. We met Hemingway in a bar.
At that time, I was very, very, very shy. I kind of sat on the outside. Nobody ever went swimming. It was way cold in the Mediterranean and everyone was dressed -- in those days the particular outfit that people would wear was Pucci. Anyway, nobody ever went swimming and nobody ever included me, and then one day Greta Garbo showed up with a female companion, and she said, "I want to go swimming. Would you like to come?" And it was like, first of all, somebody saw me! Much less Greta Garbo. "Yes!" I said, and she came out in a terry cloth bathrobe and one of those serious white bathing caps, and down we went. And when we got to the very bottom she stood on the edge of the rock and dropped her bathrobe and she was naked! And what was so great is that she wasn't, you know, this wasn't Marilyn Monroe. She was not a Playboy bunny, she was an athletic Swede. It made me very happy that she was normal looking. She just dove right in. It was very cold, and I was more, like, dipping one toe in, slowly going in. By the time I finally got in and swam a little bit she had already gone about a hundred meters and turned around and had headed back and I found myself face to face with her. And that's when she said, "Do you want to be an actress?" I said, "No," and she said, "Well, you're pretty enough. You should think about it." And I think I swallowed a lot of water right at that moment. 
Later, after I dropped out of college, I went back to Paris to study painting. My stepmother tried to get me enrolled in a finishing school. I mean, me? In a finishing school? I don't think so. But I did end up staying in an apartment with a very stern old lady who had furniture covered in plastic. I ended up not going to art school and going out a lot. I liked to go to Régine. My favorite stepmother, Susan, lived in Paris at the time. She happened to be Oscar Hammerstein's stepdaughter. And she would take me out. Through her I met some very interesting people and some very good dancers. We would go to places like L'Éléphant Blanc. These were nightclubs. This was not bohemian. And that was when the Russians sent up Sputnik. When I came home for Christmas my father prohibited me from going back. And I never went back to France until I was a movie actress.
The first movie I made in France was with René Clément, and it starred -- be still my heart -- Alain Delon. It's called Les félins. It was then that I met [my future husband] Roger Vadim, and I ended up staying in Paris. I never left basically, except to come to America to make movies. I was embraced in a very profound way by the French. I realized that it was because of my father, and how beloved he was all over, but especially in France, largely because of his movies like 12 Angry Men, Young Mr. Lincoln, The Grapes of Wrath, The Oxbow Incident and The Wrong Man -- all those very progressive movies that he did were loved by the French. And so the fact that I was his pretty blonde daughter, it gave me a sort of seal of approval. On top of that, [the actress] Simone Signoret took me under her wing. That was a pretty good wing to be under. She used to invite me all the time to the apartment she and Yves Montand had on Île Saint-Louis above a great restaurant called Chez Paul. It was a very nice way to be introduced to a foreign country. They wanted me to love France, and I did. And don't forget, this was during the time that Kennedy was President. And Kennedy was beloved, and Sargent Shriver was the ambassador. I was there when Kennedy was shot. Americans were loved, and it was a very traumatic, very interesting time.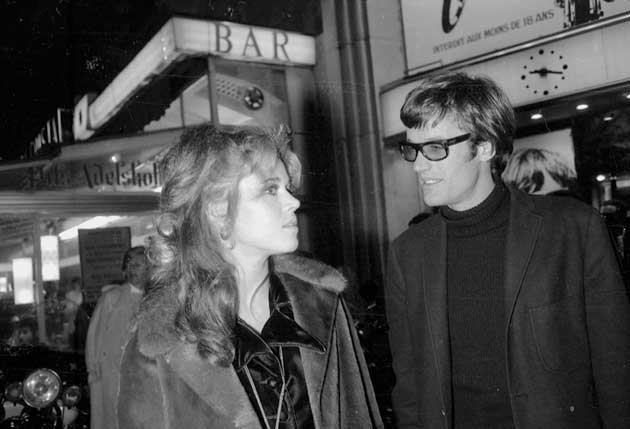 Vadim and I moved around to different parts of Paris. I've lived on the Left Bank, on the Right Bank, in the different arrondissements. I even lived in le Marais before it was gentrified. It was a Jewish ghetto, and there was this old hotel called the Hôtel des Ambassadeurs de Hollande. It was a huge hotel and Charlie Chaplin had an apartment there, as did Cyd Charisse. We lived in the attic, the ceiling of which was vaulted and painted by an 18th-century artist. It was quite a thing.
When I first lived in Paris there were no supermarkets. So if you wanted to buy fish, you had to go to the fish market. If you wanted meat, you'd go to the meat market. And I loved doing that. You knew everybody by name, you knew which ones were the good ones and they knew which kind of cuts you liked and all that. And I remember one of the first meals that I cooked for Vadim, because I'm not a very good cook, I thought it was a steak and I cooked it. We're eating and he's chewing and he suddenly stops chewing and he says, "Where did you get this?" And I said, "At the butcher." And he said, "Was there a horse's head over the entrance when you went in?" And before he could finish I realized that I'd bought horse meat. We were eating my favorite animal.
I was in Paris for eight years. I wasn't there all the time because I made a lot of movies in America. I went back to Paris to make a movie there two years ago, and it was hard to leave. (The movie is showing now in America, by the way. It's called All Together, and in French it's called, Et si on vivait tous ensemble?) I lived on the Île Saint-Louis while I was making it and I kind of was re-immersed in French life. 
When I'm there, I always go to the Louvre. I always go to the Rodin museum. I always go and eat in Montmartre. I always go and walk those little streets on the Left Bank, looking in the antique shops. There's no place that has better antiques. I never did the fashion thing I'm sorry to say. I never did that scene. I've never been interested in clothes, I'm sorry! 
The good news about France is there's no air-conditioning. The bad news is there's no air-conditioning. They're very environmental in that way, but you sure get hot. A few summers ago my friend Jake Shears from the Scissor Sisters and his band were performing on a very hot fourth of July at Le Bataclan. They had seats for us up above so that we could sit down. Well of course, heat rises. It was like walking into purgatory. And of course you can't not dance when you're listening to the Scissor Sisters. We were literally wringing our clothes out. It was an amazing situation. My boyfriend, Richard Perry, is a music producer and he said it was one of the most fantastic concerts he'd ever been to. And of course Jake took full advantage of the heat and took every single thing off except a codpiece, which at one point almost fell off. 
And then after that Jake even came out to dinner with us. It would've put me straight to sleep, a concert like that. But we went out afterwards and had a really good time.
Photograph 1 courtesy of Reg Burkett/Express/Getty Images

Photograph 2 courtesy of Noa/Roger Viollet/Getty Images