James Murphy V. Musto: What Has PAPER's 2009 Nightlife Awards Done?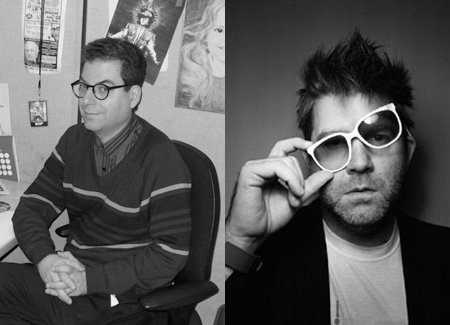 By now you've likely heard all about
LCD Soundsystem
's
James Murphy
slamming the
Village Voice
's
Michael Musto
in the recently-leaked track "Pow Pow," (which includes the lyric "Eat it Michael Musto: you're no
Bruce Vilanch
"). In response, Musto
told the Voice's Zach Baron
that Murphy comparing him to comedy writer and former
Hollywood Squares
regular
Vilanch doesn't make sense as, "We're not in the same racket at all, so it's like saying 'Sandra Bullock can never be Barbara Walters.'" He also said he's disappointed Murphy didn't opt for the more "elegant" slight, "suck it." Fun stuff, right? We can't help but wonder if all of this possibly started at
PAPER's 2009 Nightlife Awards
, which was emceed by Musto and included Murphy jumping on stage twice to "Kanye" winners, shouting that pal
Justine D
should have won the award for Best DJ. After the second time Murphy got on stage, Musto called him a "douchebag." We had to jog Musto's memory about the comment, as he gave out tons of awards that night and likely insulted many. Here's what he told us: "I didn't even remember that, and when the song 'Pow Wow' was leaked, I had no idea what stick he had up his butt about me. But now I know! I've enjoyed the whole fake feud. It's been good for my career." Unless Murphy is fake-upset with Musto for a different reason, we think we just learned how our mild-diss-track sausage is made.