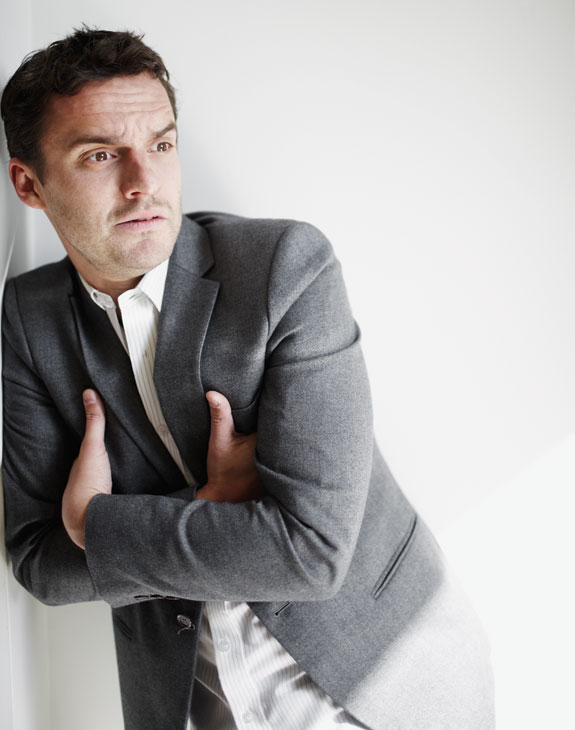 At the heart of
New Girl
, FOX's latest hit series, there's Zooey Deschanel. Yes, she's adorkable [sic]. But where would the
New Girl
be without a few good New Men behind her? That's where Jake Johnson comes in. As
New Girl
's resident curmudgeon, Nick, Johnson exudes a world-weary but winning charm that tethers the show (and Deschanel's Jess) to reality. And the Chicago-born actor, who once was part of a traveling improv act called The Midwesterners, isn't too dissimilar from the character -- though, he clarifies, "I definitely don't cry as much as he cries."
That may be because he hasn't got much to cry about. After a few fledgling years in L.A., during which he supported himself by playing cards in the Hollywood Park Casino in Inglewood, Johnson quickly landed roles in films like
No Strings Attached
, where he met the film's screenwriter and
New Girl
creator Liz Meriwether.
The show is only one of the irons the actor has in the fire.
Safety Not Guaranteed
, co-starring Aubrey Plaza and Mark Duplass, was a hit of Sundance, and he has a small part in the cop-comedy
21 Jump Street
. He's taken the long view on police work, too. After laughing off his own election to the Beautiful People Class of 2012, who would he nominate for the same accolade? "Let's say Dennis Franz," Johnson laughs, "because in about 30 years I think I might look like him."
Jake
wears a jacket by
Paul & Joe
Monsieur
and shirt by
Kiyo
.
MEET THE REST OF OUR 2012 BEAUTIFUL PEOPLE