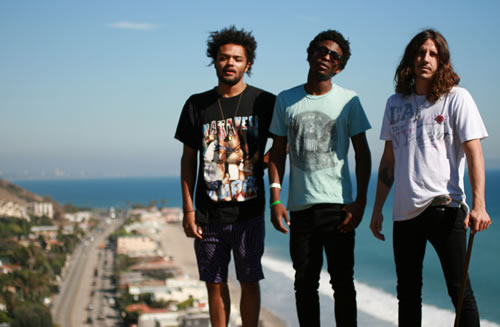 The hottest thing to come out of Malibu of late, Shwayze, comprised of rapper Shwayze, guitarist/vocalist/producer Cisco Adler and DJ Skeet Skeet, play a laid-back blend of California-style hip hop and rock that has the kids going absolutely crazy. In addition to tearing things up on Warped Tour this summer, the trio are the subject of a reality show on MTV called Buzzin' (also the name of their hit single) that premieres tonight at 10:30 p.m. In the midst of the pre-show madness, we popped Cisco (top right) and Skeet Skeet (top left) some questions and they were gracious enough to respond.
So what are you guys doing in New York? What did you all do last night?
Cisco Adler: TRL, CW Morning Show and a whole lotta press. Last night I hit up Bond Street with a lady friend and then Rock 'N' Roll Karaoke at Arlene's Grocery.
Skeet Skeet: We're in New York because we have two days off from Warped Tour. And Shwayze and Cisco are on TRL today to promote their new TV show "Buzzin" which comes out the 23rd at 10:30 p.m. after Run's House.
Last night Shwayze and I got the wildest massage on 38th and Madison. This 5-foot-tall Thai lady was kicking me in my shoulder blades hanging from the ceiling. I don't know how I feel about it just yet, but Shwayze loved it.
After, Shwayze and I hit Fontana's for the Compulse party and met up with my homies from PegLeg and my guy Brick.
Then we went from Fontana's to La Esquina only to be escorted down through the kitchen to the secret little nightclub thing. It was wild. We got a bite to eat and met this dude who loves Shwayze and was making love to multiple European models at the same time. I guess they go hand in hand.
Going out in LA vs. going out in New York. Discuss.

CA: Ya know what, LA is my home and I'm an Angelino, but anything that you don't get all the time is beautiful so a trip to NY is lovely! There's more dancing in NY!
SS: New York FTW. I mean you can go to a lot of great spots in LA. But there aren't armies of imported models raging till 4 a.m. dancing to Sam Cooke and Talking Heads all night. Case closed.
Can you give us a preview of some of the shenanigans that will ensue on the show?
CA: Well the first episode is Superbowl weekend and Shwayze has to get back in time for a court date... shenanigans ensue.
SS: Well the episode where we retreat to Big Bear and attempt to go fishing is magical. Also there are some good party clips, and a lot of fun live footage. It's really the dynamics between all of our friends that is interesting in my opinion.
How's the Warped Tour going?
CA: Amazing! Best summer ever!!!!! I love all the bands, and the kids on Warped are feverish fans!! Shout out to 3OH!3, Katy Perry, Gym Class Heroes, and Cobra Starship!
SS: Warped is amazing. I'm the biggest fanboy ever. I grew up playing in bad hardcore bands and listening to punk, so getting to see a band like FEAR play and then party with Norma Jean/Set Your Goals and As I Lay Dying is like my dream come true.
Our shows have been a lot fun as well -- just inviting friends on stage to hype, sing, dance whatever is great.
The only part that sucks is being confused for Travis from Gym Class!
"Buzzin'" has kind of become the song of the summer of '08. What are some of your favorite songs of summers past?
CA: "California Girls" by David Lee Roth, "What I Got" by Sublime and "Fight for Your Right to Party" by the Beastie Boys.
SS: "Where the Party At" by Jagged Edge is soooo goood OMG. And "Summer Girls" by LFO. "When I met you I said my name was Rich/ you look like a girl from Abercrombie and Fitch." Lyrical genius.