It's Gonna Be an Eclectic Fashion Week: From Betsey Johnson to Band of Outsiders to Barack Obama!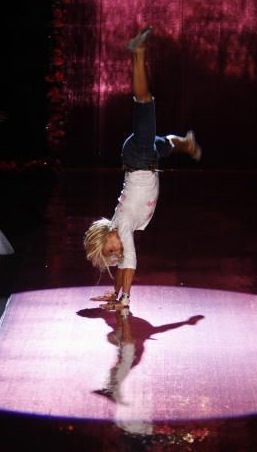 So I've been taking my vitamins because starting Thursday the fashion shit hits the fan. And all in the middle of Super Tuesday madness. This Thursday night I am actually co- hosting a Barack Obama benefit at the home of Sarah Flicker (of Citizens Band) and her filmmaker husband Jesse Peretz. At the same time, I'm on deadline for our huge upcoming March issue which has some amazing fashion in it this time around (not to mention sick photos of Lindsay Lohan taken by Jeremy Scott!)
But back to fashion schmashion. There's a lot of stuff that I am looking forward to. In addition to the old standbys, I think this year I am going to check out the shows of all these young companies who have names that I keep confusing with each other so I can remember who's who. I'm talking about labels like the Band of Outsiders and Obedient Sons and Daughters... (both cool lines that I like a lot.)
I look forward this Friday to dropping into see the work of more fun shows like Sue Stemp, Erin Fetherson, Katy Rodriguez, and Elise Overland (who won the Ecco Domani award this year). All these girls are hot and all their shows are on Friday night!
Then of course I CAN'T wait to see ThreeasFour on Saturday and Alex Wang. Sunday I'm looking forward to seeing what the ex-Trovata kids will be doing at Shipley and Halmos.

On Monday, Betsey Johnson is celebrating her 30th year in biz so I want to go to her show to applaud her for her legendary status. She is somethin' else -- still doing cartwheels down the runway instead of a bow at the age of sixty-something! (see photo above) I cant wait to see what Ben Cho will do and of course on Tuesday I'm gagging to see the Rodarte show! But not till after I've voted in the primary. Remember New York is NOT winner-take-all so VOTE VOTE VOTE.
Wednesday I cant wait to see what Isaac Mizrahi has on show because whatever Isaac does I always seem to love! Our old friend Susan Ciancolo is even showing on Thursday evening which should be interesting...
Then Friday will be two shows that I live for: 1) Sean John (YAY) and 2) Marc Jacobs (I love that he is ending Fashion Week this time around. Great idea!)
Of course all that is just the tip of the iceberg because of course I'll drop in on many more shows.