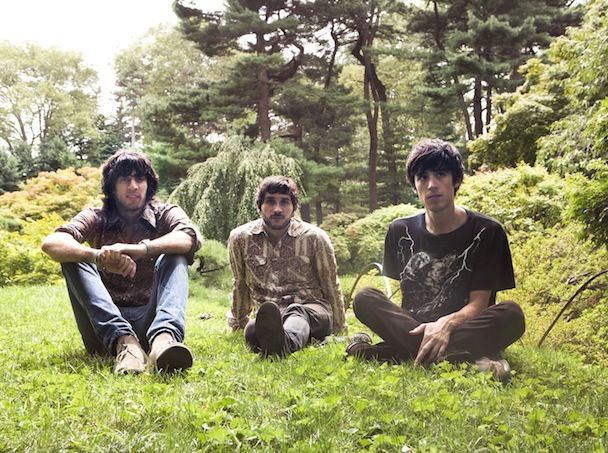 We first heard
Dinowalrus
in the basement of Cake Shop when they were there out promoting their early 2010 album,
%
, for the Panache CMJ showcase. It didn't take much listening to realize that this rocker-boy trio is all about musical contradictions. Dinowalrus can't really be branded as belonging to a specific genre --
%
mixes electronic with some garage punk hooks and soft layers of shoegaze rock and Madchester pop.
 Dinowalrus, comprised of
Pete Feigenbaum
(vocals),
Anton Hochheim
(drums), and
Liam Andrews
(synths/bass), are definitely the kind of band you have to see live. Especially if you're into tunes that make your head explode and your ears bleed -- simultaneously. They're all about trippy, psychedelic beats. Check out tracks like, "BEAD," and you'll hear what we're talking about. They're also really loud! And all over the place. (I'm pretty sure Feigenbaum fell over at least a couple of times, but he really didn't care. He was all smiles, just happy to be playing music.)
Speaking of live shows, Dinowalrus have a few New York gigs coming up, starting this Saturday at
Glasslands
. To get you jazzed for the show, we recently had a little chit-chat with the
Feigenbaum
(pictured at far left), who talked about their band name, what it was like to play with Titus Andronicus and plans for the future.
So how did you guys come up with the name Dinowalrus?
Back in '05, before the band resembled anything like what it does now, I was thinking about heavy, primitive creatures, and listening to a lot of stoner metal like Earth, Sleep  and Electric Wizard. I was also thinking about my seventies dream muscle car.  Dinowalrus could almost be a cross between an AMC Gremlin (not technically a muscle car) and a Plymouth Barracuda. No apologies to the haters...we'll run ya'll off the road in my '72 Dinowalrus.
Ha! So, how did you all meet?
Well, for round two of this band, I reconnected with my old college buddy Liam, whom I originally met from going to shows. To return to the stoner metal theme, Liam and I saw
Boris and Growing together in 2006! We knew of Anton from our shoegazer label mates the Depreciation Guild. Our friend Christoph (Anton's twin brother who is also in the Depreciation Guild as well as the Pains of Being Pure at Heart) tipped us off that Anton was looking for some action! Anton, in addition to being an all-around awesome fellow, is the master of playing baggy Madchester dance beats, which just so happens to be what we are going for right now, in contrast to our older stuff.
Any specific influences during the creation of
%
?
The general public seemed to think
%
was influenced by no-wave. On some level we were influenced by the arty, adventurous attitudes of early eighties downtown New York City -- bands like Sonic Youth, DNA and Liquid Liquid - but we were also influenced by mid-2000's spazzy, futuro-punkers like Japanther, Liars, Ex Models, the Mae Shi and Ponytail. And of course bombastic seventies psych-rock like Hawkwind, the Pink Fairies, Ash Ra Tempel and Gong played a major factor in the heavy but atmospheric guitar and drumming approach.
I think we generally had this flawed but earnest mentality of wanting to cram everything that had ever influenced us as musicians into that album -- just for the sheer thrill of actualizing on ideas and styles we had never tried before. We also wanted to try songwriting arrangements and juxtapositions that had never been done before, to have each song take the listener on a linear journey. As a new band, we felt we had to prove our own existence a bit by blowing people's minds rather than by writing toe-tappingly tried-and-true songs. [We were going for] total shock and awe. But now the strategy is to write super addictive hooks. 
Talking about total shock sounds, there is a lot of crazy-cool ambiance going on in your music. What got you into that?
I just want things to sound full, otherworldly, nuanced and layered. It's not really a genre thing, just the way I like my recordings. We use samplers and delay pedals to build up a nice background wash. I suppose drone-y minimalism, whether it's in the music of La Monte Young, The Velvet Underground, Deerhunter, Spacemen 3, Brian Eno, Cluster, Suicide, Health, My Bloody Valentine, the Orb or Bowery Electric -- they have always been a big influence no matter what smaller genre variations we are exploring in our songs.
I saw you guys play at CMJ - sick show! And now you have some more New York shows coming up. What do you like most about playing in New York City?
Wham, bam, thank ya ma'am! At the end of the day, New York City shows are great because people show up even on an off night. Plus, even if you only play to ten people, the likelihood of it being the "right" ten people is much higher, then say, in Winston-Salem, North Carolina. But at least Winston-Salem has cheap Winstons and Salems.
How was it touring and playing with Titus Andronicus?
That was quite a while ago. Playing Reading and Leeds Festivals stands out as being one of the most exciting experiences in my whole life -- a dream come true! The US touring was surprisingly inconsistent in contrast. While some of the shows were amazing (usually major cities), I was surprised that even with the internet buzz machine cranking hard for Titus, word didn't really travel to places like Missoula, MT or even San Diego -- places where we played to 5-10 people. Their fans are uncannily enthusiastic, which made the shows super fun and high energy. I tried to channel Sonic Smith from the MC5 and really kick out the jams onstage! But it was annoying that most of the shows were a real sausage-fest with the audience mostly consisting of pimply 19-year-old boys. The typical Titus fan is like Bobby Hill if he read Pitchfork regularly.
What's your favorite track to play live and why?
I'm gonna say "Gift Shop." It has a good balance of fun instrumental parts and hooky effortless vocals. A song that's non-stop vocals can be a bit restraining -- there's no time to move or around or pull off any stage "antics." But a song that's purely instrumental can feel overly detached. "Gift Shop" seems to sound good in almost all scenarios!
I agree! It's a kick ass track. What are you guys looking forward to in 2011?
We are buckling down and giving it our all for this next record and I think people will love it. It's gonna be like 2011's answer to Primal Scream's
Screamadelica
, which in my opinion, is one of the best albums of the nineties. People are going to be pleasantly surprised when they hear the new tracks: they still capture the spontaneity of the old stuff, but they are a lot more "user friendly," I'd say.
Photo by Jackie Roman