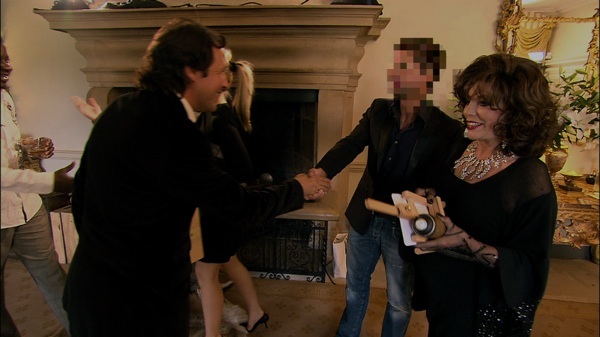 Ivan Massow
, the former head of the
Institute of Contemporary Art
and a well-known British entrepreneur, has written, produced and directed his first feature film:
Banksy's Coming for Dinner
, a kind of reality show within a film about the mysterious -- he never reveals his face or lets his voice be heard -- graffiti artist
Banksy
. In the movie,
Joan Collins
and her husband
Percy Gibson
invite Banksy and a group of glamorous guests like Collins' daughter
Tara Newley
and socialite/TV star
Tamara Beckwith
to a fancy dinner at Collins' grand country estate. Banksy arrives, face pixelated and voice distorted, and the dinner party is shot in 'real time' over a single day. The film promises to question the "nature of 'reality' at every level." Banksy, who is even more famous thanks to his documentary
Exit Through The Gift Shop
, is to art what
Martin Margiela
is/was to fashion: a well of creativity shrouded under the secretive veil of complete anonymity. Will viewers get to know the "real" Banksy? "That's the question," Massow would only comment. The film was just bought by Warner Brothers, so I guess we will have to wait for the premiere to see.
Pictured: Joan Collins introduces a pixelated Banksy to her guests
.