Let's face it, fitness wearables are usually fugly as hell. Most are made of waterproof rubber and stand out as eyesores if you ever dare to wear it with anything other than sportswear. Enter style icon Iris Apfel. At CES (the International Consumer Electronics Show), Apfel revealed her collaboration with wearable tech label WiseWear. Together, they've created a line of smart bracelets that ditch the sporty aesthetic and focus on something a little more sleek and glamorous -- just like Apfel herself.
"There is a definite need for this because there are a lot of people who won't run around doing business looking like they are going to the gym," Apfel told Mashable. She added, "if a technology is going to strive to save my life, then at least take the next step to make me look good while doing it."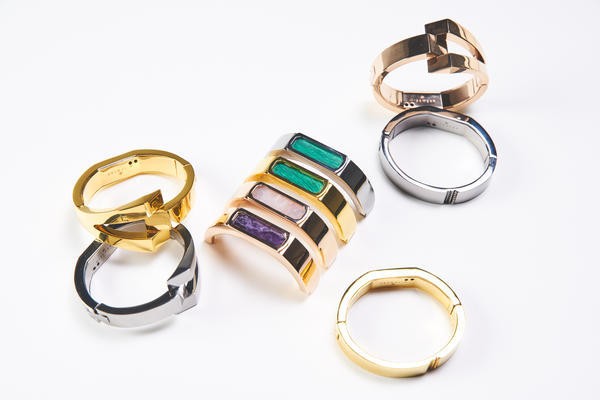 Iris Apfel WiseWear
The smart-jewelry collection is pretty ingenious. The bracelets are able to not only track movement and steps all the while sending notifications to the user's smartphone, but also include a " distress messaging function" where if you tap the bracelet three times it sends a message to pre-approved contacts identifying where the user is with the help of its geo-tagging location functionality. This inclusion was important to Apfel, whose age dictates its importance.

The wearables can be plated in 18-carat gold or palladium and come with three distinct colorways dubbed "Calder," "Kingston" and "Duchess," all pictured above (which is which, we have no idea. It hasn't really been specified).
After this release, Apfel isn't done just yet. She plans to expand the line to include belts for men, along with necklaces and brooches for women.
The WiseWear smart bracelets are currently retailing for $395 and can be purchased online at WiseWear.com.
( Image credit: WiseWear.com)

[h/t Mashable]