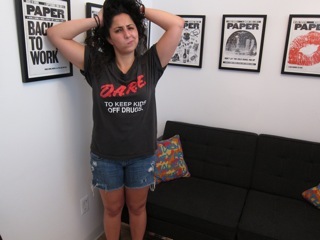 Welcome to PAPERMAG feature "Intern-al" Affairs, wherein we introduce you to our wonderful summer 2011 magazine, editorial and production interns. They're hard working, always dress snazzily, and are vital helps to the daily operations at PAPER and PAPERMAG.com. Without further ado, say hello to
Michelle Anavim
. 
Age:
21 
Hometown:
Roslyn, Long Island
College:
York College/CUNY
What you do at Paper:
Sweat, tell Katie she's too stressed and make some Excel sheets.  
Tell us the last book you read, movie you saw, song you downloaded, website you visited and item of clothing you bought. Go!:

Book:
If You Have To Cry, Go Outside
by Kelly Cutrone; movie:
There's Something About Mary
-- I had never seen it before; song: "Blue Pills and Whiskey" by Campaign -- we all know Viagra and whiskey make for a great fucking time; website: Google, duh;  clothing: I'm too broke to afford new clothes. I'm an unpaid intern.   
If you could have dinner with one person, who would it be?
I would have a potluck dinner with Eleanor Roosevelt, Brody Dalle and Chelsea Handler.  
Describe your perfect night in New York City:
Booze, friends, hot boys, and some really funny people.  
Favorite places to eat
: McDonald's and Hooters.  
Favorite places to go out:
Le Bain, GOLDBAR, The Blind Barber.

Favorite free things to do in NYC:
Taking pictures of ridiculous things I see on the streets and going to free outdoor shows. 
Favorite boutique:
Fox and Fawn in Brooklyn.
Three things you can't live without. Needles, insulin and hair supply. That will also be the title of my first book -- Needles and Hair Supply.  


Wardrobe staple:
I dress like a prepubescent skater boy, so skinny jeans and T-shirts.  
Favorite fashion designers:
I saw this one really dope brand at Agenda last weekend called Proper.
Favorite websites:
Married To The Mob
's blog is always pretty entertaining,
Vice
, and I hate to admit it but Hypebeast. 
Best thing about interning at Paper:
I've been learning a lot about the "industry" which I really enjoy. 
Worst thing:
Carrying plastic garment bags all over NYC in the brutally hot weather. Consider this my formal apology to all the companies I've returned bags to that have been drenched in sweat. 
Favorite Paper cover:
Probably
Sarah Silverman
because she's fucking hysterical. If you haven't seen
Jesus Is Magic
you're blowing it. 
Fave Paper person and why:
Andee. She fucks with slow grinds. That's an automatic A+ in my book. 
Where do you see yourself in five years:
Being a slave to my job and loving the spontaneity of my life.