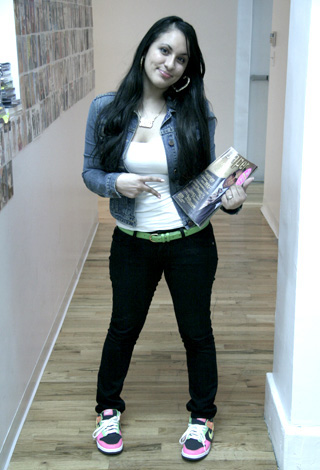 Age: 21
Hometown: Born in the BX but raised in Queens
Best thing about interning at PAPER: The best thing about interning for PAPER has to be between seeing my name on the masthead and chocolate-covered raisan breaks with Diane.
The worst: The worst thing about interning for PAPER is self explanatory in two words: garment bags! The amount of sweat that drips from my body is not cool.
Fave PAPER cover and why: Fave PAPER cover has to be the November 2004 issue with Jay Z... because he's one of the greatest lyricist ever. Enough said.
Fave PAPER person and why: Fave PAPER person has to be between Michelle (and her generosity with free things) or Jennifer because she always has some database project for me, which makes me stay in the office and away from pickups/deliveries.


Where do you see yourself in five years: In five years I see myself being a happily married woman to the greatest guy in the world! As well as being an assistant editor at either an independant or major publication.
Fave free things you do in NYC: For some reason I haven't found any fun free things to do in NYC... just spend a couple of bucks and go to the now historic Coney Island and take a ride on the ferris wheel -- that always brings the kid out in me.
Facebook or MySpace: Myspace
Fave blog: Not that much into blogs. I just basically keep thoughts of my own and like to go back and read them later in the year just to see where my head was at.
Fave designer: Designers I like are D&G, Jennifer Lopez for Sweetface, Miu Miu and many more. Not like I can buy any of these clothes but they are all very beautiful.
Fave restaurant: I'm an Outback Steakhouse kind of girl... but if you're ever visiting Boston you have to go to this resturant called Fire and Ice.
Fave bar: Just turned 21 so haven't hit up any bars yet. Besides, Ima good girl!
Five first songs that play when you set your iPod to shuffle:
"Off the Wall" - Michael Jackson
"Feelin' It" - Jay Z
"The Good Life" - Kanye West
"Shoot Down the Star" - Gym Class Heroes
"My Love" - Justin Timberlake