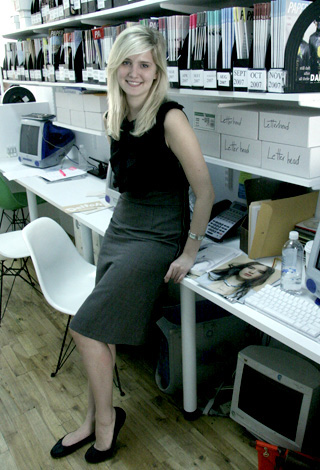 Age: 22
Hometown: Falls Church, Virginia
School and major: Wake Forest University, English
Best thing about interning at PAPER: I look forward to any writing assignment I can get my hands on. I also like working events where I can wear a black dress, like the Unhollywood Film Festival.
The worst: The commute on the 6 train is not very glamorous.
Fave PAPER cover and why: The latest issue, with Daft Punk on the cover. It was the first time I've ever seen my name on a masthead.
Fave PAPER person and why: Mary Logan, the other editorial intern, always makes me smile. We get chai tea lattes together -- it's pretty exciting.
Where do you see yourself in five years: As an associate editor at a fashion magazine.
Fave free things you do in NYC: Battery Park in the fall: I like being near the water.
Facebook or MySpace: Facebook.
Fave blogs: www.wwtdd.com, Gawker
Fave TV show: I live for The Office.
Fave designers: Marc Jacobs, Martha Napier
Fave bar: Fiddlesticks

Five first songs that play when you set your iPod to shuffle:
"Stay" – Alison Krauss
"Falling Is like This" – Ani DiFranco
"Standing Outside the Fire" – Garth Brooks
"Hard to Concentrate" – Red Hot Chili Peppers
"Mrs. Potter's Lullaby" – Counting Crows
Paper or Plastic? Um, Paper. Clearly.