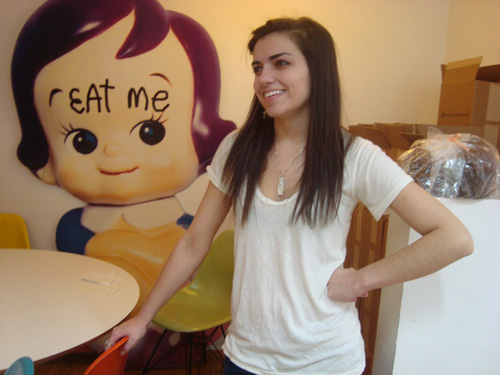 Welcome to our recently resurrected PAPERMAG feature "Intern-al" Affairs, wherein we introduce you to our wonderful spring 2010 magazine, editorial, production and PAPER TV interns. They're hard working, always look snazzy, and are vital helps to the daily operations at PAPER and PAPERMAG.com. Without further ado, get to know magazine intern Cara Boyd. 


Name
: Cara Boyd
Age:
18
Hometown
: Providence, RI
What do you do at PAPER?
Go on garment runs, make Excel sheets, sweat, organize, sweat, and loiter around [PAPER receptionist] Brittaney's desk.

What are you studying?
Photography, media, and philosophy
What's the last book you read, movie you saw, song you downloaded, website you visited and item of clothing you bought?
Book:
A Heartbreaking Work of Staggering Genius
by
Dave Eggers
. Right now I'm working on
Labyrinths
by
Jorge Luis Borges
.
Movie:
The Fall
was the last one I finished, but I'm in the middle of
You, the Living
.
Song: "Norway" by
Beach House
Wesbite:
Artistadvocacy.com
Clothes: A
Double Dare
t-shirt, super-cute floral tights from
Anthropologie
, and a black and white dress by
Silence&Noise
(with pockets!!1!!1#)
If you could have dinner with one person, who would it be?
I'd have a pot-luck with
Nelson Mandela
,
Pablo Casals
,
David Cross
,
James Joyce
and my grandma.
Describe your perfect night in New York City?
Oh golly, I don't know! There have already been a lot of great ones. A perfect night would be probably just hanging out with friends, dinner at the Breslin, maybe going to a show and oh, I don't know, running into
Jude Law.
That'd be cool. Just sayin'.