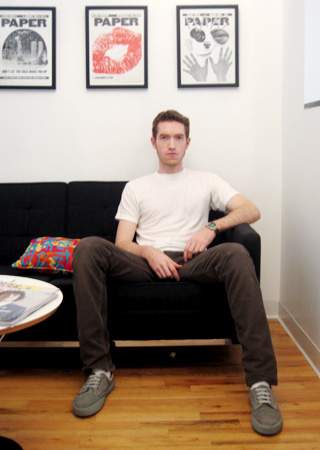 Age: 22
Hometown: Redlands, CA
School: Carnegie Mellon University
Best thing about interning at PAPER: Meeting new people everyday!
Worst thing about interning at PAPER: Running HEAVY errands on HOT days!
Fave PAPER cover and why: The "PAPER for the Senses" issue -- I think it was June or July 1985. I like the concept of the magazine being a Frankenstein of cultural movements and ideas. Stitching different areas together to create a unique contemporary perspective... something to always remember.
Fave PAPER person and why: David and Kim of course! Aside from them, I'm amazed to like everyone I've met there.
Where do you see yourself in five years: Oh boy. A goal of mine is to create a magazine, and a company which promotes artists the arts while facilitating and supporting those individuals. But in the next five years I imagine I will have been to grad school.
Fave free things you do in NYC: Parks, parks and more parks... Riverside park is a favorite. Also walking -- I love to find the time to wander through districts and discover great stores/restaurants/people.
Facebook or MySpace: Facebook.
Fave blog: Hmm, I never got into blogs. I suppose at some point I will discover their genius.
Fave fashion designer: All time favorite, no questions asked, is Maison Martin Margiela. Perfect. Following closely is his fellow Belgian Ann Demeulemeester. I love Paul Harnden, Marjan Pejoski and Comme des Garcons. Dries Van Noten and Yamamoto are usually up there, with Costume National too. Oh and you can't forget old school Helmut Lang!
Fave restaurant: Right now Im really into Sushi Choshi. All time favorite cafe is Epistrophy!
Fave bar: Angel's Share
Five first songs that play when you set your iPod to shuffle:
"Can We Go Back" - Hi-Tek
"Rock With You" - Michael Jackson
"The Union Forever" - The White Stripes
"Nostalgia" - Masta Ace/Marco Polo
"Ol' 55" - Tom Waits