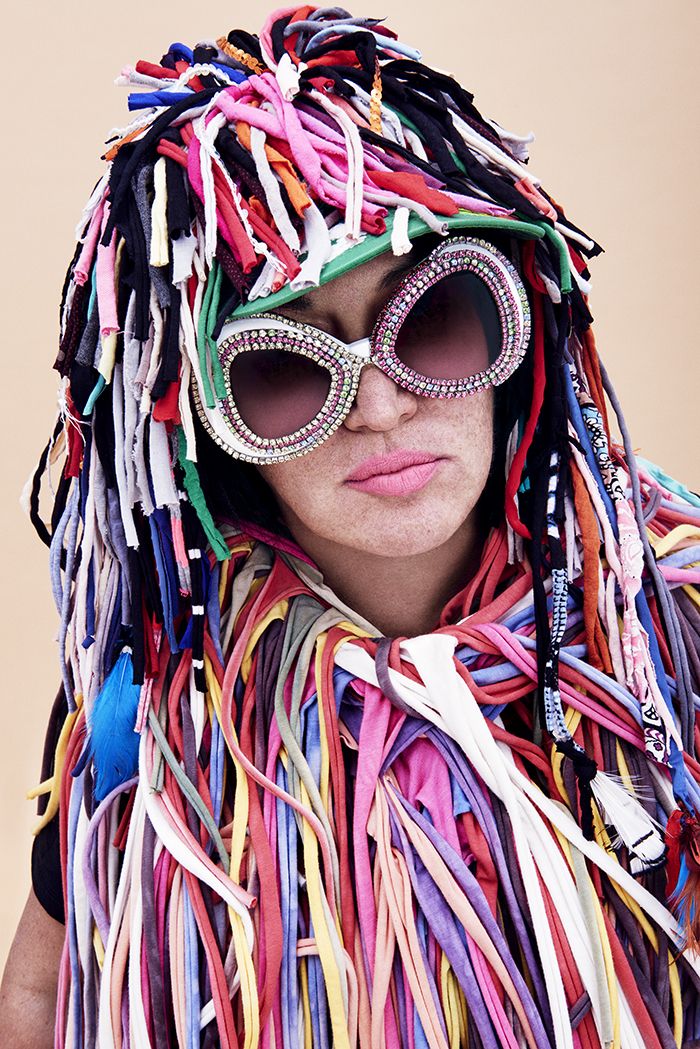 Sunglasses by Mercura NYC
Where do you begin with Diane Martel, the director whose era-defining videos range from Mariah's "Dreamlover" in 1993 to the 2013 double-play of "We Can't Stop" and "Blurred Lines"? NYC native, niece of Public Theater founder Joseph Papp, high-school dropout, pop-visionary who's worked with Nicki Minaj, the White Stipes, Nas, Justin Timberlake, Britney Spears and tons more... whether you know it or not, Martel has made you laugh, grossed you out and pushed your buttons. Martel, creative director of our summer issue's Miley Cyrus and Charli XCX stories, spoke with our very own Drew Elliott about her bizarre and brilliant body of work.
On Reckin' Shop: Live From Brooklyn, her seminal 1992 documentary 
Reckin' Shop was about an elite crew of "backpack dancers" -- dancers who danced in circles at Red Zone, Sound Factory, the World and various clubs in the early '90s. This was when hip-hop was still geared toward social messaging, so people would dance to Jungle Brothers, De La Soul, Pete Rock... The DJs were, like, Johnny Dynell and Dmitri from Deee-Lite, so all this stuff was bubbling and coming to some kind of fruition. A lot of the kids in "Dreamlover" were also in Reckin' Shop. It is very important to me to add authentic culture into mainstream culture. 
On capturing the vibe
Method Man and I worked on his first video, "Bring the Pain" [released in 1994]. The video captures the feeling in the music quite well; it also showcases his character and his charisma. This is not an ultra-visionary video, but it still resonates. It's about him and the RZA and Wu-Tang's vibe, not me. Same with [N∙E∙R∙D's] "Lapdance" and [Robin Thicke's] "Blurred Lines" -- very much about capturing the vibe in the music and the charisma of the artist. For Miley's "We Can't Stop" video, I worked on some topical Internet vibes that were slightly subversive, and I knew from talking to her that she had a lot of power and intensity. That video was less about the music and more about surrounding her with contemporary imagery and some Net-style shit.
On Def Jam
Method Man was a great subject, as good as George C. Scott in his world, so I was getting to work with these intense characters. It was all very comfortable. That scene, Def Jam in the early '90s, was amazing: you'd have Q-Tip in one room and DMX in another and Wu-Tang in another, all playing music, and Lyor [Cohen] going crazy and loving it, and Russell walking around, and piles and piles of LPs in one room and marijuana wafting through the halls. It was a completely live scene that was just beautiful and epic. Epic times.
On "Blurred Lines"
That was heavily fueled by Pharrell's music and his persona, and T.I. Those two have really solid imaginations and personas. They're beautiful, epic performers. And Robin rose to the occasion. It's an example of me making something that was inspired by Pharrell's music and the lyric, and then wanting to put the artist in a situation where they had to perform and improvise within a world I would create. So that forced Robin to interact with this world that challenged him to be more daring and edgy. In a lot of my work, the performers are put to a test: I put you next to a mind-blowing naked girl who is mocking you, and you have to fucking do it -- you have no choice but to do it. I only do this with people who can get there, and I knew Robin could get there
On creative-directing the Bangerz tour
Miley asked me to direct her tour after we did the VMAs and the "We Can't Stop" video. I had to learn about every aspect of touring and creating a show, so I literally started looking online... I made a treatment pretty early on for each song, and I would meet with Miley and tell her my ideas, she would change things here and there and add her ideas, and I had to find all these people to make content. Directing the tour allowed me to learn about CG and graphic animation as well as production design for huge venues. I was lucky to work with [production designer] Es Devlin, and during the making of the tour I met my directing partner Geoffrey Lillemon; our directing name is CGPP. We are both into surrealist, absurdist CG and 2D digital art. The most important thing that was successful was the narrative of the show. My priority was to create something that worked strategically from the first moment to the last, in front of huge rooms of screaming fans. Of course, I had the best artist in the world to work with. There is nobody who can handle an audience of that size like Miley. 
On signature motifs
Food and shoes. [laughs] They're my things. But now I'm moving into new areas. I did the video for [Khia's] "My Neck, My Back." That video has a lot of food in it: burgers, hot dogs. For a while, I was really into having a lot of really minute kinds of mess and garbage in videos -- things that had juiciness to them. Everything was made out of garbage in Goldfrapp's "Ride a White Horse" video. You should look at my new video I did with Geoffrey for Yelle. Now I'm really into working with CG and post.
On Franz Ferdinand
I really like "Do You Want To" and I really like "Evil Eye." They wanted to take the piss out of a lot of modern art. They're really well educated, went to art school, super smart, we're still really close friends. They're brilliant. Alex [Kapranos] is a lead man: very interesting, strong character. They gave me a list of artists they wanted to include, and then I just had to stage it properly. Yeah, that's a really well staged video. We did it in one day; it was insane. And then "Evil Eye," I did that for them last year, and I really liked that. This gory horror video.
On working with Snoop (and bonding over cats)
Snoop is the best. We used to talk about our cats. He had a cat named Frank Sinatra, and I had cats named Twinkle and Swinkle and he had pictures of them on the wall in his studio. He's awesome, super talented, Snoop is like a star; his character to me is strong, like an actor in a Shakespeare play.
On product placement
Yeah, it's fully compromised in so many ways in the past couple years. I'm very lucky: I get to do work where I can pretty much do what I want, but I do have to throw in a pair of headphones or some ridiculous thing. But I understand the business of it; it's just changed. It's not about Chris Cunningham or Jonathan Glazer or Spike Jonze making this brilliant work anymore. It's about selling something.
On her Wikipedia page
I have to hire someone to strip that so I can redo it. It's very hard to change your Wikipedia page. The guy who edits it is this freak, like, some kind of music video buff, and I've contacted him several times and asked him to please stop adding things that aren't true, and then he writes back and tells me about freedom of speech on the Internet. I wrote him a letter once and said I was a single mother, and my career is very important to me. I said, "I'm crying right now because I'm so upset." And he was like, "Too bad." My website lists the things I like -- as it should be. I've done a hundred things; I only like some of them.
On future projects
I'll work on some things with Miley this year, and I'm a creative director for Charli XCX, whom I adore. I also work with Ben Jones, who's the creator of the show Stone Quakers. This summer I will be directing a short, and I'm currently writing a live-action musical film whose structure is inspired by the films All That Jazz and The Wiz.
On her billions of views, and what really matters
I think more about the relationships I have with these artists. Because I'm working with their voice, bolstering their voice, so when I'm making a video I think more about them than myself. I was very happy with "Blurred Lines" and Miley's tour. It was super satisfying and wonderful, and the relationship I have with her -- it's about her, not about me. The way she made everything her own, the changes she made to any of my ideas to make them better -- that interaction is great and lovely. You have personal relationships with these artists and then you make something, and the relationship's more deep and more important to me than the thing, in a way. Knowing that it works is very important, but knowing that it works for them, and helps them grow, is the more satisfying part.