Indiana Jones: The Adventure Collection!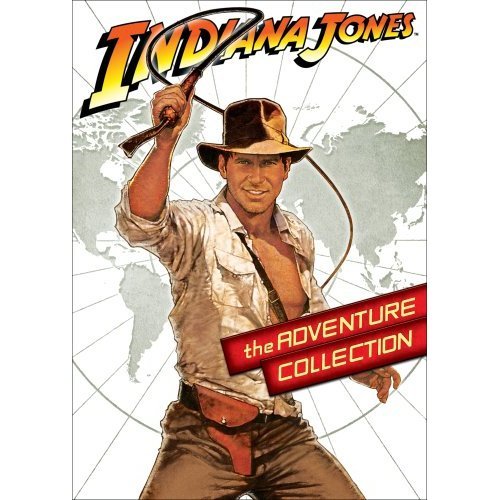 Just in time for the new Indiana Jones and the Kingdom of the Crystal Skull film they're releasing a nifty box set with all the Indiana Jones films: The Adventure Collection (Paramount). All look great, and hold up remarkably well. And all come with new special features and recent interviews with Steven Spielberg and George Lucas. It's amazing how just the silhouette of Harrison Ford with the hat and whip and the first few chords of John William's score is so instantly identifiable and iconic.
Raiders of the Lost Ark (1981), the first, is a rousing adventure where Indiana fights Nazis on a worldwide hunt for the Ark of the Covenant. There's a great featurette on how they did the melting face sequence at the end. Indiana Jones and the Temple of Doom (1984) was the darkest and least popular (and my personal favorite). But Spielberg does admits it introduced him to his future wife Kate Capshaw who plays the bumbling nightclub singer who is dragged along with Indiana in uncovering a death cult deep in the mountains of India. Indiana Jones and the Last Crusade (1989) introduced Indiana's dad (Sean Connery) in a search for the holy grail that leads them from Venice to the Middle East. This disc has a nice feature about the "women" of the films reunited on stage to reminisce about making the movies. Watching them back to back was a great deal of fun.