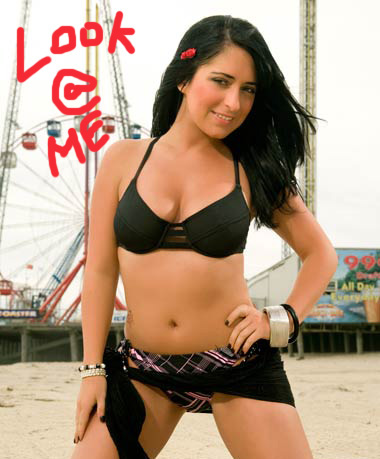 Although I don't consider myself an optimist, I have faith in change for 2010. And when I say change, I mean the MTV stimulus package that is the burnt orange heptarchy Jersey Shore. Rumors abound that the beloved bundle of pickle-suckling joy Snooki and the Ocean State's hottest DJ, Pauly D, are making bank and fetching as much as $10,000 per club appearance. Don't get me wrong, I'm totally grateful for all that this cast of seven (really nine if we count the girls, @jenniwoww) has given to our country in these troubled times. But as the show comes to an end on Thursday, we mustn't forget the fiery femme of episodes one through three: miss Angelina Pivarnick. That's right, ladies and gents, I am here to defend the self-proclaimed "Kim Kardashian of Staten Island" for her pivotal role in the show's early episodes.
Perhaps the most obvious thing that sets Jolie apart from her peers is her "all natural" look, and the woman will stop at nothing to stress her physical authenticity, from her luscious jet-black locks to her "nice, fat ass." Even in the face of a snide remark from The Situation regarding her fuller figure, our heroine strikes back: "Look at me," she dares her former hookup, like a verbal sucker punch to his fully-glossed mouth. Angelina is proud of who she is.
And although Ange might come off as a natural seductress, she has her priorities straight and isn't about to whore it up. The girl loves to have fun, but ultimately knows that [serial] monogamy is safer and sexier than the potential excitement of a one-night stand. Perhaps she herself stated it best, arguing that "girls who are whores should be abused." Spoken like a true feminist! And a woman without a man is like a nice, juiced, hot, tanned fish without a bicycle, right Angelina?

Now you're probably thinking "She's still a stuck-up brat." Let me assure you, Angelina looks out for her friends. The girl was the reason that the boys, albeit briefly, didn't try to lure back every girl who talked to them on the shore. "I'm a cock-block," she admits with a smile, as we watch her kick girls out one after another before they can skank it up full throttle on national TV. Think of the embarrassment she's saving everyone from! Put yourself in her Rocket Dog platform flip-flops and appreciate the deeper meaning of her interferences before ungratefully storming out of the room. "When a girl is that much of a whore, it pisses me off, and when you're gonna slam the fucking door of the house that I'm living in, you're gonna have problems." If we should hate on anyone, it's the disrespectful door-slammers.
If you're still unconvinced, allow me to use Angelina's own words to describe her time on the Jersey Shore: She "did like, you know, great things."