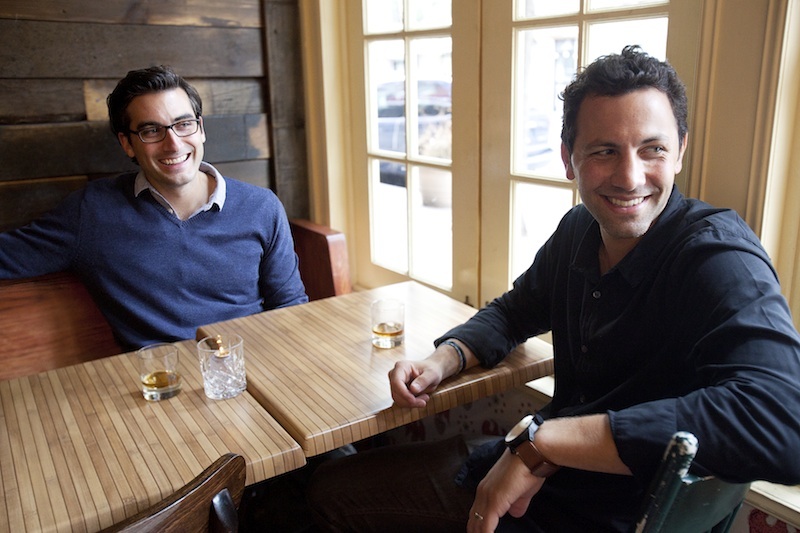 We've long been fans of restaurant guide
Immaculate Infatuation
for its straightforward reviews sorted by NYC-savvy recommendations (see their list of
places to take someone you've had two dates with
as well as
good day drinking spots
around the city. Not too shabby, right?). This site's edited by
Chris Stang
and
Andrew Steinthal
, both of whom work in the music industry, which makes for lots of
weird little features
and fun roundups written by musicians --
Coolio
is a big Buffalo Wild Wings fan
, FYI. Better yet, I.I. launched a new
iPhone app this week
, so you can check out the site's indispensable tid bits when you're out and about. To mark the occasion, we asked Stang and Steinthal to recommended their top three restaurants for fall, and here's what they came up with.
Upstate Beer & Oyster Bar 
95 1st Ave (between 5th & 6th St)
We can't say enough good things about Upstate, a little beer and oyster bar that recently opened in the East Village. Truly good oyster bars aren't easy to come by in this city, and this neighborhood needed one in the worst way. Everything served at Upstate is locally sourced and produced. The simple seafood menu is small and ever changing, depending on what's fresh. There's not a single freezer anywhere in the restaurant - everything you'll eat here is picked up that morning and cooked that day. Make sure to take full advantage of the well priced ($2 or $2.25) oysters, and the fettuccine with clams is crazy good. We're also big fans of the fact that they have Saranac on tap, mostly because it gives Steinthal the opportunity to re-live his Ithaca college days, minus the beer pong. 
Post Office
188 Havemeyer St. (between S. 3rd & S. 4th - Williamsburg)
Post Office in Williamsburg is another one of our under-the-radar favorites right now, and it's the perfect place to frequent during the impending freeze that's set to take over NYC. You won't find a better selection of American whiskey anywhere in this city, and nothing warms your insides quite like a glass of bourbon. The tiny, unassuming kitchen at Post Office very well might be operating on nothing but Easy Bake Ovens, but those little ovens are cranking out mind blowingly good food. The pulled pork sandwich, deviled eggs and steak tartare are all absolutely ridiculous. Also, the food is dirt cheap, which means more whiskey to dull the cold. 
Salinas
136 9th Ave (between 18th & 19th) 
You know what comes in key during winter months? A fire place. Most of us here in New York city live deprived of such a luxury at home, so it's nice when you find a restaurant that has one. Salinas serves up some of the most exciting Spanish food we've tasted recently, and does so in one of the coziest, most comfortable environments around. A retractable glass roof houses an insane indoor/outdoor patio that literally looks like a page out of a brochure for a Mediterranean resort. Come here with your special lady/man friend and make sure you order the Rosejat Rapida (fried noodles with chorizo, chicken and cockles) and the garlicky delicious Langostinos Al Ajillo. 

Above: L-R Chris Stang and Andrew Steinthal. Photo by Michelle McSwain.