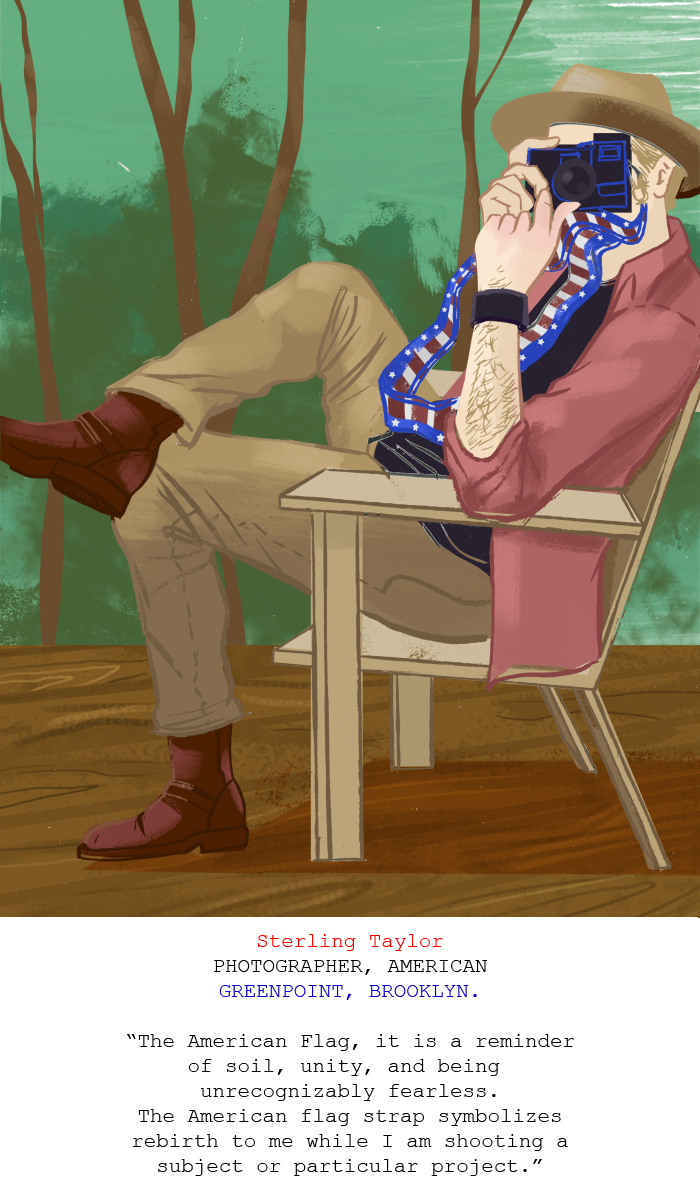 "There was one woman pushing a baby stroller and wearing super-tight American flag spandex with the stars on the butt and a red crop top on," Brooklyn-based freelance illustrator Paul Tuller remembers. "I went up to her to ask if I could photograph her and she said that the condition was that the baby couldn't be in the photo and I had to let her do a pose. She immediately struck this diva pose." Since this past January, Tuller has cataloged many such encounters as part of his new project examining Americana imagery (specifically, the American flag) in fashion and the motivations behind people wearing it in New York in 2013. "A lot of big clothing companies were releasing all these Americana shirts and I was seeing more and more people on the street wearing them," Tuller says. "I started wondering if people actually think about how wearing the flag kind of represents the politics of America or if they're just wearing it because they look good in red, white, and blue."
As you might have guessed in a place like New York, fashion often trumps politics. "Younger people wear the flag ironically or because they look good in it but I also found a lot of people from other countries who have moved here for work and brought their families here and those people gave the most passionate quotes," Tuller notes. The illustrator found his participants everywhere, from sidewalks to subway stations and even parties at Top of the Standard, providing him with a diverse mix that includes a chef, an architect and performance artist/entertainer
Mx. Justin Vivian Bond
("[Bond] has given me my favorite quote so far"). After taking a photo that would later be turned into an illustration, Tuller interviewed each subject to find out who they were and why they were wearing the American flag. Each had their own reasons for wearing the stars and stripes, though Tuller says he noticed a pattern of people wearing it to convey the same sense of freedom, youth and nostalgia for the American dream of yore that he sees echoed in someone like Lana Del Rey's '70s-tinged style. "Before I started this project, I did generally think that people who wore the flag were not liberal," Tuller says. "But I think ultimately that this whole image of the nostalgic American lifestyle can exist outside of politics."
Take a look at Tuller's illustrations above and below. You can find more images from the project on his website
HERE
.