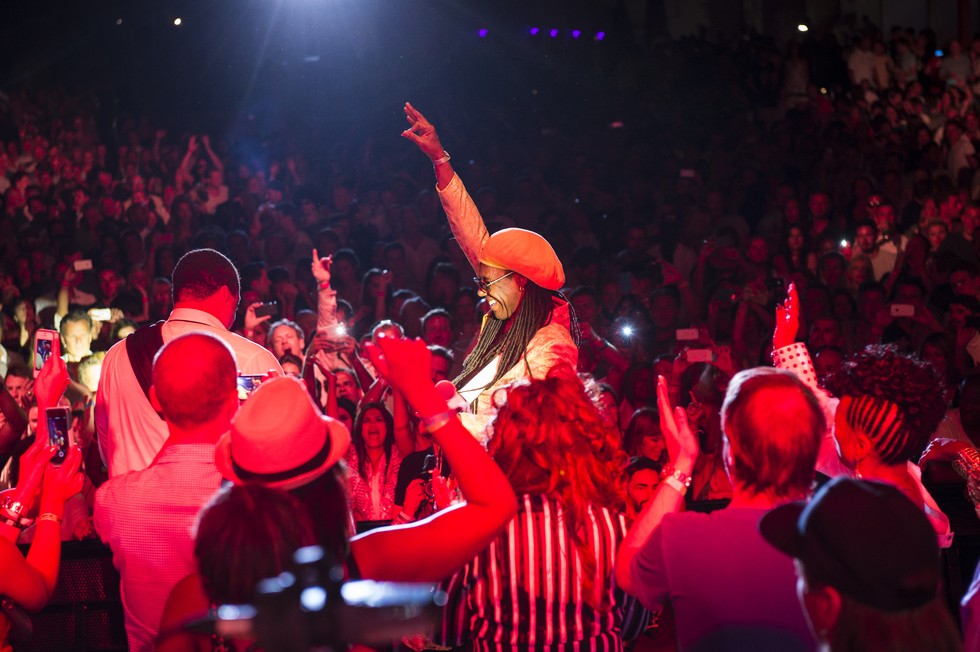 Nile Rodgers performs with his band Chic at the grand opening of the Hard Rock Hotel Ibiza. (Photo credit: Hard Rock International and The Palladium Group)
Careening down Ibiza's highways en route to the beach, you pass billboard after billboard advertising the island's most famous commodity: DJs. As glossy as an ad for Zara, these massive, often brightly-painted signs show off the season's latest crop of residents, depicting
Avicii
, David Guetta,
Steve Aoki
or Calvin Harris looking out at the hordes of tourists from Britain, Italy or Germany like GSTAR or Gucci-clad demi-gods. But while Ibiza has become
EDM's epicenter,
famous for its all-night parties more than its breathtaking beaches, the music culture on the island might slowly be shifting.
Ibiza seems to be (re-)discovering rock 'n' roll.
While the bacchanalian club scene today is known for kids from all corners of the globe wearing neon tank tops and up-to-there dresses dancing to thumping house music, Ibiza began as a playground for hippies and rock stars. During the '60s and '70s, everyone from the
Rolling Stones to Bob Dylan
,
Pink Floyd to Joni Mitchell
,
Eric Clapton to Bob Marley
performed, recorded, hung out and partied on the island. Since then, tastes and trends have changed and while it's perfectly normal and expected that the clubs would be dominated by the sound and artists dominating the charts, there's a feeling that something might be lost by having a relatively homogenous scene. But, with the opening of the new Hard Rock Hotel and its live music programming, along with a diverse line-up from concert/nightlife/hospitality group
Ibiza Rocks
, the island's scene is getting a jolt of fresh energy.
Opened this May, the Hard Rock Hotel is the brand's first five-star resort and brings to Ibiza a live music line-up that includes artists like Ellie Goulding, Icona Pop, and Snoop Dogg, the last of whom, while booked by the Hard Rock, will perform at its sister hotel, the Ushuaia, where there's room for a larger stage.  
At the property's grand opening party in June, they booked perhaps no better a bridge between the dance music and rock music worlds than Nile Rogers and his band, Chic, who performed a set of songs written and/or recorded by the prolific songwriter and producer, everything from "Le Freak" and "Good Times" to Madonna's "Like a Virgin" to Daft Punk's "Get Lucky." Ibiza Rocks, meanwhile, will be bringing
HAIM
,
The 1975
,
our cover girl Lily Allen
and Bastille to the island this summer.
While there are other places to catch live music, of course -- spots like
Guarana
or
Teatro Pereyra
where you can hear Spanish rock, jazz or reggae, among other genres -- it's these two venues who are most directly able to compete with the dance clubs, by booking bands, rappers, and singers with just as much name recognition and popularity as many of the DJs hosting parties at mega-clubs like
Pacha
,
Amnesia
or
Space
.
But whether hip-hop heads turn out for Snoop or dance music fiends drop 60 euro covers to catch a David Guetta set, in the scheme of things, they're still coming to Ibiza for the same thing: a never-ending party.