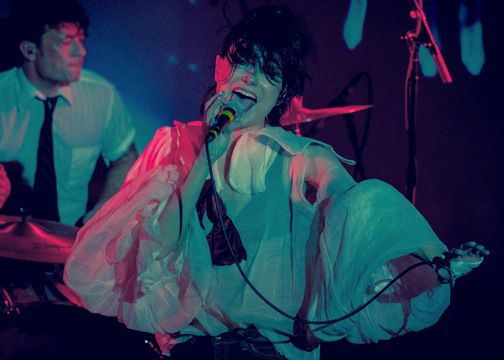 Singer-songwriter and tour de force pianist Kristeen Young has always done things her own way -- including self-designing all of her stage costumes. She did the bubble dress before Gaga did, and is consistently revamping her look with her own two hands. Born in St. Louis, MO, Young has released six studio albums, toured the world with on-again-off-again friend Morrissey, and worked with superstars like Dave Grohl and producer Tony Visconti, both who contributed to her latest album,
The Knife Shift
. Here she walks us through the five outfits that define the new look of her summer tour.


Transition was at the core of everything for me over the past month. I had a new album, new feeling, new direction and a new band for the tour so we were figuring it all out. The same went for what I was designing. I'm not currently very excited about the elaborate or surreal....or elaborately surreal. I've done it for ages and now everyone is doing it, so at this point, it's no fun and definitely not inspiring for me. I'm also really sick of slick. I'm wanting guts, bones, entrails and something casual with a hood that is superfluous to the music. Oh, and if you don't know who the hell I am -- and I sometimes don't either (but not very often) -- I am a songwriter, singer-wailer, piano-basher and I design and make all of the things I wear on stage. And I do it all by lil' ol' self. Zzzzzzz. Ok, wake-up. We'll get through this together.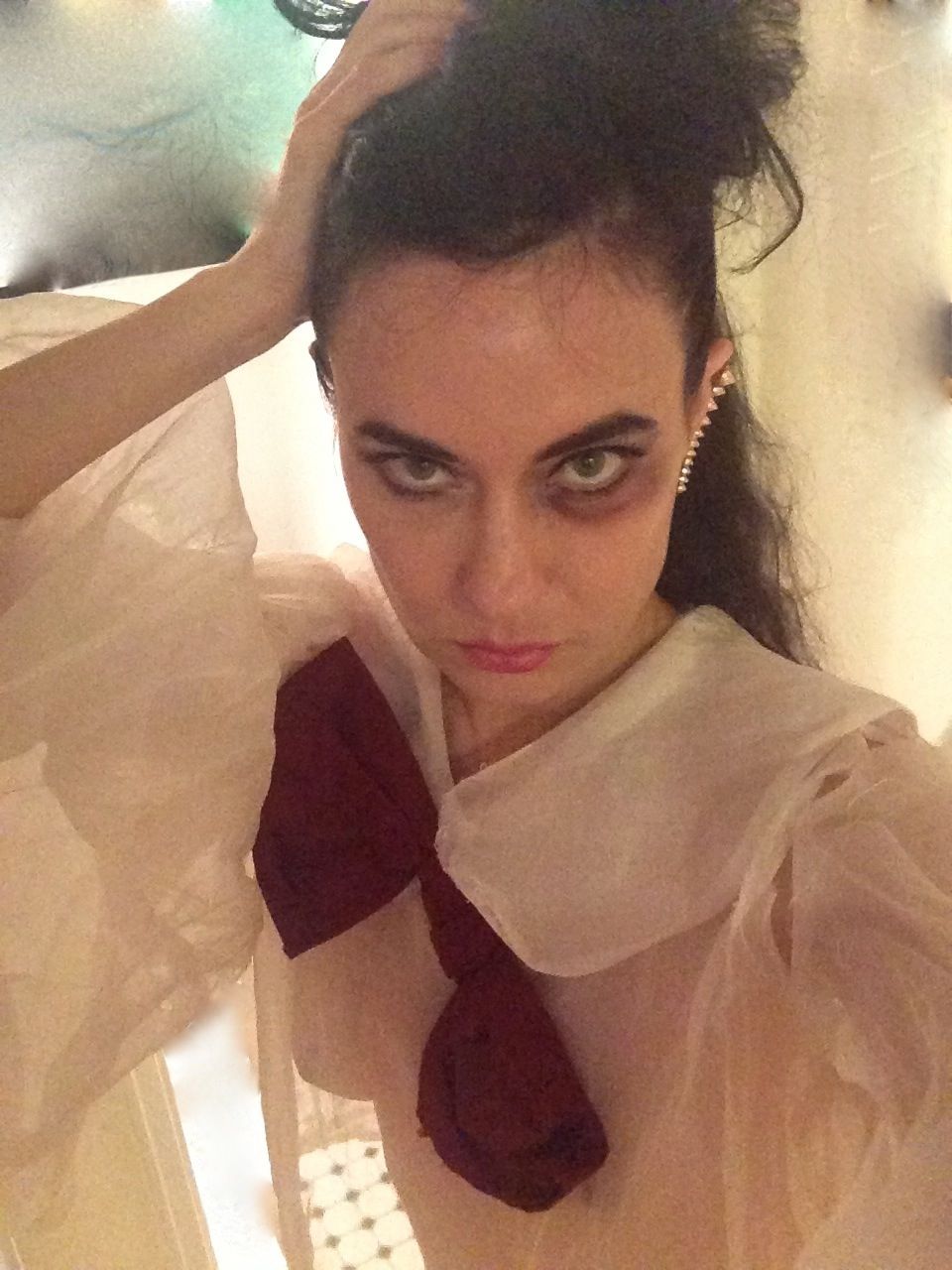 I wore this blouse on the cover of my new album,
The Knife Shift.
I designed and made it from scratch. You really can't get more feminine than a see-thru, flouncy poet's blouse with a bow, but I painted it with glue to stiffen the fabric and ripped it a bit so there's an edge.
On my album cover
(and in the photo above) I have a black eye and I wasn't wearing anything underneath the top, so you can see nipple. The image as a whole is meant to address the journey of women throughout history. We've been through a bunch of shit but are tougher for withstanding it all and ultimately unaffected, overcoming and triumphant. Plus, when I shot the album cover I was feeling like there was a
real war on the female nipple
, and I mean...we
all
have nipples. It's the first thing a baby spends most of its time with. Men have them and expose them. Why are women censored so much? I think it's about control, and I've never been well-behaved in that scenario. But, besides all the 'blah blah blah,' I just like how the top looks, which is always the most important aspect.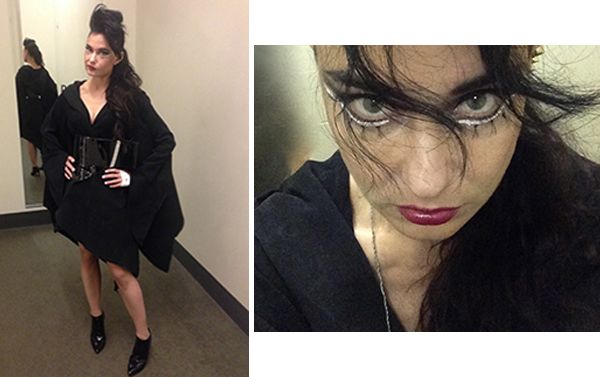 I made this hooded dress look just for the May tour -- and about a week before it started. Again, this is a flowy look that I stiffened using glue. I felt like wearing and making something Satanic since music is so not right now. Even Ozzy's like the loveable, silly uncle next door. This can look really different depending on my angles and body movement. I got the original design idea from a photo I saw but then changed it up to make it more dramatic and conducive to what I do.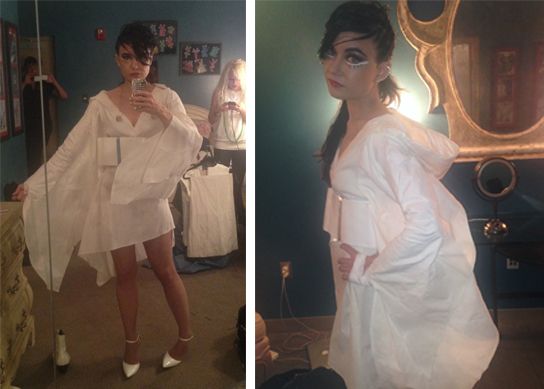 Here's the white version. In white the dress turns it into more of a sacrificial cloak but still relatively stylized B-movie horror. I only wore it in white once as I felt the black one just felt more right -- at least during the time period. I painted this one with glue, too. I love using blue because I don't like flowy looks but do still like the idea of something that is actually stiff and tailored to appear flowy.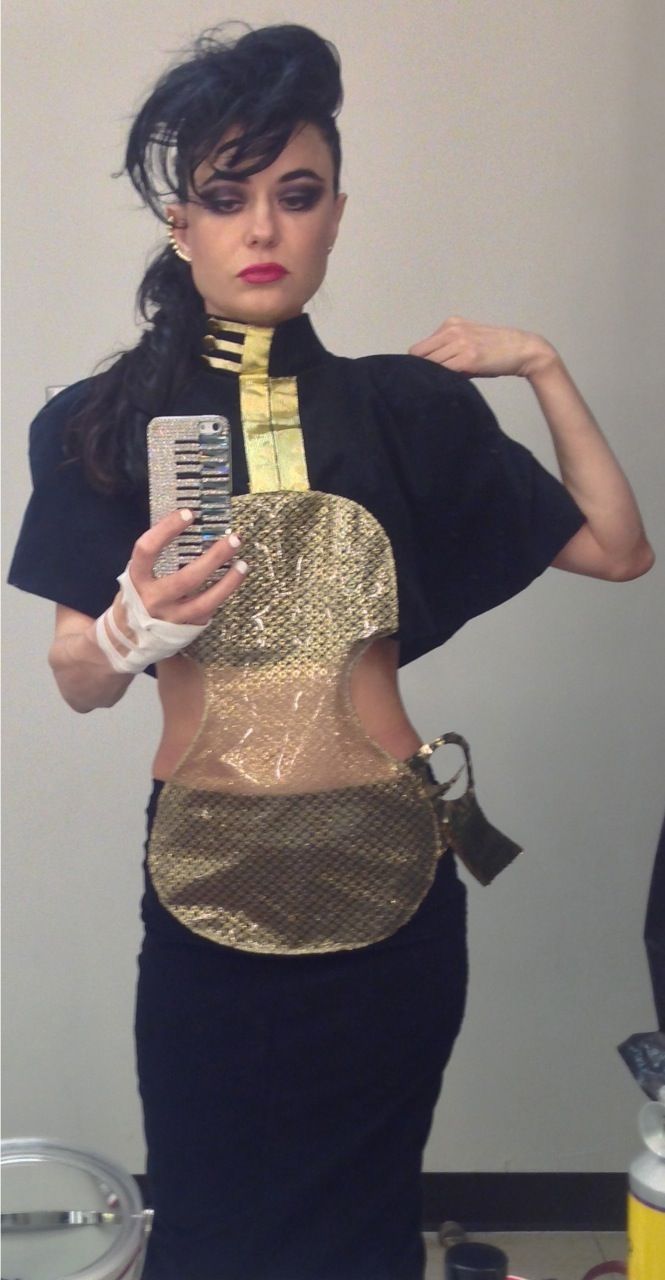 This dress is another example of a pic I saw and then modified -- a Chloe design perhaps? The original had a violin on the front of the dress instead of the guitar and machine gun I changed it to. I think mine feels much more American. Also the gun is pointed toward my own head which keeps with my "triumphing over the violence, over the fight" theme.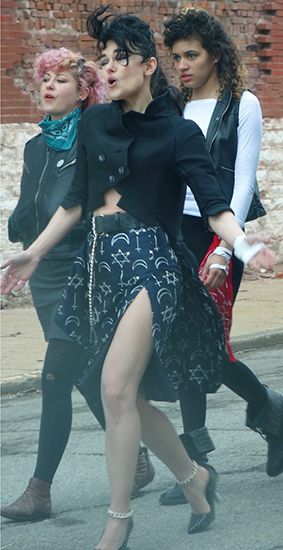 Even though I was feeling a bit of a different look for this tour, I've been wearing pencil skirts almost exclusively for years now. The skirt's pattern, which I painted on, represents the symbols of three major religions...but I've defaced them. The cross and the half moon are upside down and I sewed little metal pieces on the star points of the Star of David to look like blades making it like a martial arts throwing star weapon. The fabric and pattern of the skirt is the same as the lining of the jacket. I got the idea from what silent film star, Theda Bera, was wearing in one of her movies. I wear this outfit in much of the upcoming "Pearl of a Girl" video (that's a still above). The song is about the centuries of religious persecution (and again, triumph) of women.

Catch Kristeen Young on the following dates this summer:

7/10 - Brooklyn, NY @ Black Bear
7/17 - Los Angeles, CA @ The Satellite
7/19 - San Francisco, CA @ Bottom of the Hill
7/21 - San Diego, CA @ The Casbah