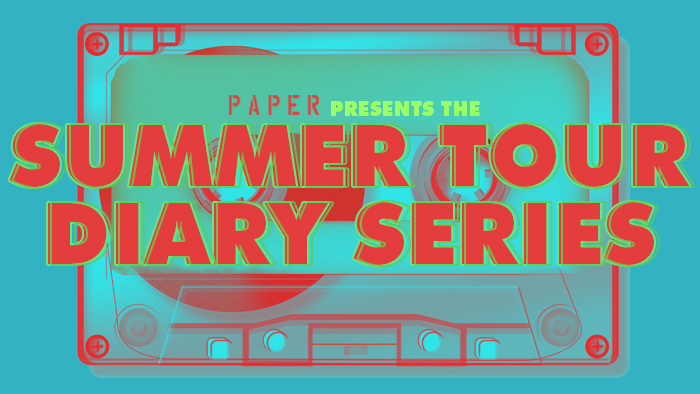 Throughout the summer, we're following around some of our favorite bands and DJs as they head out on tour. In each installment, these road dogs will be sharing a photo diary and sharing stories about what they do, see, and hear and eat while criss-crossing the country and the globe. Next up:
Phantogram.
The Brooklyn-based electro rock duo comprised of Sarah Barthel and Josh Carter are on the road in support of their newest album,
Voices
(out now), and here, Barthel tells us all about their kick-off show before a hometown crowd at Terminal 5.
Terminal 5 was the first show of our little tour that's just started. Josh and I drove my roommate's pretty awesome silver Volkswagen Jetta from the '90s from Williamsburg over to the venue. Terminal 5 is kind of a haul and so the trip took almost an hour with traffic. We were an hour late when we got there at 4pm because I had to pick up some medication on the way because I was really sick with laryngitis and I was afraid I wasn't going to be able to sing. As soon as we got to Terminal 5 I went upstairs and lay down until the absolute last minute before we had to do sound check.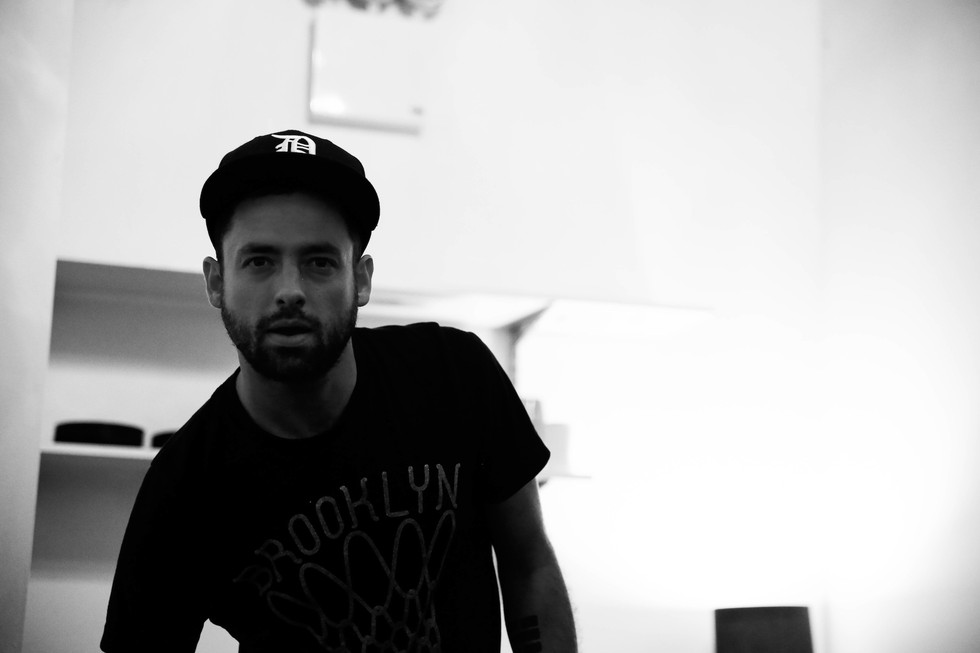 Josh was hanging out in our green room and this photo makes him look like he's really hungry and about to reach for a cheeseburger or something. But that's not actually true because it was still before our show and we don't want him throwing up. We don't let him eat until after.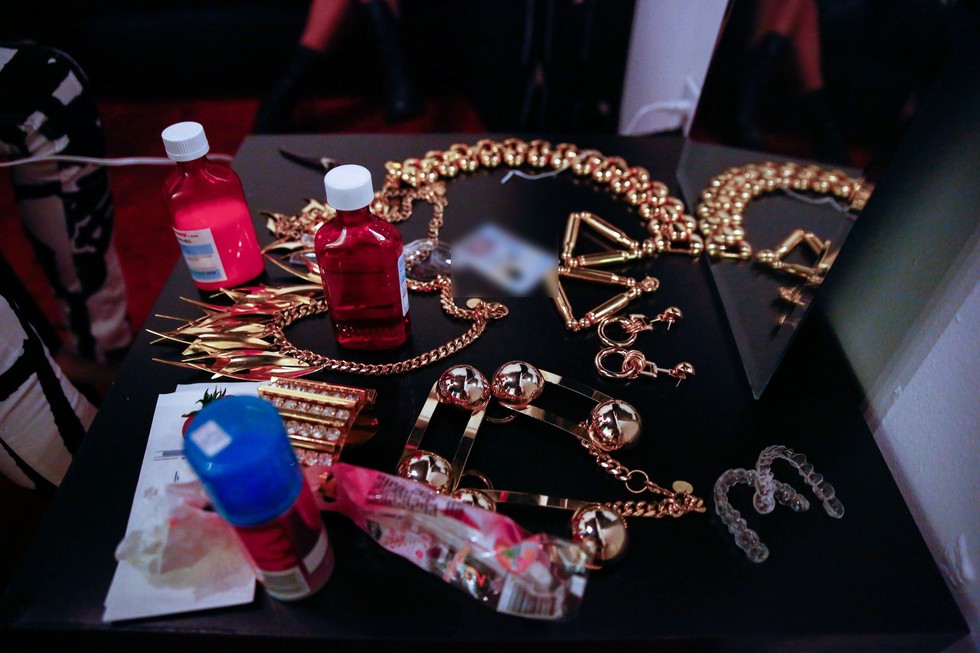 This table was in our green room and you can see in the bottom right my braces -- or, rather, my Invisalign. And then there's the codeine syrup that I needed to take because my throat was really sore. I actually ended up throwing up two minutes before going onstage because the codeine fucked with me. I don't know what happened. Someone told me not to take it but I was like, "You don't know me! I'm gonna do it." I took a tiny, tiny sip -- it was not a lot -- and I was trying to pretend I was sipping on sizzurp but it did not pan out the way I had hoped. I ended up throwing up everything including my entire lunch, which were strawberries that my mom brought from upstate New York and crackers. She was trying to help take care of me.
Those jewelry pieces were all things my stylist pulled for me to try on. I loved the big gold chain necklace and the big triangle earrings that I couldn't wear because they were 20lbs. And you can also see my driver's license in the middle of it all.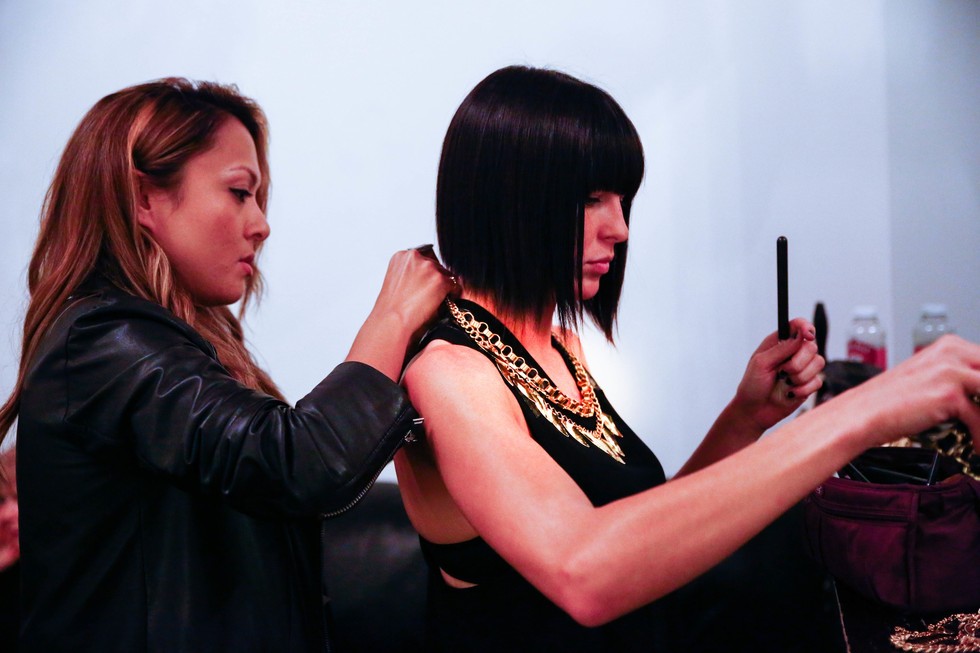 Look at those guns! My stylist Noel was helping me get ready and putting on necklaces before the show.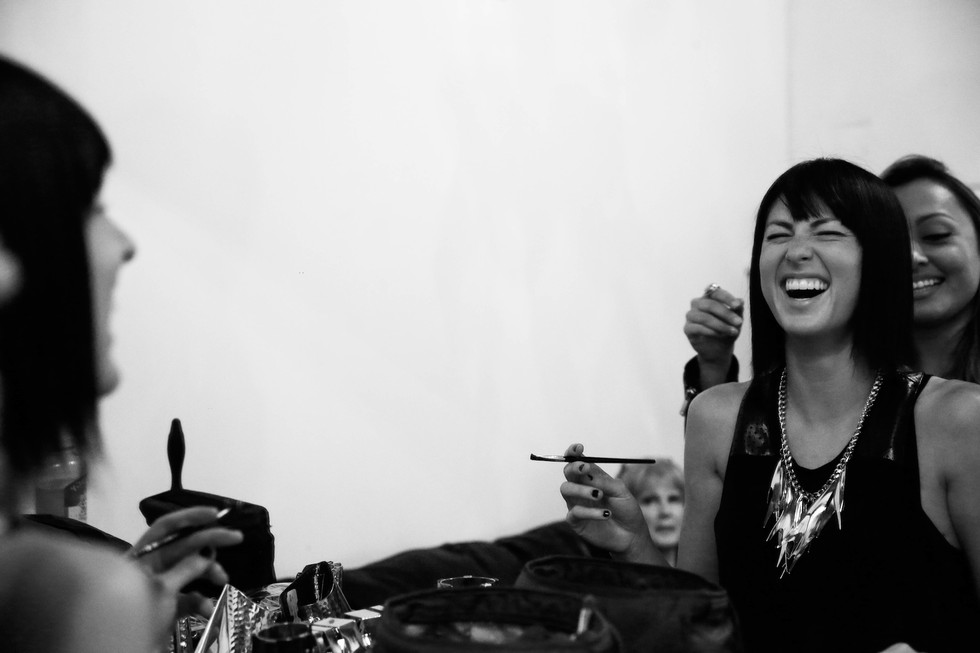 Eventually almost everyone cleared out of the dressing room and there were only four of us -- me, Noel, our friend Miaken who photographs us and my beautiful mother, whose head is in the background. Miaken is hilarious and was cracking me up because she knows if she says just about anything then I laugh and she gets pictures that prove to people I'm not a really sad person.
In addition to those strawberries, my mom had brought some miso soup and was making me eat food and I didn't want to, which made me feel like a teenager again. Since this was our hometown show, we had tons and tons of friends and family there. At one point the green room was filled up with our New York friends, friends we grew up with, our hairstylist/best friend, our families, booking agent, lawyer, and our manager.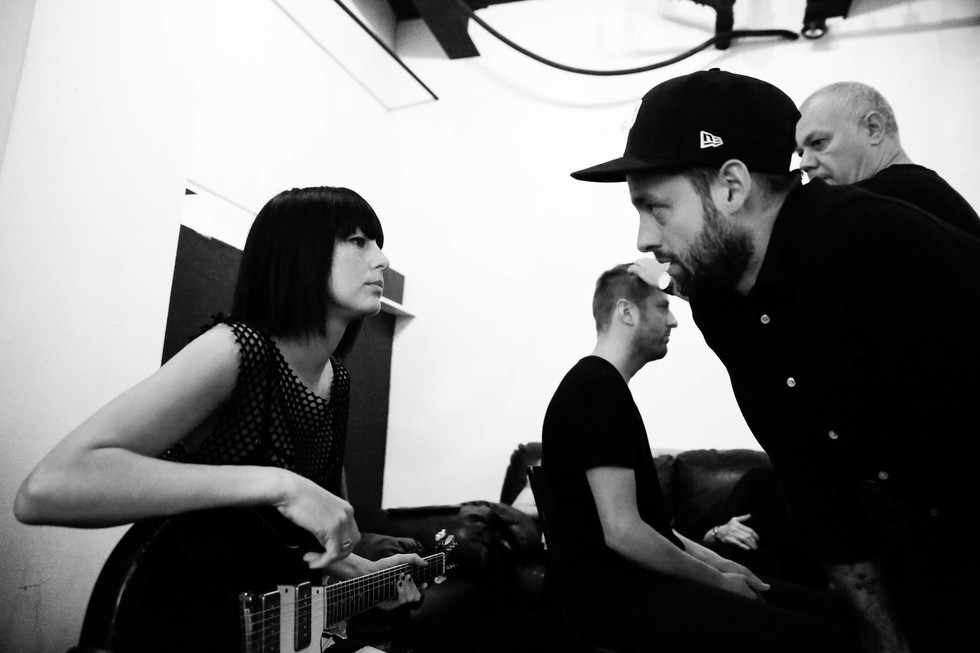 Right before we went on, I was practicing how to use a pick because normally I have acrylic nails that I use to play the guitar but my nails ripped off that day and I didn't feel well enough to take care of it, which was silly of me.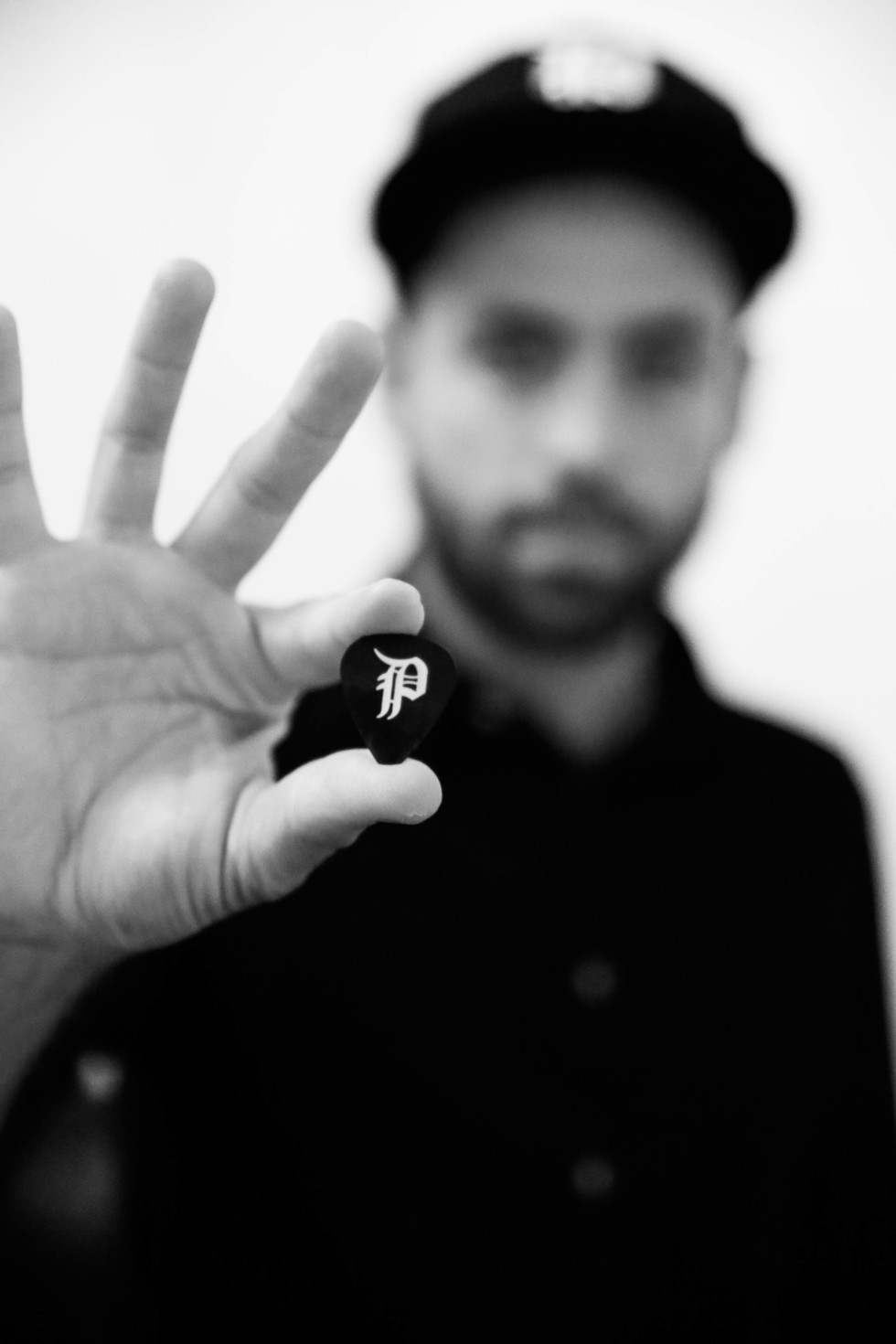 That's our Phantogram guitar pick. We throw these out to our fans after the shows.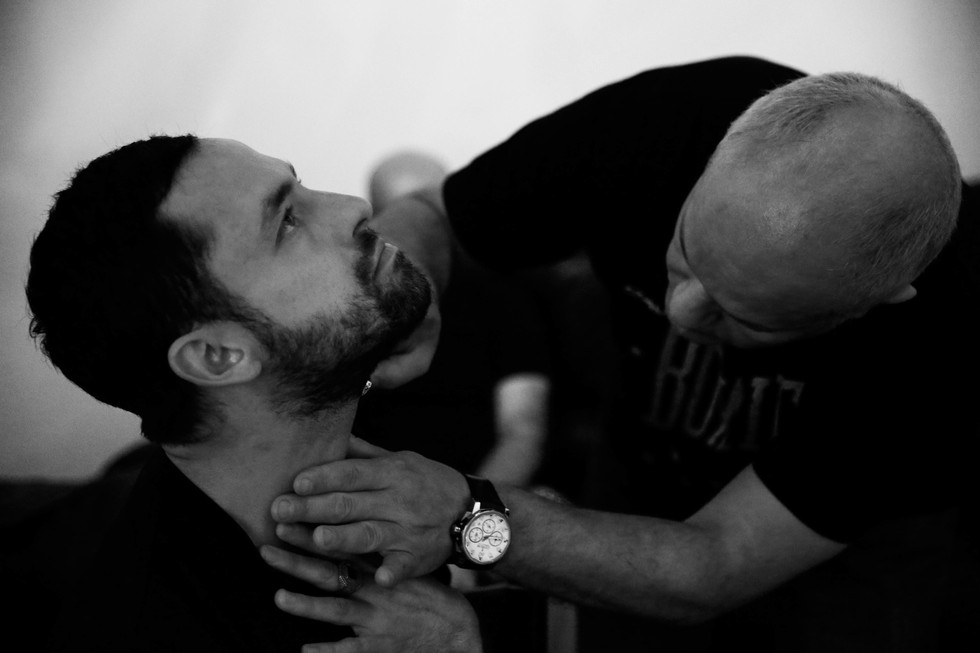 Right before we went on, Daniel, our hairstylist, was trying to inspect Josh's Adam's Apple or something. He was making sure it was still there. Actually I don't know what was going on -- I think he's helping Josh shave.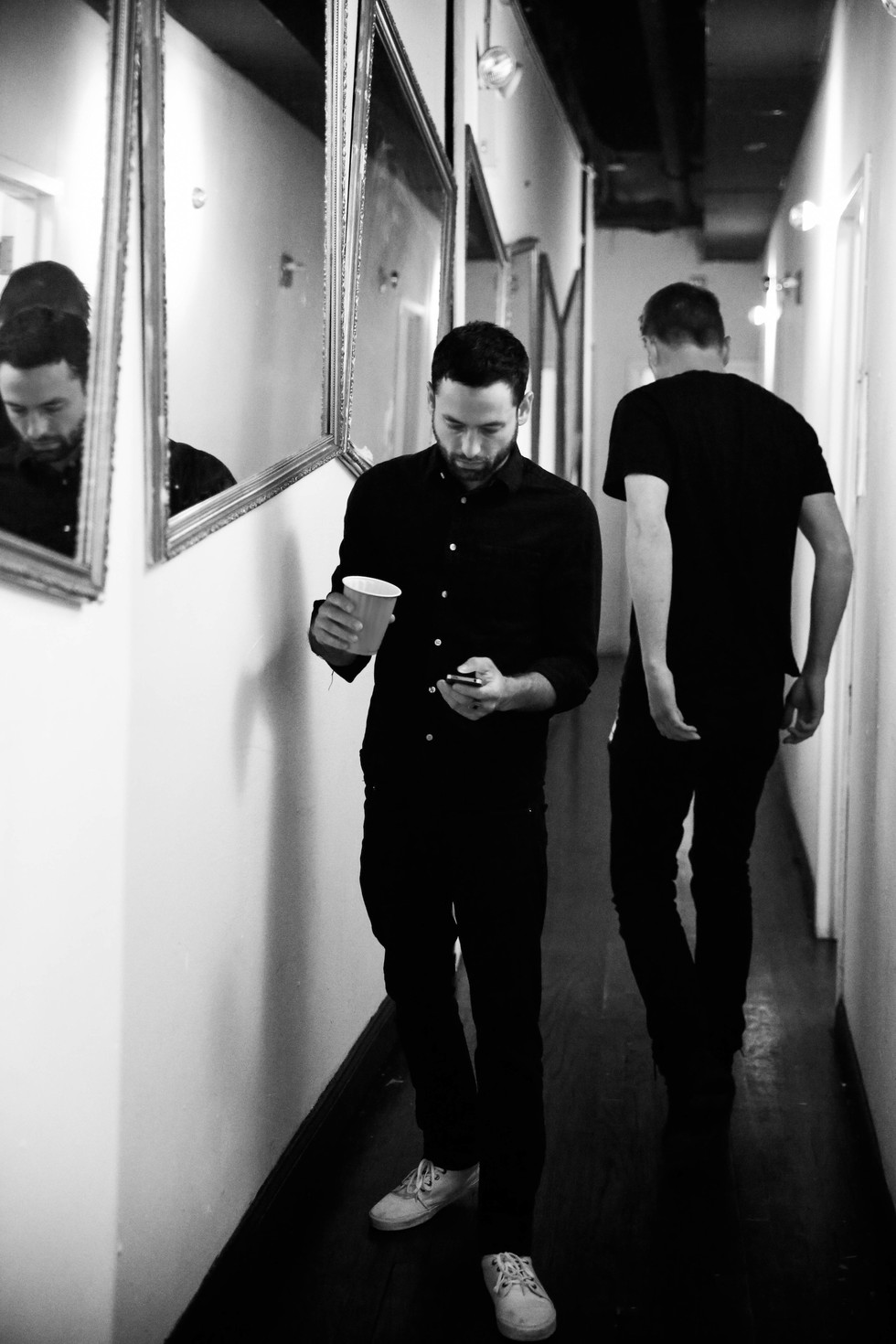 Here's Josh in the hallway in Terminal 5, checking his stocks while he was drinking his black coffee. He's the coolest.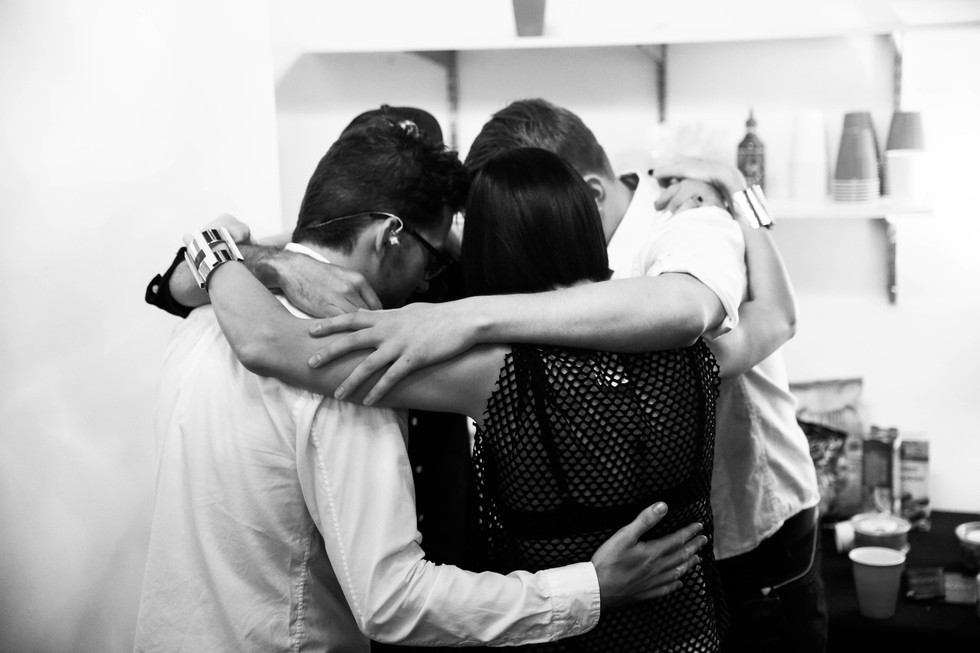 That's us doing our little prayer before we go onstage. It's a tradition at this point to do it before every show -- we started it last year. It gives us a moment to breathe and realize that what we're doing is amazing and that lots of people watching us all have things going on in their lives and we're out there to let people enjoy a really fun show.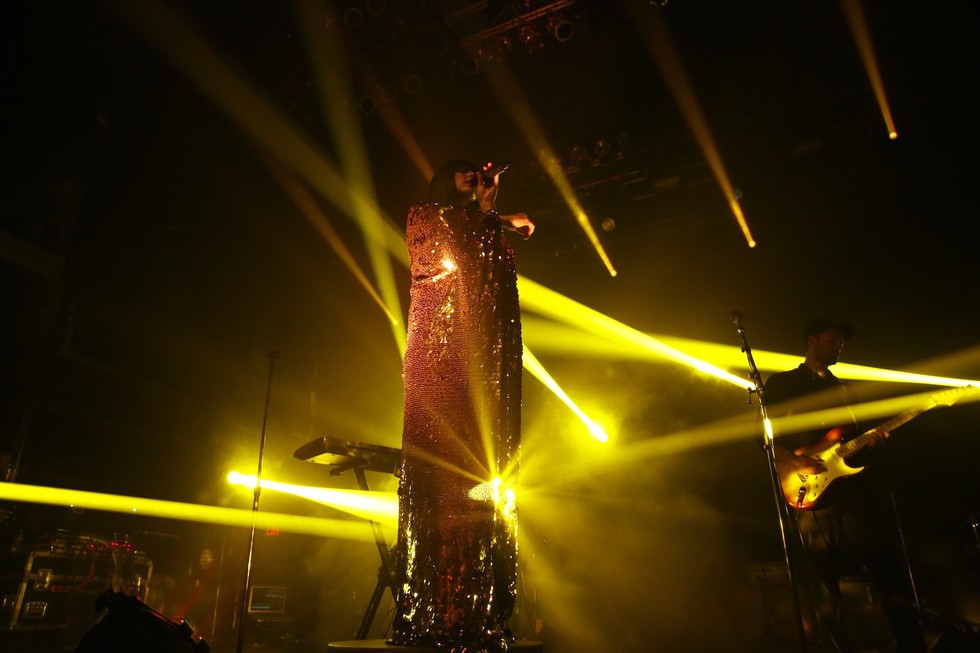 Once we finally went onstage, I was pretty black out the first half of the show. The first song started and my adrenaline was so high that the song sounded like it was double speed. I couldn't even play the tambourine, it was so fast. I couldn't catch up. After that, I went with the flow but it was pretty brutal the first few songs. When "Bill Murray" came on, that's when I wore the cape and I had a moment to breathe and compose myself. Noel had found the cape material at a fabric store and made it for me.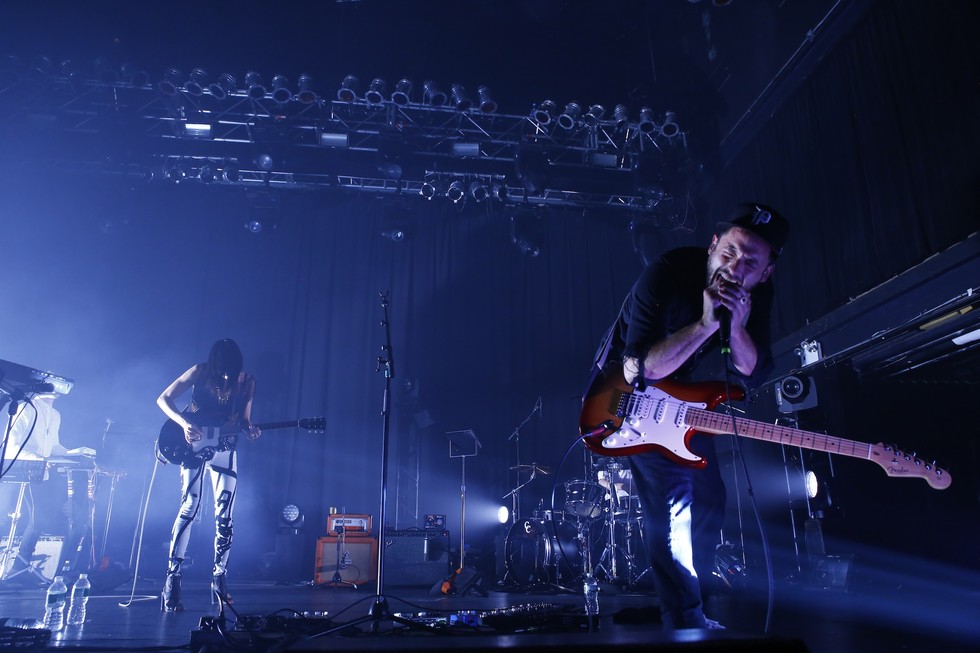 This was right around when I started playing with the guitar pick for the first time. It worked out. After the concert was over there was an after party but I got offstage and threw up about five more times and then my mom drove me home in her car. She was super stressed the whole time because she didn't know how to get anywhere and I was only half-coherent. Then we got home to my apartment and my roommate was there and we ordered some more soup so I ate that and then fell asleep on the couch like a fuckin' rock star.
Photos by Miaken Christensen
MORE TOUR DIARIES