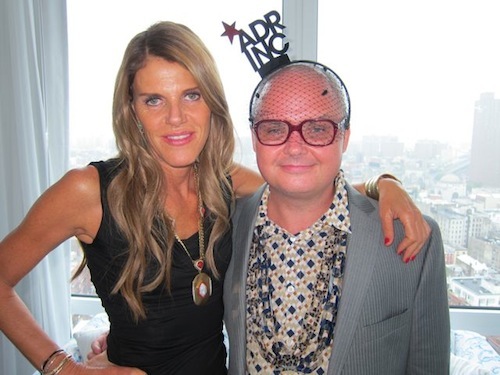 I'm just going to say it. I'm in love with Anna Dello Russo. The Italian fashion icon, Japanese Vogue editor and Macy's INC collaborator doesn't know the meaning of casual day look. She treats a trip to the supermarket like it's a red carpet premiere and throngs of fashion-addicted fans around the world go crazy for her over-the-top looks. I caught up with Anna on a rainy Wednesday when she was presenting the line she guest edited for INC International Concepts at Macy's.
Do you have a rain look? I have never seen you in a look that wasn't full-blown fabulous.
No. I always say don't take an umbrella. Don't put plastic shoes. I don't have a rain look
Do you have any look other than glamourpuss cocktail party? What do you wear around the house when you are relaxing?
I don't have anything in the middle. I wear all crazy crazy clothes or I wear yoga pants and little t-shirts or Abercrombie fleece pants. I don't have any daywear, because it's a waste of time for me.
I know you have an apartment just for you clothes. Do you ever get rid of any clothes or give them away? Or is it Anna Dello Russo archive that will stay together forever?
No no no. I am collecting clothes. I did the apartment because the clothes need space, need to stay together. I am so organized and I am so precise. That is why I don't want to buy any day wear. It doesn't make sense to save that for the next generation. I want to buy special pieces to mix and collect.
Do you look ever wear vintage pieces from your archive?
No. Never. I love to have brand new fresh clothes. Sometimes I have an idea or I'm I looking for something for a particular job -- but not for wearing. I like wearing brand new clothes. That is my goal.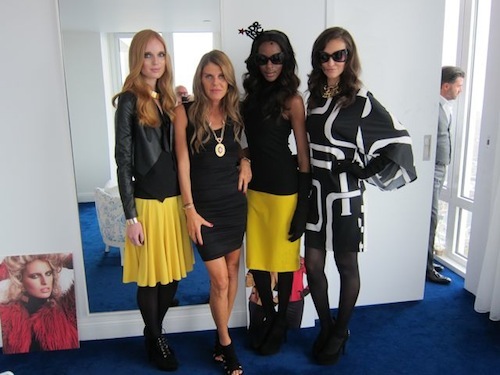 How did the Macys collaboration come about it? I was a little surprised. You're so fabulous, so high-fashion and Macy's is fabulous --  but very mass. They have a million stores!
I was thinking it was a great challenge. Now the world has changed. Fashion commerce has changed. The big mass market store was a revolution of this new century. Before in the '90s it was minimalist. And before that, the '80s was Japanese. This century it was big mass market stores.When Macy's came to me I said I will see if I can put my knowledge and my spirit into this market. They didn't come to me as a couture lady, but as a blogger, so it was part of this web revolution. I'm part of this revolution because it's true I always dressed up, but now I've started to talk to the young generation, to be more approachable. I don't want to be part of the old world by being in my ivory tower. I don't want to miss that train.
Do you feel pressure to change your look to move forward?
My message about fashion is try to change. Don't be afraid of yourself. Try to push out something of yourself you never knew you had. This is my mantra.
We're having a very lady-like moment in fashion with brands like Marni and Celine. They're not very your style. Do you ever wear clothes like that?
I want to show my body so I wear the kind of clothes that do that. I am not young but I feel good in my body so I play with that. It's not time to cover up.
Do you ever wear flat shoes?
Of course I wear flat shoes. I wear them traveling or walking my dog.  But high heels are my absolute obsession.