New Yorkers have been stepping up to do their parts following Hurricane Sandy's devastating blow to the East Coast, and, if you'd like lend your support, there are tons of fundraisers in the coming days and weeks to contribute to. Here are some ways you can help. (Go here for a list of volunteering opportunities and organizations accepting donations.)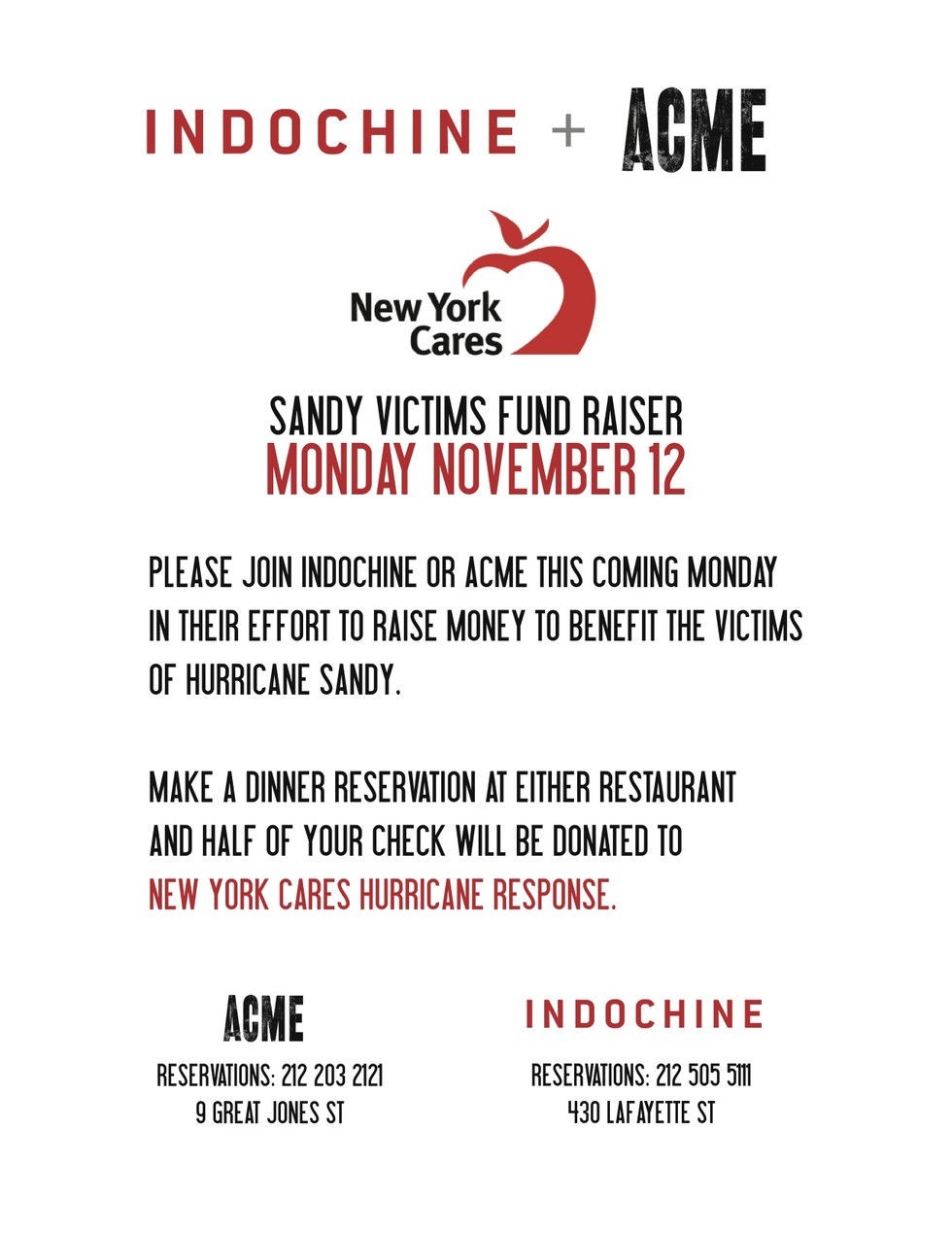 11/12 Make a dinner reservation at either Indochine or ACME tonight and half of your check will be donated to New York Cares Hurricane response. Indochine Reservations: (212) 505-5111; Acme Reservations: (212) 203-2121.

11/13: New York City treasure Pat Kiernan hosts a night of pop culture trivia at the Bell House with all proceeds going to hurricane relief organizations. 7:30 p.m; $15.

11/14 and 11/16: Dan Deacon is donating all proceeds from his two shows in New York to the Red Cross and Occupy Sandy. [VillageVoice]

11/14: Tasting Table is hosting a Sandy fund-raiser in their Soho test kitchen from 6:30 to 9 p.m. Tickets are $100, Tasting Table will match what is raised, and all proceeds will be donated.. Guests are urged to bring canned food and winter jackets, all of which will be donated.

11/14: Several businesses and organizations were badly hit by Sandy in the DUMBO neighborhood of Brooklyn, including Smack Mellon, powerHouse Arena and One Girl Cookies. Proceeds raised at the party and silent auction Help DUMBO Rebuild go to recovery. The event is at performance space/venue Galapagos Art Space, which also had substantial flooding but recovered. 6-10 p.m.; $25.

11/15: MTV is airing a 'Restore the Shore' fundraiser with the cast of the Jersey Shore to help rebuild the boardwalk in Seaside Heights and New Jersey residents affected by the storm. [NYT]

11/18: powerHouse bookstore and arena flooded during the storm. The store not only lost merchandise, but their computer system and security system were destroyed as well and they estimate up to $50,000 worth of damage. To make matters worse, they don't have flood insurance. The DUMBO staple is chronicling their recovery on awesomely-named blog, SandyHatesBooks, and are having a book fair today, from 12 p.m. to 8 p.m. with all proceeds going toward clean up costs.

11/25: Comedian Eugene Mirman will host a special fund-raiser edition of his Pretty Good Friends show at the Bell House entitled, Pretty Good Friends' Hurricane Relief Benefit: A Very Funny F*ck You to Sandy. Guests include Mike Birbiglia, Jon Glaser, Wyatt Cenac and more and all proceeds will benefit the Brooklyn Recovery Fund.10:30pm; $30.

Ongoing: Printed Matter, the Kitchen and Smack Mellon, all essential New York arts non-profits hit hard by Sandy, are seeking donations.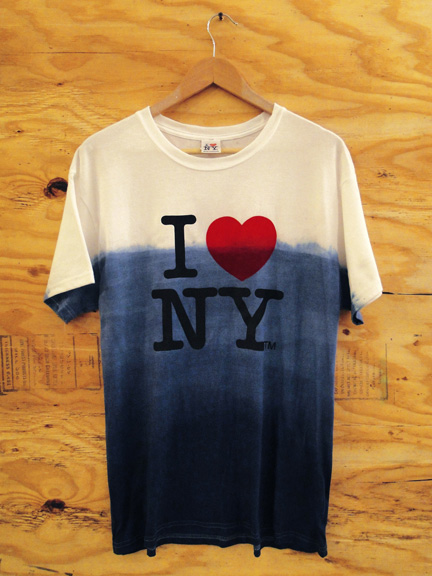 Wear your support: Artist Sebastian Errazuriz was inspired to make his "I Still Love New York" t-shirts after he saw the waterline in his flooded Chelsea studio. The shirts (there's another design with a NYC subway map) were made in collaboration with GreyArea and are $40. All proceeds to go relief efforts.