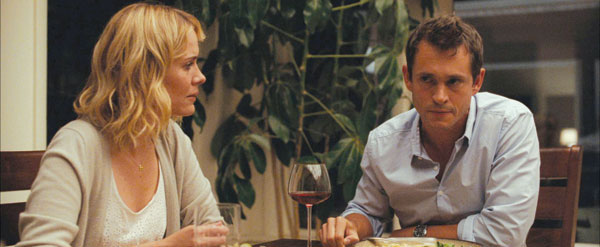 Hugh Dancy
's fall will be filled with cult victims, vibrators and S&M... Who says men can't multi-task? We chatted with the actor from the
Toronto International Film Festival
where he was promoting two films:
Martha Marcy May Marlene
(pictured above), about a cult escapee, and
Hysteria
, about the invention of the vibrator. Then he'll head to New York to play a director who engages in some power play with a scantily clad actress in Venus in Fur on Broadway.
When did you know you wanted the part in MMMM?
I read it alone one night in the middle of the countryside and it completely freaked me out. It was a slightly under the radar project, but I spent the next few days ringing people saying, "Make sure they know I would really like to do this."
Lizzie Olson plays your sister-in-law, a cult escapee, who comes to live with you and your wife. What effect do we see that have on your character's marriage?
In the beginning of the movie you see Lizzie's character extricate herself from this strange situation she's been in. She calls up her sister, played by Sarah Paulson, whom she hasn't seen for years, and comes live with us in our lake house in upstate New York. My character's trying to work in the city and build a career in real estate. He's got a good marriage with Sarah but they're aspirational, they want nice things and a nice lifestyle and Martha sort of appears in the middle of this relationship like a great big shard. The result is very tense, but I resisted the idea that they were just this shallow couple who had hidden problems in their relationship. I didn't think it was as straightforward as that.
And certainly elements of his personality and his wife's personality emerge in a more jagged way over the course of the two weeks that the movie takes place.
What do you look for in a character?
I don't have any criteria at all. If it's well-written if there's something to explore, if it peaks my curiosity and it's not the run of the mill, then I'm interested. Keep in mind that 90 percent of the things you read... you feel like you've read them before. It's very rare when something comes along that has a clear sense of purpose and a particular voice.
And what about Hysteria? You play the inventor of the vibrator. Can we expect a pretty, uh, bawdy movie?
It's funny, people keep asking me that and there's really no sex in it --  just foreplay. It's all context and is more about what the characters don't do or don't say or don't allow each other than their actions. I think that's far more exciting and more interesting to play for certain.

Your career has always been very balanced between film and theater. What are the differences?
When a movie is well-made, the feeling is often, "Phew, I dodged a bullet there! We'll see how long I can pull the wool over their eyes." You're reliant on so many factors so it's hard to say with certainty,"I did well." With theater you can't rely on anyone else other than the actors you're on stage with, so that voice of self-doubt is silenced temporarily.
MMMM's filmmakers are Brooklyn-based and you'll be on Broadway this month-- New York seems to be a common theme in your work.
I live there most of the time so it's great to work there--but I'd go anywhere where the work was interesting, or they offered me absurd amounts of money. Then you should keep doing indie films and theater! Right! I think I'm on the right track.