[UPDATED 03/15/16, 1:40 p.m.: Hudson Mohawke has clarified that "this is no shots at Kanye" and that he wasn't "threatening" to leak tracks.]
Dont listen to any nonsense about me "threatening" either heh, only stated few facts, wanting to be paid for other ppl taking $£ for my work
— Hudson Mohawke (@HudMo) March 14, 2016
N this is no shots at Kanye it's shots at lawyers who weren't in the room on their side. Myself and Ye have absolutely no personal issue
— Hudson Mohawke (@HudMo) March 15, 2016
Yo it's hard out here when your'e running a company n you're dealing w inexperienced kids at other end of business agreements
— Hudson Mohawke (@HudMo) March 15, 2016
Last night, producer Hudson Mohawke took to Twitter claiming that both Kanye West and Drake had never paid him for his work.
In a now-deleted tweet screencapped by Pitchfork, HudMo threatened to leak an unreleased zip of Kanye and Drake beats he "got 0 for."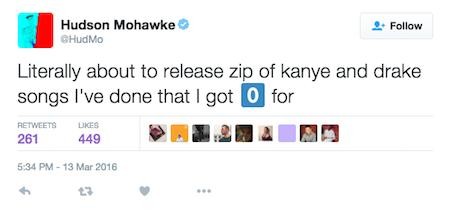 However, he later backtracked by saying "I love yous too much to put myself into a huge legal battle for no reason n prevent me releasing my own music" explaining that he doesn't have the "10 milly" to fight with these guys and crediting his "wonderful friends and family" (and pup!!) for talking him out of it. But not before firing off one last shot at Ye and Drake, saying that "mainstream rappers have less business sense than ur mum."
[h/t Pitchfork]