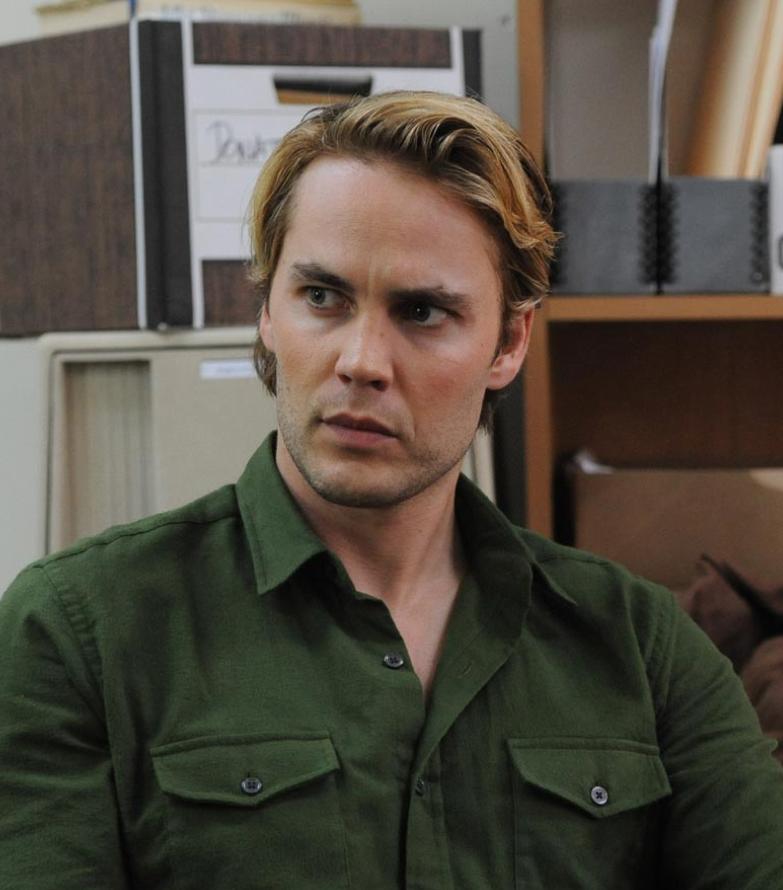 (Photo courtesy of
The Normal Heart
)
Anyone who's watched the football-focused TV phenomenon
Friday Night Lights
has felt the seductive pull of Taylor Kitsch's swoon-worthy character Tim Riggins. That brooding bad-boy swagger, stringy-sexy hair, guarded vulnerability, fullback-toned bod and Lonesome Cowboy accent -- damn, y'all. Now Kitsch is back with two smaller projects. On May 25th, he'll star alongside P
APER Beautiful Person Jonathan Groff
in HBO's TV movie
The Normal Heart
, which is based on Larry Kramer's original play of the same name about a gay activist attempting to raise awareness about the HIV/AIDS crisis in the 1980s. In
The Grand Seduction
, out May 30, Kitsch plays a preppy, clean-cut -- albeit cocaine-addicted -- doctor who's being unknowingly wooed to stay in a Newfoundland fishing village by a group of out-of-work fisherman. Here we catch up with everyone's favorite cult cutie to talk football vs. hockey, the future of Riggins and what seduces Kitsch IRL.
LA and Austin are very different places then up in Trinity Bay, Newfoundland where you filmed The Grand Seduction. Did you like it up there?
I loved it. One of my best friends was with me, and he is an avid, avid fisherman so we were fly fishing probably like five times a week at the end of salmon season. We had a blast. It was close to a 300-person harbor town, so it was just great to get away from everything. I was training for another movie when I was there, and everyday I would do this beautiful hike called the Sherwin Trail. It is literally one of the ten best trails to hike on the planet and I was running that everyday.
What did you miss the most about being away from Austin?
Oh man, probably the food. There was a Subway in the next town, which was an hour drive away and that was glorious. Although, you know, we'd go get groceries and barbeque right along the ocean every night, which wasn't a bad alternative.
So if you had to choose -- Texas countryside or coastal Canada?
Man, that's so tough. They are both pretty darn equal because they both mean so many different things to me. Canada's where I grew up. It's my roots, so it's hard to turn away from that but I do love a country road where you don't see a car for 80 miles. You can stop and have a dip in the river or something. It's pretty great. 
I thought it was strange that your character in the movie was into cricket -- such a random sport to be into.
Yeah, it's from the original. I think it's a bit ironic too because hockey is everything in Canada and this guy comes in mad for cricket.
As a Canadian were you even into football when you started doing Friday Night Lights?
No, not at all. I literally practiced once. I mean, football is nothing where I am from. It's not even an after thought. I grew up playing hockey day and night. But I loved being out there with the guys and playing Riggins was just too much fun.
Do you consider yourself a fan now?
Yeah, definitely. I mean it's kind of by default. Football in Austin is like a religion. There's no pro team in Austin, but when you're livin' there, it really is all Longhorns all the time. You have to go to Houston or Dallas if you want to go see a pro game, you know?
Speaking of Tim Riggins, where and how do you picture him now?
I don't think he left Dillon. I think he's a lifer for sure. Maybe he's coachin' or had a couple kids. Hopefully him and Billy are up to no good again. I'm sure he's drinkin'. I mean that will never leave his side, those beers. Ideally, I want the best for him, so him and Billy coaching together -- that would be a hilarious skit if they were head coaches. That would be literally a 30-minute comedy.
Do you think he's with Tyra still?
Oh man. Maybe. Depending on if Tyra wanted to get outta Dillon again, who knows.
Let's talk about The Normal Heart. What attracted you to that role?
So many things. It's a true story that deserves to be told and the opportunity to work with that cast. The character was something I had never explored before. The duality he lived, there was so much to explore, and that's all you want as an actor. Being educated and being around that whole community was a grounding thing -- the chance to hang out and talk with Larry Kramer and all these guys who lived through it and fought for their lives and to be heard. It's really inspiring. Selfishly that was the biggest takeaway. As an actor you grow exponentially when you take a risk like that, so I definitely feel that I've grown leaps and bounds from that film.
How was working with Jonathan Groff? He was a PAPER Beautiful Person of 2014.
He's an amazing guy. He's super talented. He's just an animal really. He can sing, he's a great actor and he's super personable. We laughed a lot. As heavy as this film is, off camera we had a lot of fun.
The Grand Seduction is all about the art of seduction -- not really in a sexual way, but enticing or convincing someone to do something, in this case, to stay in a small fishing village. So, alright, what are the things that you're seduced by?
1. Motorcycles: I love being on a country road -- where you don't see another car for 80 miles. I go on long motorcycle rides a lot. It's just good for the head.  
2. Women: That's a given. I love a strong woman, a woman that knows herself and is very grounded. That's what gets me the most.
3. Risks: Being uncomfortable entices me. I didn't know a soul when I uprooted to New York City to study acting. Or taking one buddy and one camera to go shoot a documentary all over Africa. Those are the type of risks that I love. 
4. Lakes: Being out on the waters is very calming to me. I always have a good time when I'm out on a boat with friends, listening to music and chatting. I have property on Lake Austin with a boat so we're always out there.
5. Indulging: I eat pretty darn clean and take care of myself, but one day a week: I go all out. My friends and I will go out in Austin, drink too much wine and order like four pizzas between the six of us.