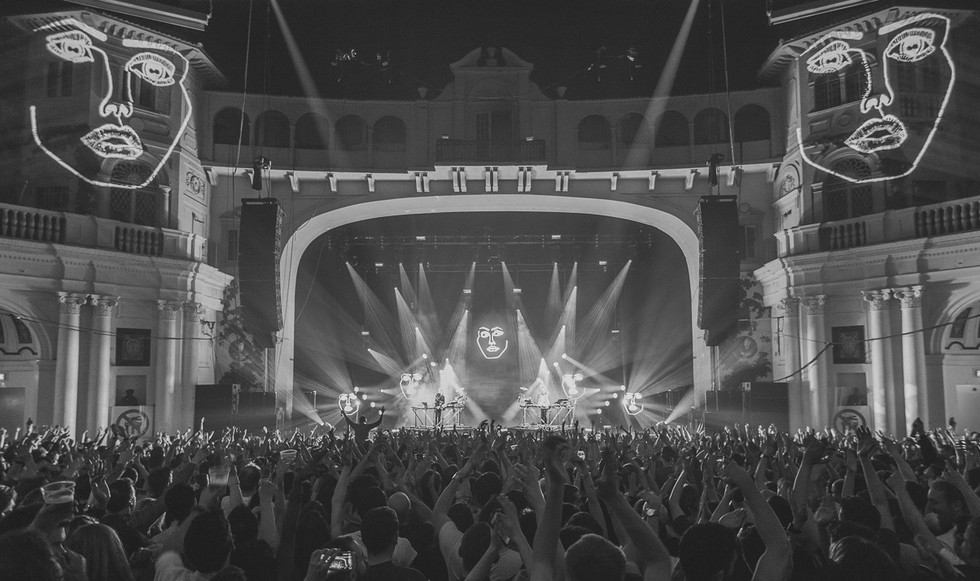 Disclosure. (Photo by
Luke Dyson
)
From
Yeezus
to Yonce, modern vampires to savages, a trio of
long-haired Angeleno sisters
to a duo of barely-legal British electro-producer brothers, 2013 was a good year for music. Whether your tastes gravitated toward
orchestral soul
or
hardcore-inflected rap
, there were albums to fit every palate. But despite this diffuse landscape, one big trend seems to have emerged last year in the United States: the explosion of electronic music's "middle ground."
Much as we have "profitable" indie rock bands like Vampire Weekend, Phoenix,
Passion Pit
or Arcade Fire playing major arenas and eking out
number one albums
-- yet generating record sales that nowhere near approach the numbers seen by pop stars and whose singles are
largely missing on Top 40 radio
-- 2013 seems to be the year a parallel middle ground emerged in electronic music with Pitchfork-approved producers bursting onto the scene yet largely absent from dance music's pseudo-equivalent to Top 40 radio: EDM festivals like Electric Daisy Carnival and Electric Zoo.
"There used to be more of a two-layer system in music -- a mainstream and an underground," Michaelangelo Matos, writer, music critic and author of a forthcoming book about the history of the U.S. rave scene,
The Underground Is Massive
, says. And, according to Matos, in electronic music, "what really [exemplifies] the middle ground now is...Disclosure."
Disclosure -- along with acts like
Rudimental
and Darkside -- launched into a space not covered by many of their EDM peers: the gray area existing between uptempo party music and downtempo chillout music. And though they're all associated with the electronic scene, they incorporate live instrumentals into their shows. In 2013, they dominated
year-end lists
and grew fanbases that include many more people than just die-hard Resident Advisor readers. So far, their growing popularity hasn't seemed to affect their credibility.
But comparisons between Disclosure and Vampire Weekend are still pretty limiting, because the electronic music "middle ground" is easily several years behind their rock or pop peers. At this point, their careers could go any number of ways: they could follow career trajectories similar to the indie bands mentioned above, flame out and be seen as phenomenons of 2013 or become gradually absorbed into the amorphous EDM community and get a piece of the pie that seems to have no direct equivalent in the indie rock scenario.
And speaking of that pie.
A-list DJs like Afrojack, Tiësto and Calvin Harris are routinely paid
hundreds of thousands of dollars
--
per set
-- by Las Vegas nightclubs. Harris, a Scottish producer,
made more money
in 2013 than Jay Z, Katy Perry or Rihanna. We've also grown more accustomed to seeing some of the genre's biggest stars land brand partnerships and endorsements that may once have been reserved for celebrities, pop stars or athletes;
Avicii is the face of Ralph Lauren's Denim & Supply line
and Tiësto has designed
two capsule collections for Guess
and has starred in some of the
brand's advertising campaigns.
And while it's hard to find a direct relationship between the EDM "overground" and the buzzy "middle ground" some believe there's an indirect, "trickle-down"-style correlation between the two.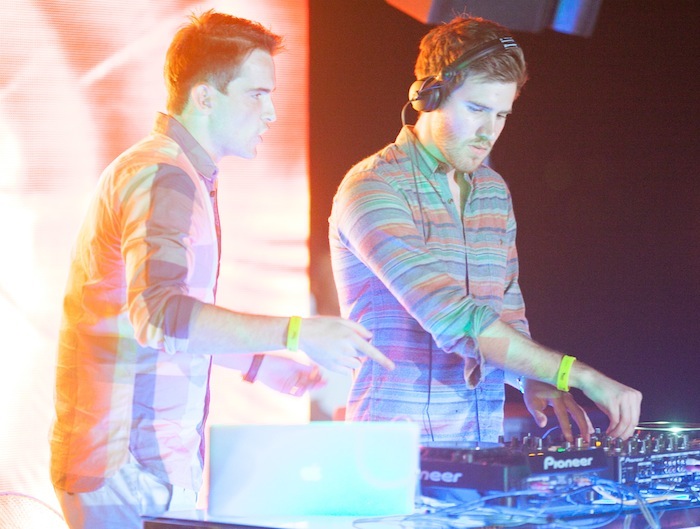 Hong Kong-based DJ duo Parvenu, one of the acts participating in the W Hotels & burn DJ Lab. (Photo courtesy of W Hotels Worldwide)
"EDM is the gateway drug [to more experimental electronic music]," Michaelangelo L'Acqua, a producer and W Hotel's Global Music Director, says. L'Acqua and his colleagues are banking on audiences starting to crave harder stuff and listening to "post-EDM" producers and DJs. W recently hosted a
private Disclosure concert
in San Diego as part of their ongoing
Symmetry Live
series and for the third year in a row, L'Acqua's been in charge of selecting seven aspiring DJs/producers from all over the world to participate in the W Hotels & burn DJ Lab. The six-day DJ bootcamp, held this year in Bangkok and Koh Samui, Thailand, gave the DJs the opportunity to work with music industry mentors like James Lavelle and DJ White Shadow and produce an album. By and large, none of the seven describe their music as "EDM," using terms like "Deep House", "Nu Disco," or "Emotional Tech-House" to talk about their productions instead.
"I think there's a lot of opportunity [for artists]," Tom Windish, owner of The Windish Agency, which represents mega-DJs like Diplo, A-Trak and Steve Angello along with rising producers like
The Range
and Darkside, says. "There's more people listening to dance music than ever before. And since there's more people out there, [emerging producers] have a greater chance of their music falling on peoples' ears."
Even
Rudimental
think the mainstreaming of EDM has helped their careers as artists working outside of that scene. "The whole David Guetta thing being massive in America broke down doors in electronic music," group member Piers Aggett says. "I think it's done a world of good for people like us to say, 'Look, this is our side of electronic music.'"
That a French house music producer would be paving the way in the U.S. for a British drum 'n' bass and garage-influenced electronic quartet would have seemed pretty unlikely only a decade ago. It's no revelation that mainstream America had a decades-long aversion to electronic music (despite the great irony that genres like techno and house were invented here, in Detroit and Chicago, respectively).  House and techno "coded as gay," Matos says, going on to explain that "the '80s were a backlash to the '70s, which [celebrated] gay culture and disco. People hated disco and there was a lot of cultural regret about it."
Even if homophobia and anti-disco sentiments slowed the genre's growth in the States, house and techno became wildly popular elsewhere. "In England, [house and techno] exploded because it was a gigantic rebellion against the status quo of pop culture. Phil Collins was #1 every other week. I don't even hate Phil Collins but what kind of indictment is that? There was a lot of pent-up [frustration] and people were ready for [new music]. A lot of that was going on with the first wave of acid house." Matos adds, "In America, though, those circumstances weren't going to be replicated. It's too big of a place." He continues, "It didn't get respect from rock critics or the industry here. It was the bastard step-child. I talked to a DJ once and he said, 'Everybody knew that's where the untalented people went.'"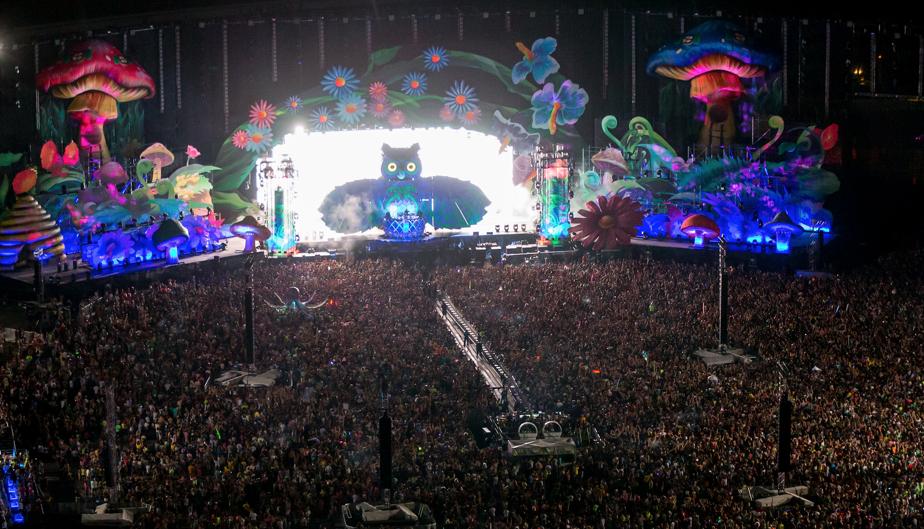 The crowd at Electric Daisy Carnival 
So what changed?
The way L'Acqua sees it, trends in culture, technology and the economy converged 4-5 years ago that primed us for the EDM explosion. "I think dance music is revolutionary music," he says. "When you look at how it came up initially in Chicago, it was the Southside, it was the gay communities...and it went over to London when the UK was going through one of the worst depressions. And when kids don't have jobs and they're on the dole and they have nothing else to do, they're gonna take drugs, tune out and party. That's why it blew up. Now what was happening in America during the last five years? A recession. Kids are growing up, graduating college and moving back home with their parents because they can't get a job. That's where electronic music comes in." He adds, "You look at the analytics of economics and beats per minute and you can see trends happening. During World War II, we had the fast swing music and then when you're in the money times, music slows down."
Matos, on the other hand, credits an unlikely source: Top 40 pop. "You had the Black Eyed Peas hiring David Guetta [for
The E.N.D.
in 2009] and even before that you had Rihanna's "SOS" track in 2006, which was a throwback dance record. It was a house record even -- the beat was a hard 4/4. But when the Black Eyed Peas hired Guetta and made 'I Gotta Feeling' it was boom! Now [pop acts] could hire these dance DJs who've been making records for 15 years but from a pop perspective, what they're doing is radical. That became the mode for pop and what people expected." 
Fast forward four years and EDM is still cresting, though it's hard to predict whether the genre has true longevity or whether it's a bubble that will soon burst. If it's able to follow the lead of hip-hop and pop music by reinventing itself -- perhaps by subsuming these middle ground artists -- it may very well dominate the music world for another decade.
But it's unlikely that Disclosure, Rudimental, Darkside and others will become embraced by the EDM community (or that they'd even want to be). Matos agrees. "Most of the people who go to [EDM] festivals don't care about the intricacies that are the hallmark of [dance music]. And as much as it's a targeted sub-culture, [EDM] has got the tastes and stances of a pop audience in many ways because it's very much about anthems and 'give us this thing over and over again. Bring on the drop.'"
Instead, electronic music's middle ground is more likely to follow the path of its indie rock counterpart. Much as the rock bands mentioned have outlasted their initial "buzz band" hype, industry vets like Josh Moore, a talent buyer for Bowery Presents, sees these middle ground acts enjoying a similar longevity. But he's not so sure about the ultimate staying power of EDM artists. "A lot of the bigger [EDM] acts are hit-based, which can backfire," Moore writes via email. Sure, Skrillex, David Guetta et al. make millions but their business model relies on the fickle tastes of teenagers. As Moore points out, "[These EDM acts] make a lot of new fans quickly but those fans may not stick around too long." By contrast, he says, "these left-of-center dance acts are building real fanbases that will stick around with them for a while as long as they keep making interesting music."