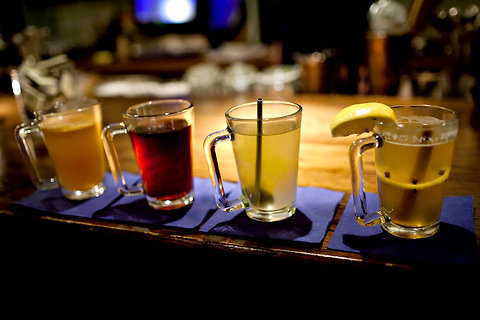 Tomorrow, January 11th, is
Hot Toddy Day.
When else can you indulge in a steaming mug of whiskey, spices, honey and lemon? Well, any day really, but the semi-made up holiday is just another excuse. Here are a few spots to hit up for the perfect HT.
Mother's Ruin
One part neighborhood bar, one part restaurant and bar industry haunt, Mother's Ruin is the best spot in which to cozy up with a hot drink and a cute drinking buddy.
18 Spring St., Nolita. No phone, no website.

The Beagle
A toddy menu at The Beagle allows guests to make his or her own choice amongst cognac, bourbon and rum and various spices. Not only do you get a bespoke cocktail, but it comes accompanied by a little plate of herb and meat laden savory shortbreads.
162 Avenue A, East Village, (212) 228-6900.

The Standard
The celebrity-studded bar prefers their version based on bourbon and garnished with a clove studded lemon wheel.
848 Washington St., Meatpacking District, (212) 645-4646.
Nios
Made with a rock sugar and vanilla spiked bourbon tincture, Nios's hot toddy has is topped with whipped cream and doubles as post-theater dessert.
130 West 46th St.,Theater District, (212) 485-2999.

The Meatball Shop: As if pork and beef smothered in fresh tomato sauce weren't comforting enough, the mad democratizers of the meatball are making port toddies all winter long to send you toddling out into the cold with warm bellies and cheeks.
Lower East Side: 84 Stanton St., (212) 982-8895; West Village: 64 Greenwich Ave., (212) 982-7815; Williamsburg, Brooklyn: 170 Bedford Ave., (718) 551-0520.

Photo: Hot Toddies at the Beagle by Ramsay de Give for The New York Times.