Hot Celebrity Birthday Trend: Partying at SoulCycle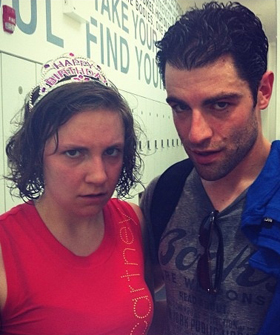 Forget renting out the upstairs room of the Spotted Pig and/or flying 12 of your best friends to the Turks and Caicos for a spa weekend. The hottest celebrity birthday trend is about as unglamorous as hot celebrity birthday trends get: taking a spin class at
SoulCycle
.
First, back in December, SoulCycle devotee
Jake Gyllenhaal
inadvertently started the trend by
spending the morning of his 31st birthday
at a SoulCycle class in Union Square. Then in late March,
Star Jones
kicked off her 50th birthday weekend
with a private group class at a SoulCycle in New York. A few days later
Lady Gaga
celebrated her 26th birthday
with a spin class for her buds at West Hollywood's SoulCycle. Then in May,
Lena Dunham
also celebrated her 26th birthday
at SoulCycle, but in New York, with
New Girl
's
Max Greenfield
(pictured at left) and her dad in attendance. Today, we
learned
that over the weekend, actress
Minka Kelly
(pictured below) spent the morning of her 32nd birthday at SoulCycle in L.A., and that afterwards she was presented with a cupcake.
Though this trend gives off a heavy "stars -- they're just like us!" vibe, spending one's birthday working out just does
not
seem enjoyable to us... though getting to touch a sweaty Max Greenfield looks fun.