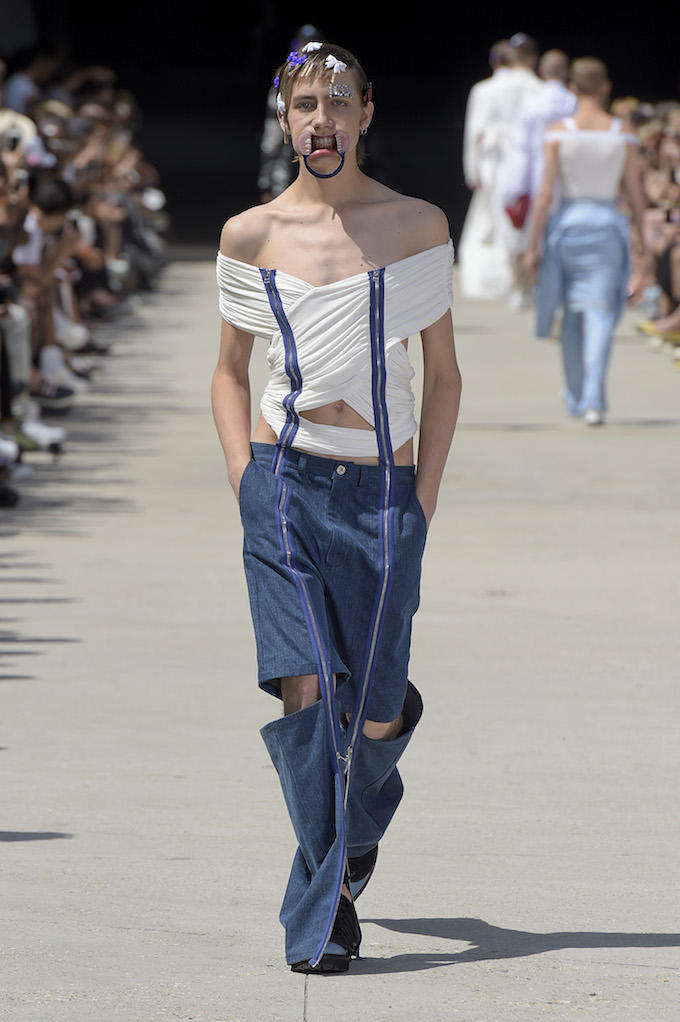 First it was the 
My Little Pony peens
, now it's all about the fetishistic pacifiers, thanks to
Hood By Air
's blockbuster SS16 fashion show yesterday, which took place in front of the legendary Philharmonie de Paris. 
Titled "Galvanize," this collection is a far cry from last year's "Daddies" collection (which pivoted upon ideas of frustration, repression and restraint), though one that still attempts to dismantle "identity" and play with accepted societal norms.
With an interesting take on silhouettes and cuts typically associated with children (i.e. overalls, hair clips, putting items of clothes on wrong parts of your body), there was also a big emphasis on (child psychology-rooted) oral fixations -- from the spiky, S&M-esque pacifiers to the codeine bottle invites, which designer Shayne Oliver
told Dazed
was inspired by "the idea of having to always drink something, it's like a pacifier in a way -- it's just a comfort thing." Another interesting tidbit is that Oliver's good friend (and Björk/Kanye collaborator)
Arca
made his runway debut
yesterday -- a relationship that Oliver himself described as "infantile."