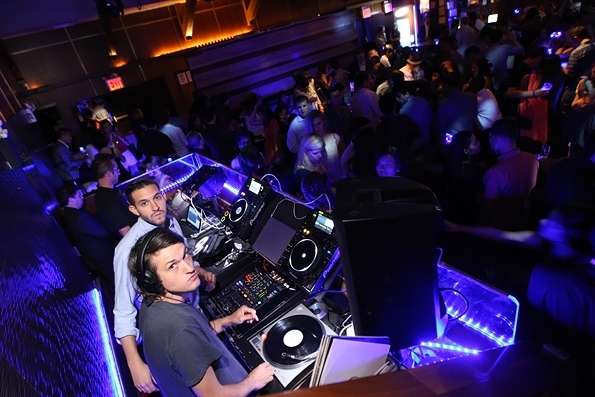 While stopping by the very packed party to celebrate the Samsung Galaxy S III recently, PAPER had the good fortune to catch up with Alex Frankel and Nick Millhiser of Holy Ghost!, whose synth-pop has been blaring on indie dance floors for years. We spoke to Frankel and Millhiser about 90s hip-hop, the state of pop music and collaborating with Michael McDonald.
Did you guys notice that you were picked for the Kitsuné Best of USA compilation?

Nope!

Check it out, two remixes of yours are on there!
Oh cool, we should definitely check it out! [Laughs.] Thanks for telling us.
You guys released single "It's Not Over" in January, it seems like you've been doing mostly remixes since. What's next for Holy Ghost! in terms of original music?
We're working on an album now. Maybe in the next year it will come out.

That's exciting! Meanwhile, how was performing at GoogaMooga? Did you encounter any of the logistical issues?
Mostly just in terms of friends who were on the guest list and couldn't get in, and the cell phone reception. My sister couldn't get back stage. Apparently they ran out of all their food, that's why we tried to get all of our friends back stage because there was food and a bar.
So I have to bring this up -- Michael McDonald appears in the chorus of your song "Some Children." Who was behind that? Are you Steely Dan or Doobie Brother's fans, or are you using him for his amazing range?
Or his street cred?
Or his soul?
We are big fans of Doobie Brother's and Steely Dan, but it came about...well, a friend of ours, her father was a bass player for Michael Mcdonald, and we reached out and asked our friend to ask her dad to ask Michael. They played him a song and he liked the song and he did it and sent it back to us. That was that.

So you didn't get a chance to meet him?
No, no.
You have a knack for pairing up that up- tempo synth-pop with these heavier, more emotive lyrics. Do you think it adds an element that other artists don't have?
Yeah, I think a lot of the stuff we write along those lines. I like people that are able to match things that are kind of light-hearted with things that are really heavy. We've been talking a lot about Depeche Mode lately -- some of those lyrics are moody and intense and some of the stuff is like, almost downright gripping at times. But I think upbeat music sometimes makes lyrics easier to digest. And I don't know, if you just write lyrics about partying and drinking and popping bottles all the time, it just feels so...
You grew up in New York on the Upper West Side. How has growing up in the city affected your music?
A lot! We grew up with a lot of hip-hop in New York, and it was a pretty open community, so music was really accessible. You could hop on a train and go see Mos Def or Radiohead. If you're growing up in a small town, your parents have to drive you into a major city to go into some faceless arena. And every band comes to New York for their first record and their second and their third, so you can also watch bands grow. Also, when we were kids there were bands that would play all-ages shows, and would play in small venues. That's unbelievable now.
In an Esquire interview, you guys talk about being inspired by late 90's underground hip-hop and 70's early 80's extended disco edits that those hip-hop artists used. Which artists or edits were important to you?
For hip-hop artists, there are tons: Mos Def, Talib Kweli, Nas, Jay-Z, The Roots, De La Soul, A Tribe Called Quest. As far as edits go...when you first start [collecting] disco records, you're kind of clueless. You just buy the cheap thing with a cool cover, and then just start paying attention to names and credits, whether it's a producer or it's the edit, or a drummer...that's kind of how we got into that stuff.  But now people make edits in songs that don't need to be edited.
Are there any contemporary pop artists that you guys like?
I like some Coldplay songs. I don't know. I jokingly say I like a Katy Perry song but I haven't actually bought someone like that -- a "big star's" -- music in a long time. I mean the last thing that big would have been like...I bought the Gorillaz record and Justin Timberlake's second record...when was that? 2002? 2003?
So not big fans of pop music today?
It all sounds like bad trance. All the rap sounds like trance. Katy Perry, Lady Gaga, it all sounds like the shit that I didn't like when I was in high school. Which is not to say we were cool! We weren't.

Photo by Neilson Barnard/Getty Images