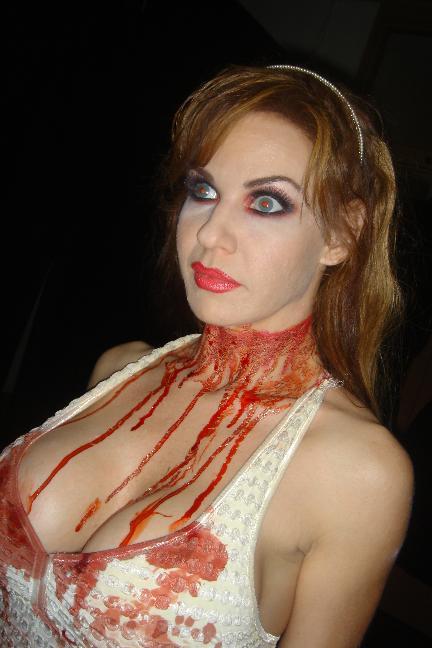 We got an early start on Halloween last week by touring the Hollywood Hellhouse. Located in an abandoned Acapulco restaurant in West Hollywood, this haunted house is a faithful recreation of the Christian hellhouses that have proliferated around the country in recent years. (Jerry Falwell is thought to have created the first one in the 1970s.) This Hollywood version was dreamt up by a bunch of damned-for-all-time Hollywood types (led, I believe, by Mr. Satan himself, Bill Mahr) and emphasizes the secular horrors outlined in the original the Christian Hell House Outreach™ kits. (Homosexuality, abortion, adultery, drinking, drugs -- you know, the usual suspects.) According to the Hollywood Hellhouse website, these scripts include "a 263 page manual which covers everything from casting to publicity to instructions on how to make hamburger meat look like a fetus and where to store vats of blood."
I've been to one Christian Hellhouse. It was in the City of Industry and I went with my artist pal Cameron Jaimie who is obsessed with "spook houses" and is making a film about them. (This little field trip was also the subject of an LA WOMAN column in PAPER magazine several years ago.) What I liked about that experience was there was no irony whatsoever in the Christian presentation. Needless to say, irony was omnipresent at the Hollywood Hellhouse.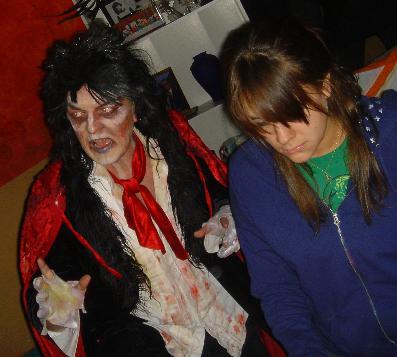 We were greeted at the entrance by a crimson-caped demon that resembled the corpse-grinding ghost of an 80's hair-band rocker flying like a bat out of hell from the Rainbow Room. You know you're in a Hollywood Hellhouse when the demon takes time between his introductory remarks to say "I love your work." The first scene was a rave where a gangbang occurs immediately after a guy drops some ecstasy in one unsuspecting young girl's drink. This is followed by the suicide of that raped raver then a suicide of a World of Warcraft-playing computer geek, the murder of a girl inticed into a slumber party-turned-lesbian orgy, a Columbine-type massacre and the most gruesome of all -- the abortion scene!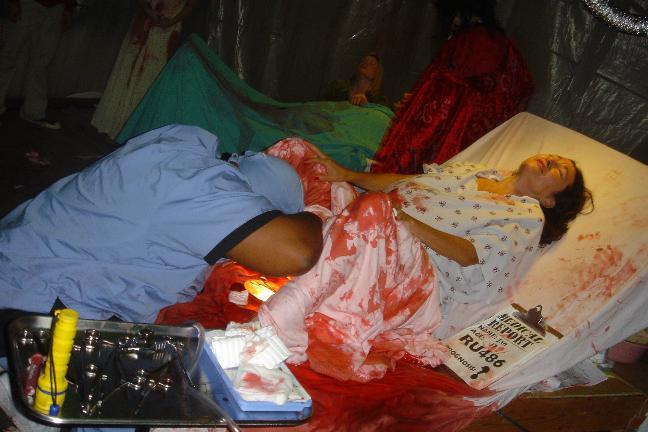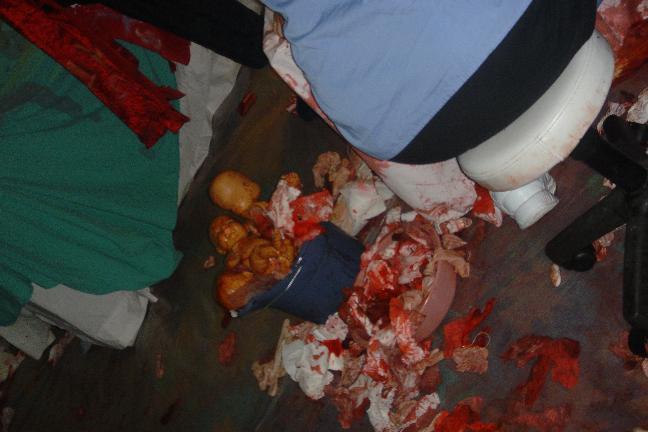 After winding through "Hell's Kitchen" (where God knows how many truly awful enchiladas were once made) we were greeted by Satan. Bill Mahr recently took on this role and you can see photos of that night here on Defamer. (When I first looked at the Defamer pics I thought Mr. Mahr was Hef! My, how time flies.) Before Satan can damn us to hell for all time, two angels whisk us to Jesus and our redemption (IF we so choose.) Then we all went to have some good clean Christian fun at a donuts-and-soft-drinks-only party. (Photos from that soiree on the next post!)
It was fun but I couldn't help but think how much scarier it would be if the scenes at the Hollywood Hellhouse were actually scenes from Hollywood. You know, a walk down the red carpet when no one wants to take your picture; a pitch meeting where you make a joke about Scientologists only to discover everyone in the room is a Scientologist; a night of debauchery at The Standard or the multimillion dollar beach house of (insert -- with plenty of lube -- name of out-of-control celebrity/mogul/Velvet Mafia kingpin of your choice). There could be sooooooooo many death scenes -- John Belushi's overdose at the Chateau Marmont, Lana Clarkson "committing suicide" at Phil Spector's, Golden Boy CAA agent Jay Maloney (allegedly) on a massive coke run covering up all the windows on his Hollywood Hills mansion with Glad bags then hanging himself from his shower rod. What a town. The possibilities are endless. Maybe some of you would like to suggest some other alternative Hollywood Hellhouse scenarios? Prizes for the sickest! (I still have all the goodies from last years Sex Song contest to give away since the winner never collected his gift bag!)