Hilly Krystal's Legacy Lives On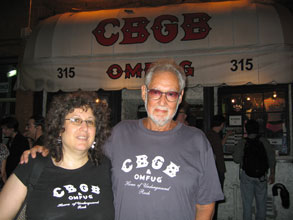 Hilly Krystal's memorial started, fittingly enough, on line waiting for admittance to the Bowery Ballroom where a who's who of New York punk rock royalty turned out to pay their final respects to the proprietor of CBGB's who died earlier this year. What was striking about the gathering was how local it was. Though CBGB's became known world-wide, it was really a local hangout for hundreds of bands, many of whom never made it big time, though they always had a home at CB's where Krystal became a mentor, life coach and father figure for many of the talented, often disaffected, youth that passed through its grungy doors.
Inside, the cash registers rang and drinks were served to the hundreds who came. Hilly's daughter Lisa, who made opening remarks about her "unique" dad, was followed many of the musicians who played at the club, including Richard Hell, Tommy Ramone, Vernon Reid, Tina Weymouth and Richard Lloyd. With CB's "stars" Debbie Harry and Patti Smith unable to attend, the spotlight was firmly on the man who made it happen. Cheetah Chrome stepped up and asked if anyone remembered that he used to be a pretty bad drug addict. As the audience roared with laughter, he told of how Hilly personally delivered him to rehab, saved his life and made it possible for Cheetah to father a son, who was with him that night. So the legacy lives on, both within Hilly's own family and the musical family he nurtured.
Photo by Bob Gruen