On the set of @broadcity season 3 with @abbijacobson, @ilazer and Amy! #yas pic.twitter.com/KYOAWDSshK
— Hillary Clinton (@HillaryClinton) December 11, 2015
Every person who practices "The Secret" can now dissemble their dream boards. Hillary Clinton and the folks down at Broad City have both tweeted an image of the democratic presidential candidate posing with Amy Poehler, llana Glazer and Abbi Jacobson. As the photos of this dream team suggest (and as Comedy Central recently confirmed to Vulture), Hillz is going to be appearing on the show's third season.
Just three best friends on the set of @BroadCity season 3! #Hillary2016 🇺🇸♥️ @HillaryClinton pic.twitter.com/cHQD58Idjd
— Broad City (@broadcity) December 11, 2015
In the image tweeted by the official Broad City account, it shoes both Abbi and Ilana resting their heads on Clinton's shoulders. Who knows what role she'll play? Is this a dream sequence? Is she playing Abbi's new roommate? Hey! We can dream. Last season, Kelly Ripa played a drunk stoner, so there's no telling where this may lead.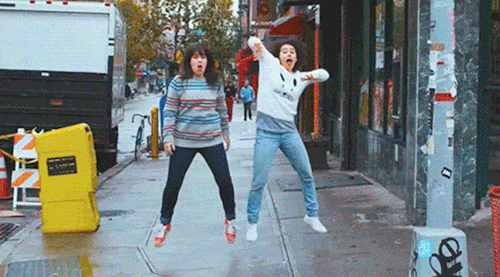 All we know is that we can't wait for the show to premiere on Comedy Central on February 17 and to see whether or not she'll inhale. (Yeah, we know that's a long shot...)