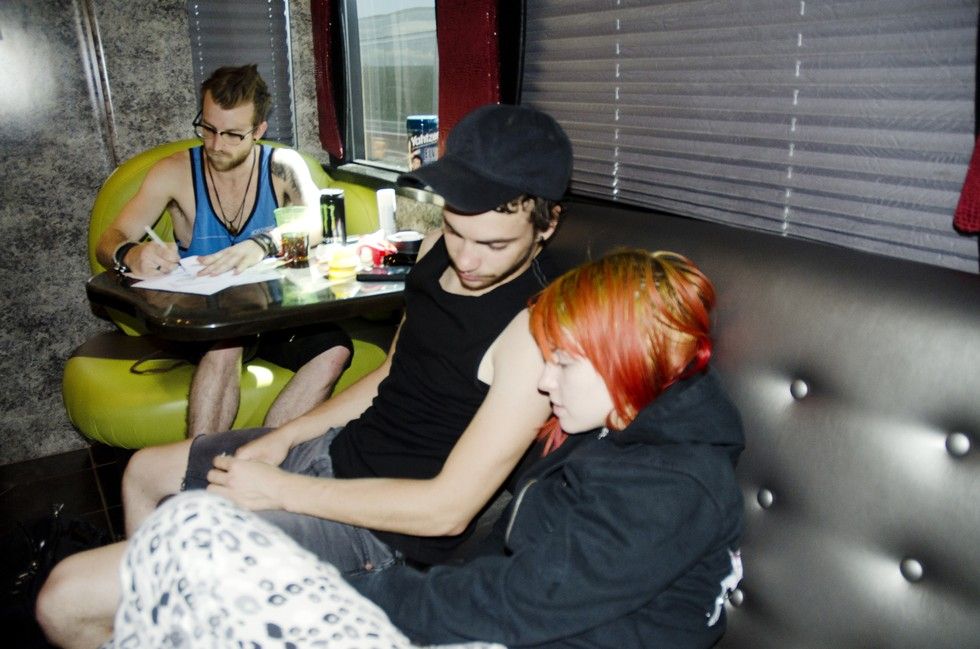 Paramore was in the news a lot late last year due to the very-publicized departure of two members. The band, however, is back with a new lineup, playing shows, and, from the sounds of this tour diary from front woman Hayley Williams, feeling stronger than ever. Even better, Hayley will be blogging for PAPERMAG over the next few weeks as the band tours around the world. Take it away, Hayley!   
PAPER magazine. Am I really writing blogs for you guys? I'm nervous. Here goes.
Well, this year we've only played like a month's worth of shows which is just a feeling of vomit in the bottom of my throat. I'm not used to being in one place for more than a day or two. Don't get me wrong, I've had a GREAT time washing dishes and staying at my mom's when everyone is well aware that I've got my own place... I just don't feel at home when I'm at home.
The six shows we played on the Warped Tour this summer were happily welcome by my near insanity and healthier-than-usual vocal cords. It was to be my summer mini-vacation; like Gulf Shores for the weekend with my family when I was a little girl. The only reason I can say this about Warped now, is because six years ago when we first took on the Warped Tour, we traveled in a 12-passenger van, set up our tent at 7 a.m., wrote out flyers and only ate PB&J's. It was hard, sweaty work and it always paid off when more than a handful of people would come to watch us play in the folded out side of a pink box-truck. Fast forward to now and we've become regulars on the tour... we even get to eat at catering.
The best part of this summer's stint on the tour, however, was not the luxuries that came with knowing the ins and outs. It was actually just the opposite. Since 2005, we've been working our way up. Always trying to best ourselves. It's all good and well in theory but becomes such a massive weight. After a while you wonder what it was like to meet up at the end of the day for band practice in a room with just each other. How happy did my stupid face look when it was only us and the PA system I borrowed from a guy at my church? What did all that feel like? I think that for bands who strive for longevity, you have got to be able to find that feeling. Not in a nostalgic sort of way but in a way that's real and present.
If you know anything at all about Paramore you probably know that we lost a couple members recently and you might've even thought we broke up. Before any of that even happened, I had long given up my
Goonies
illusion of us sticking it out together, adventuring, and playing our songs for the world. Losing members of the band was the hardest thing that we've ever been through as individuals, let alone as a "business." It felt like blacking out. (I gave blood two weeks ago and fainted -- so the feeling's fresh on my mind.) All these images were pouring in and out of my head yet I couldn't remember any of it. It felt like walls closing in. I didn't know how we were going to be if we kept going.
Fast forward to now and, having spent less than a week on our favorite summer tour, I can't believe I didn't have more faith. In myself, even! If we were to end the band now, I can say that I was able to spend our last few shows looking into faces of people who have been front row since the first time we played their town. And every time I turned around to look at the guys, they were happier than I've seen them since the start of all of this.) We're not ending it all now, though, so this is all sort of beside the point.) More than anything, I'm so glad that we decided to go back to Warped because it's where we really became who we are. A tour where we weren't necessarily the headliners, we didn't have as many "perks" as we might have playing our own shows, and absolutely nothing was in our control out there. I remembered what it was like to sit in a room for eight hours with the guys, playing our songs over and over because there was nothing else in the world that could be better. Six shows took me back about eight years in the best way possible.
In two days, we're headed to Hong Kong, China to kick off a short run in the Pacific Rim. It's gonna be the shortest tour you've ever heard of. Don't worry, all my blog entries won't be this long or this rambly. Thanks for reading, anyway. 
-- HAYLEY

Photos by: Lindsey Byrnes