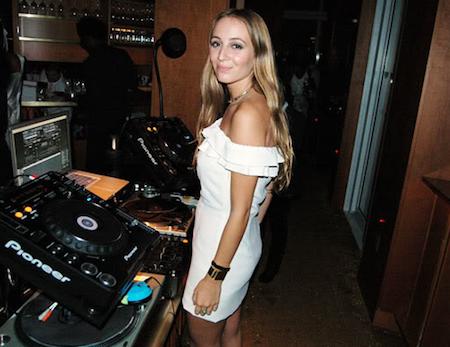 Harley Viera-Newton

just graduated from NYU in May, but while most of her peers are likely panicking about their lack of employment, the girl has so many jobs that it's hard to name them all. She's been honored with the title of Dior's "House DJ," and in between her regular weekly gigs at Lit Lounge and Avenue, she spins some pretty major private events, including tonight's

Helmut Lang

FNO party! But that's not all: she's signed with Elite Model Management, and in addition to her recent Cole Haan ad campaign, she's been featured in Vogue, Purple, and Paper Planes. Now that Fashion Week is in full swing, Harley is only going to get busier: she's a front-row fixture at most -- if not all -- of the hot-ticket shows in New York, London, and Paris, not to mention all of those fabulous, if not debaucherous, parties (you know, the ones on Purple Diary). 

Harley took the time to tell PAPERMAG her secrets to handling such a hectic schedule, and most importantly, how she overcomes the dreaded FOMO. Don't worry, I didn't know what that was, either.   




How long are your days on average during Fashion Week?
It really depends. Sometimes I'll go to a super early show and then have to work at night, so it can be 9 a.m.- 4 a.m.. But that is rare, usually it's just late nights. 
Name one or two pieces in your wardrobe that you throw on in a bind and know you can't go wrong with. 
I have a few go-to vintage dresses: polka-dot and gingham minis that I can just throw on with tights without looking in the mirror. And a pair of Gap x Pierre Cardin ankle boots from a few years ago -- I don't know what I would do without them. 
What's your schedule looking like so far this season? 
I am doing New York, London, and Paris Fashion Weeks for sure. It's exciting because I have never been able to do all three in the past as I was still in college, so I had to pick between them! I'm also really looking forward to Fashion's Night Out -- I'm going to be DJ-ing an amazing event for Helmut Lang. 
Describe a typical day of yours during Fashion Week. 
All of my previous NY fashion weeks have been pretty hectic as I had to balance school with everything, running from classes to shows to work. I'm hoping this season will be a far less stressful experience (it probably won't be). 
Are there any shows you're particularly excited about seeing this season? 
I always look forward to the Alexander Wang show in New York and the Dior show in Paris. I'm hoping to see Christopher Kane and Burberry in London for the first time. 
Do you have a Fashion Week "survival kit"? What are some items that we'd find in your bag at any given time during the shows. 
Dior Lip Glow balm, Beaute red lip tint, chewing gum, and a pair of flat shoes. 
Would you care to share a crazy Fashion Week memory? 
Alex Wang always has his show on the Westside Highway and the traffic is always awful and I always leave too late. One year my friend Jared and I jumped out of the cab in a traffic jam, took off our shoes, and ran 10 blocks to the show. Of course, we arrived winded and people hadn't even started sitting down yet. 
Do you have any pre-Fashion Week rituals? 
It's more of a post-Fashion week ritual... a week of attempted detox and sleep. 
What's the first aspect of normal life to go out the window during Fashion Week? 
I think life can be quite normal as long as you pick and choose what shows and parties you go to... FOMO will be your downfall (fear of missing out). 
No matter how tired you get during the Fashion Weeks, are there any parties that you make sure you won't miss? 
I love the "New York, New York" party in Paris. 
Where's your favorite place - in any city - to party after-hours during FW. 
Le Baron in Paris with my French team (Toes, Pryce, Peter, Cassie, and Staud). 
What's your go-to Starbucks order?
Iced Chai.
What's the thing you look forward to most once the Fashion Weeks are over? 
Staying in, cooking dinner, and catching up on TV!