Happy Birthday Keith Haring!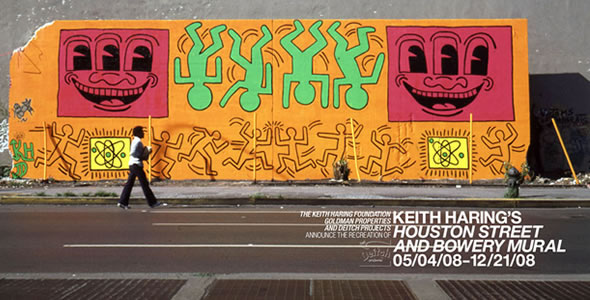 It's amazing for me to think that Keith Haring would have turned 50 this week. And there are lots of celebrations in his memory. I knew Keith in the olden days and watched him go from a crazy art student to a world renowned artist who eventually died of AIDS. Yup, it was the moment when Keith was coming up. (Check the essay I wrote about those years for the KH retrospective in Milan a few years ago.) To celebrate this amazing guy, some of his longtime friends have organized everything from a recreation of his famous annual dance "Party of Life" (yes kids, Keith's friend Junior Vasquez and Louis Vega are DJing!) this May 4th from 9 p.m.-4 a.m. at at Pacha (618 W. 46th St.) to the recreation of one of his early murals on Houston and Bowery that goes up for a month that same afternoon thanks to Jeffrey Deitch. You can also still get tickets to see the documentary The Universe of Keith Haring, screening at the Tribeca Film Festival this week. (And hey, I'm in it! Here is the trailer.)
For more info on Party of Life tickets benefiting the AIDS WALK go here .