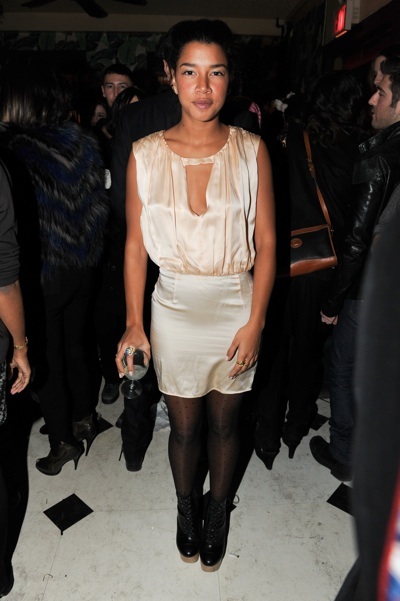 One of our favorite gals-about-town, the young and lovely Hannah Bronfman (who recently graced the cover of AVENUE magazine as their "Girl of the Year") will be blogging for PAPERMAG about her New York Fashion Week exploits. This being her first Fashion Week, she's all fresh-eyed and full of beans.


Good Morning! Rise and shine for
Jenni Kayne
! I was very excited to go to this show, not only because I admire Jenni as a designer/young mom but also because this was the L.A. designer's  first New York Fashion Week show! I stepped out of the taxi in my new Chloë Sevigny for Opening Ceremony heels on the corner of Washington and Jane into the crisp winter air. The loft was drenched in sunlight, perfectly complimenting the saturated blues and pinks walking the runway. The silk wide leg trousers paired with the chunky cropped knit sweaters were screaming to be worn next to the fireplace in Sun Valley. As Jenni Kayne puts it, "You're about to be the coolest girl in the middle of nowhere."
After the show I walked over to the
Standard Grill
with my friend Charles for some crab legs and soup. The crowd seemed uptight and upscale. Oh, Fashion Week.
Later in the evening
Katie Schecter
and I went to The opening of
Vladimir Restoin Roitfeld
and
Andy Valmorbida
's "RETNA: The Hallelujah World Tour" exhibit. I must say it was an impressive crowd for a not so impressive show. The after-party at
Indochine
, however, was so fun! The bartenders were cute, DJ Nick Cohen aka Chicky was playing great tunes while little yummies were passed around. It was nice running into both
Jamie Johnson
and
Jaime Johnson
and the effortlessly chic
Antonia Thompson
. We should have stayed there but instead we went to
Bunker
, which was kind of a snooze fest. Then
Le Bain
, which was fun but no one seemed in the mood to dance. And next thing I knew I was in bed by 2 a.m!! All for the best though, it's a long week and I need to pace myself!
Previously
...
Hannah Bronfman's Fashion Week Diary: Fresh Off the Red Eye and Raring to Go!
Pictured: Hannah at last night's RETNA after-party at Indochine/Billy Farrell Agency