Logan Horne
, stylist-to-the-celebs and Friend of PAPER, started making arrangements to head to Indianapolis after one of his best friends,
Katy Perry
, was invited to perform at the DirectTV Super Bowl party.  "When we found out she was performing, we all decided to come out.  I think there was ten of us altogether," he told us. "We're like family, we go everywhere together." So Horne gathered together his posse of New Yorkers and Angelenos, and headed Indianapolis-ward. He was kind enough to document the madness, which featured lots of parties (including one at
Peyton Manning's
penthouse), shenanigans and getting stranded 45 minutes outside the city after a thrift-shopping trip.
Day #1: FRIDAY, FEB. 3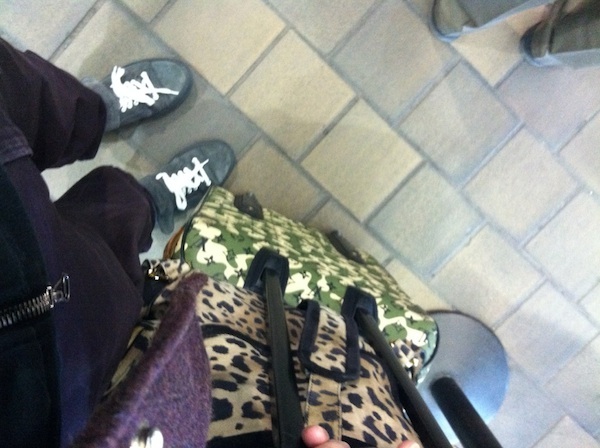 Here we are going through security at Laguardia. I have a feeling I'm going to stick out like a sore thumb. There was probably only one girl on the entire plane... it was all men going to the game.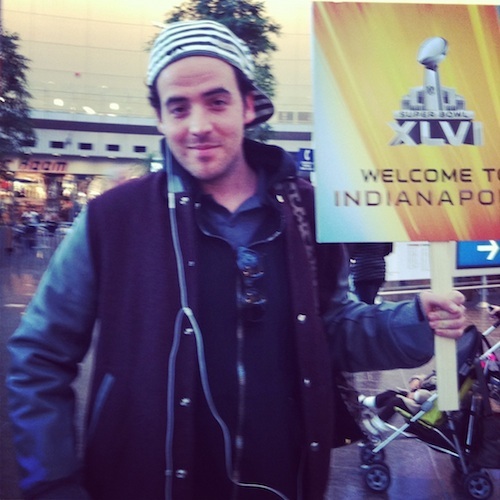 The Indianapolis airport was decked to the nines. They had a children's choir going and people welcoming you every five steps.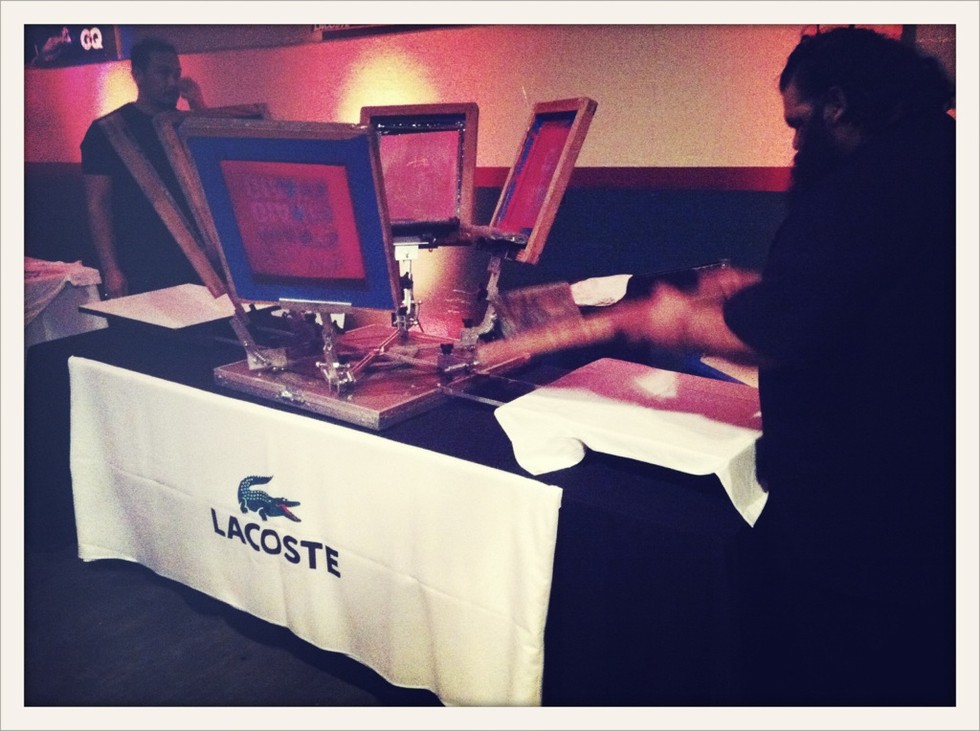 That night we went to the Lacoste/GQ party. They were doing custom screenprinting with plain, V-neck Lacoste T-shirts and a big screenprinting contraption.
It was mainly NFL people but I saw
David Arquette
was there, as well as 
Brooklyn Decker
and
Andy Roddick.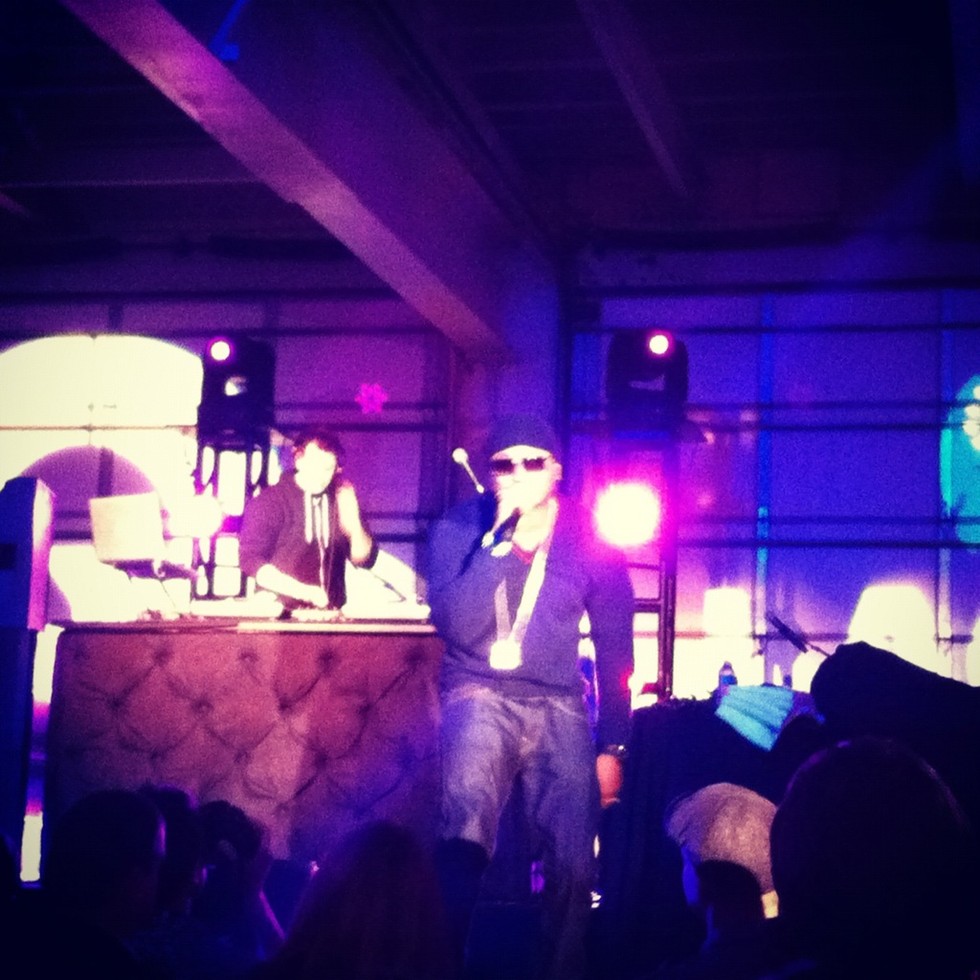 LL Cool J
performed and he was great.  I really surprised, but he had really good energy.  He was sweating up a storm. I guess he's still got it!
They were passing out burgers and milkshakes and fried mac 'n' cheese.  The space was at some weird loading dock. PAPER's Drew Elliott (who was with me) realized one of his high school homecoming dances had taken place at the same venue.
Then I just walked home because it was impossible to get a taxi. Plus, it cost like $50 to go five blocks. 
Day #2: SATURDAY, FEB. 4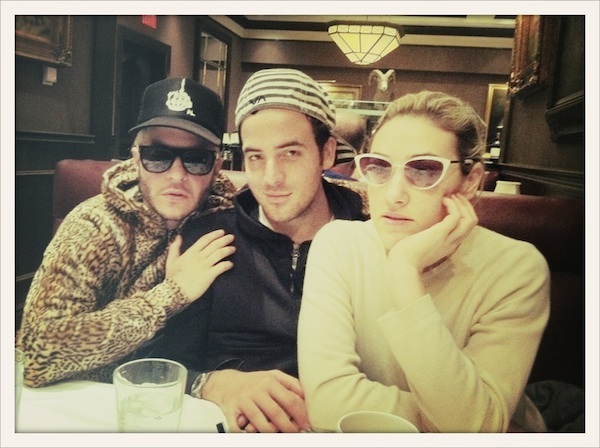 Drew's friend gave me two breakfast vouchers to eat at our hotel's restaurant, The Capital Grille. So here we are having breakfast with
Ferras
and DJ
Mia Moretti
.
Alec Baldwin
was there, too!
They all thought my friend Ferras was in
LMFAO
since he was in a leopard jumpsuit.  They just wanted to take pictures with somebody who looked like he was famous... they didn't even know who he was!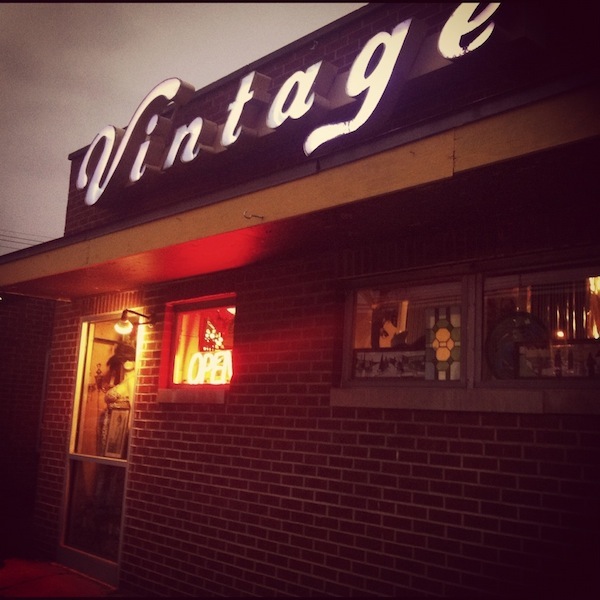 We took a taxi to this area called Broad Ripple, which is really cool.  There's all these vintage stores and cute restaurants.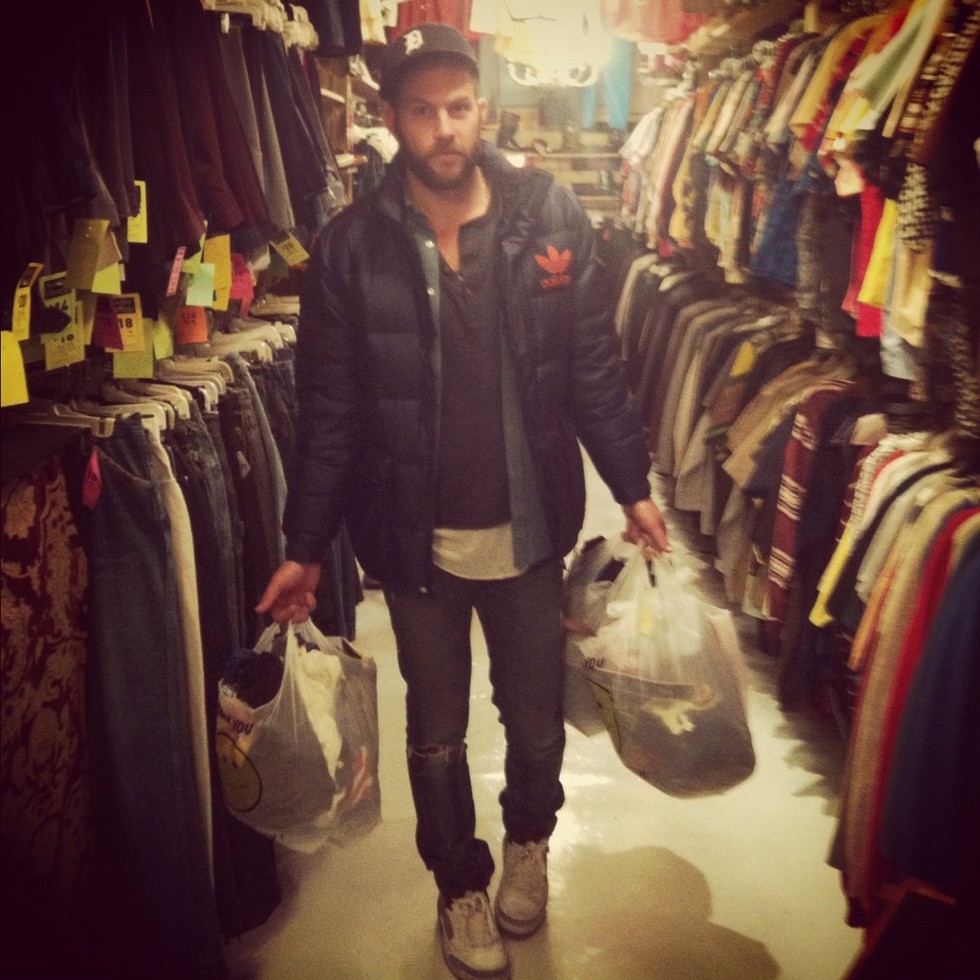 They told us they'd send a driver to pick us up but with the traffic and delays, we got stranded in an area 45 minutes outside the city for five hours.  We didn't think we'd get back downtown.  Every single cab company had two hour waits.  It was not happening.  We ended up having to walk into the closest town and hail a cab and convince the taxi driver -- he was on a call to pick someone else up -- so we told him "We'll pay you double, we have to get back!"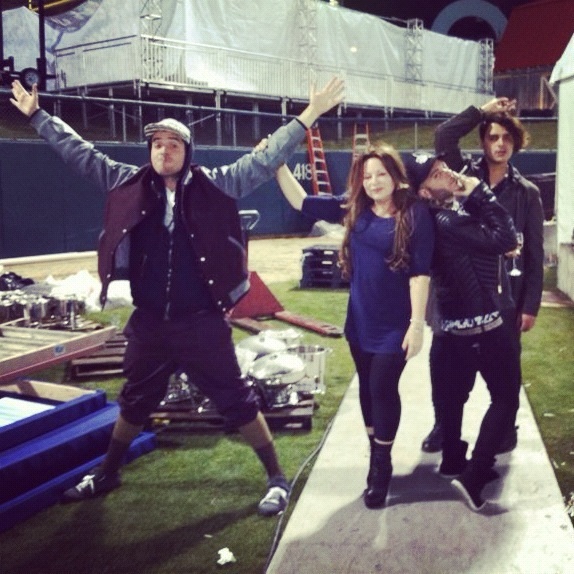 This is our failed attempt at making the roman numerals. This was right before the DirectTV party.  It's a photo of me, stylist
Jessica Paster
, Ferras and
Markus Molinari
, who has a jewelry line.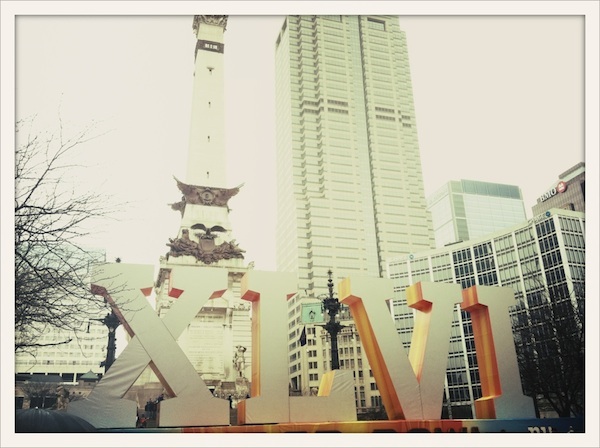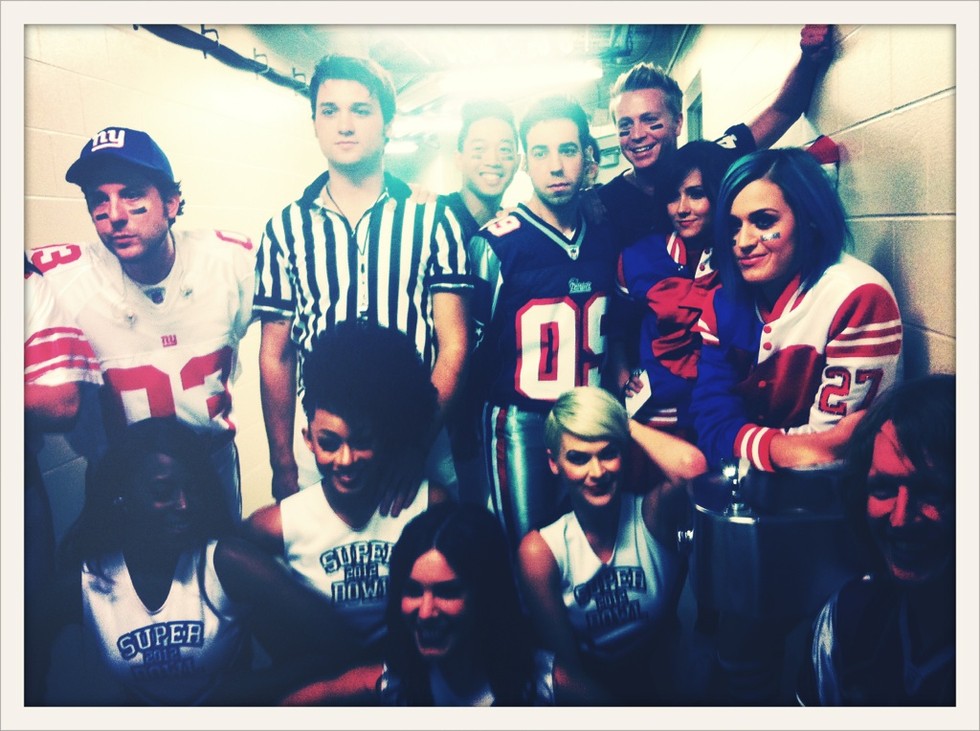 Here is
Katy Perry
and her dancers hanging out backstage.  They all had custom football outfits.  Half of Katy's outfit was Giants, half was Patriots.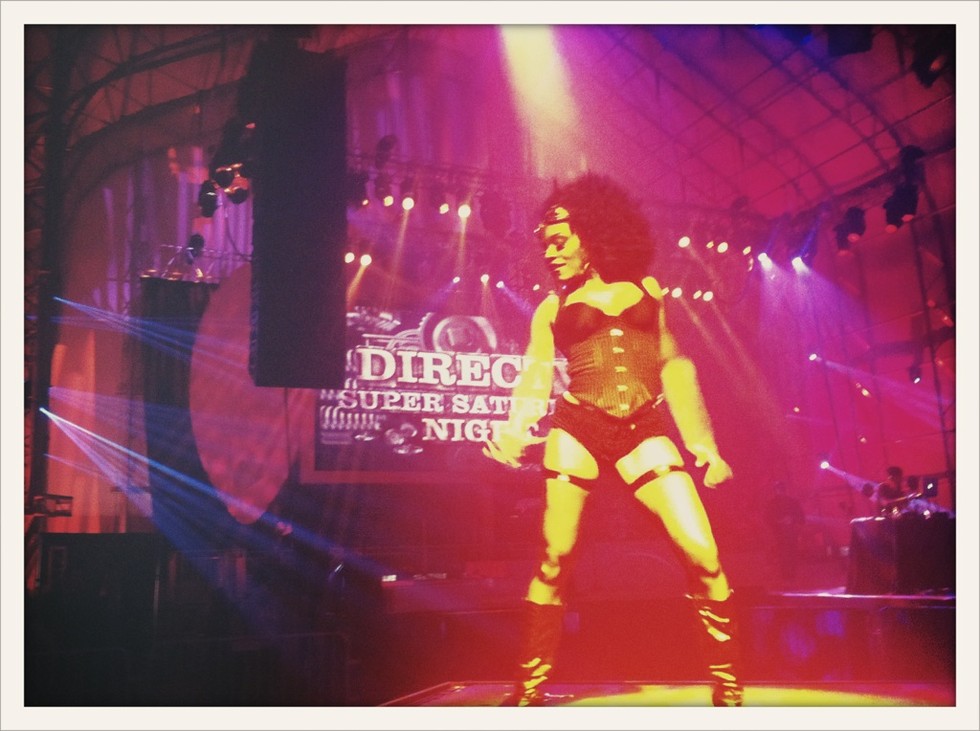 Before and after Katy's show they had these random dancers dancing on boxes.  We crawled up on the boxes during Katy's performance so we could get a better view.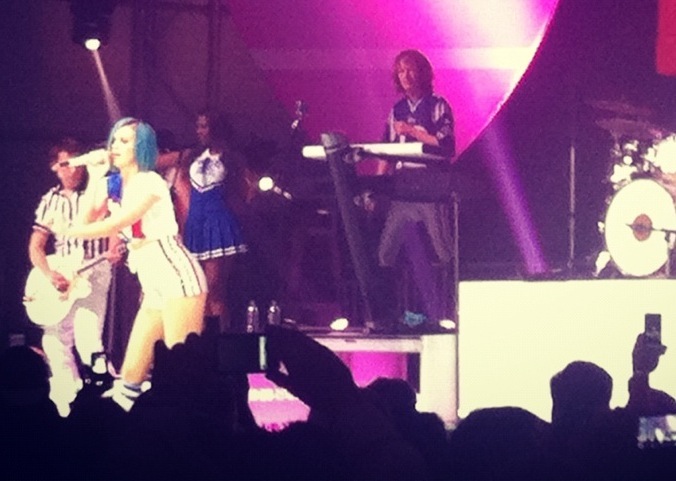 The Super Bowl is really like Fashion Week for sports maniacs. Katy's performance was killer. 
Madonna's
daughter,
Lourdes
, was in the front row watching Katy the whole time.  She dedicated "Peacock" to
Tim Tebow
because there's all these rumors that they're dating, but in all actuality they've never even met.  I don't know if this was quoted out of context but I guess her parents said they'd love to see her with a nice Christian guy like Tim Tebow.  She presented at the NFL Honors Awards before her concert and she said to Tim, who was in the front row, "Hey Tim, my parents say 'hi'!"  She said he started blushing.
Tim Tebow was the quarterback at my high school football team in Florida.  He didn't even go to my school -- he was home schooled -- but he played for my football team.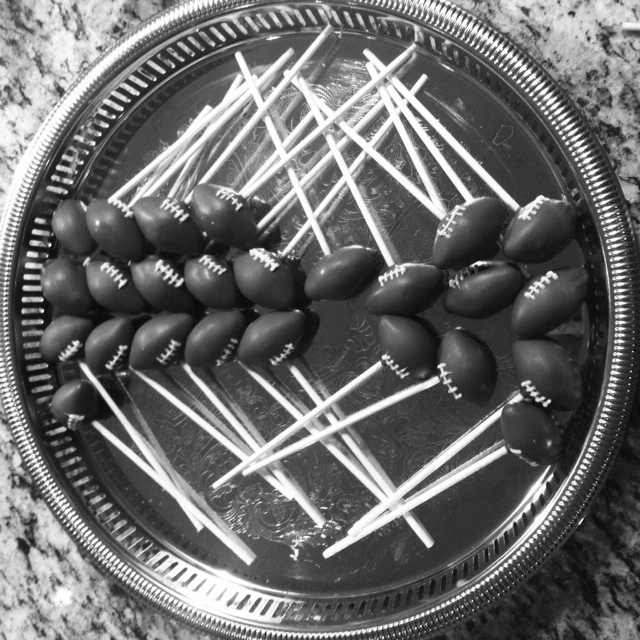 I don't know, to be honest, how we got invited to
Peyton Manning'
s party, but I'm sure somebody invited Katy.  We went to his penthouse apartment in downtown Indianapolis.  The party was basically over -- it had been going for a long time -- but we rolled up with ten people.  It was like all football players and their wives -- and then there was us.  They didn't know what to think but we definitely livened the party up.  The music was very low and then we got there and turned the party upside down.  His wife was so sweet and welcoming.  Eli wasn't there because they have these curfews... the players have to be in every night at 11 p.m. or something. We stayed there till 4 a.m. We snapped a photo of his cake-pops.
Day #3: SUNDAY, FEB. 5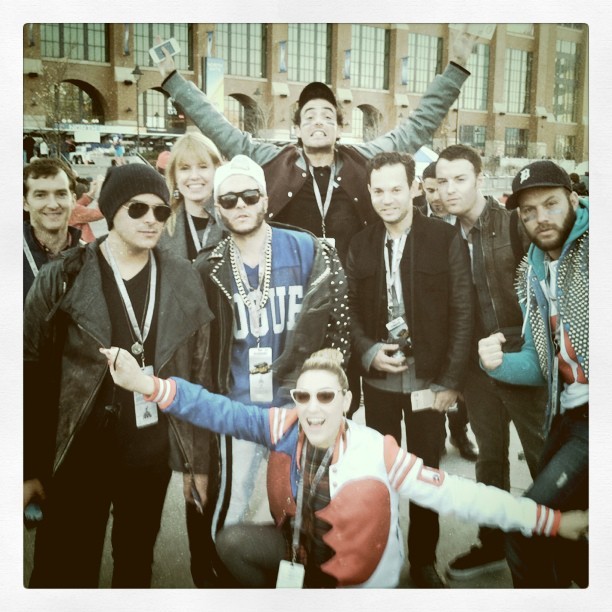 Walking up to the stadium, you have to go through this big tailgate thing.  The surrounding five blocks are shut down for tailgate parties.  We had to walk and walk and walk to even get to the stadium.  Everybody had gotten there so early to party that when we arrived, the crowds weren't so bad and we just walked through.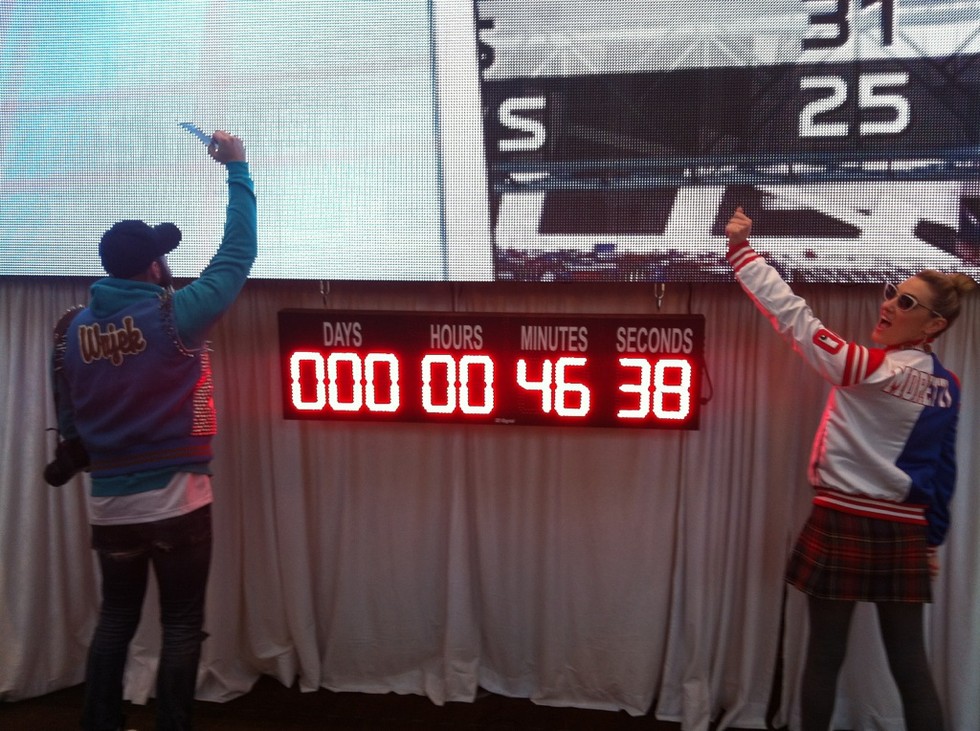 This was at the tailgate -- a big countdown to kick-off.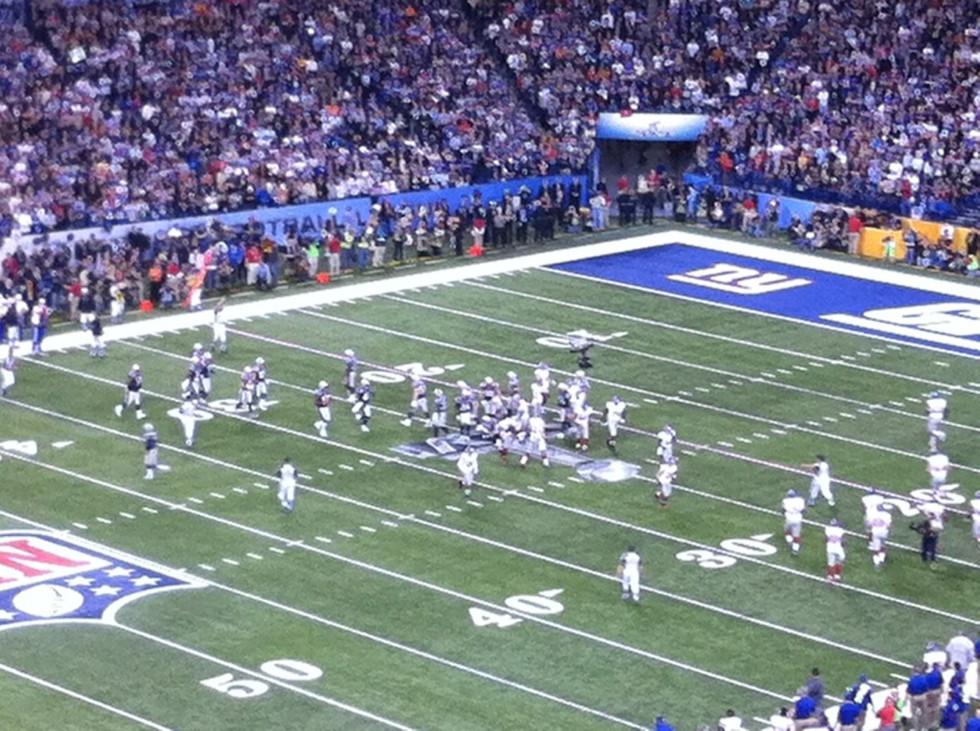 The first play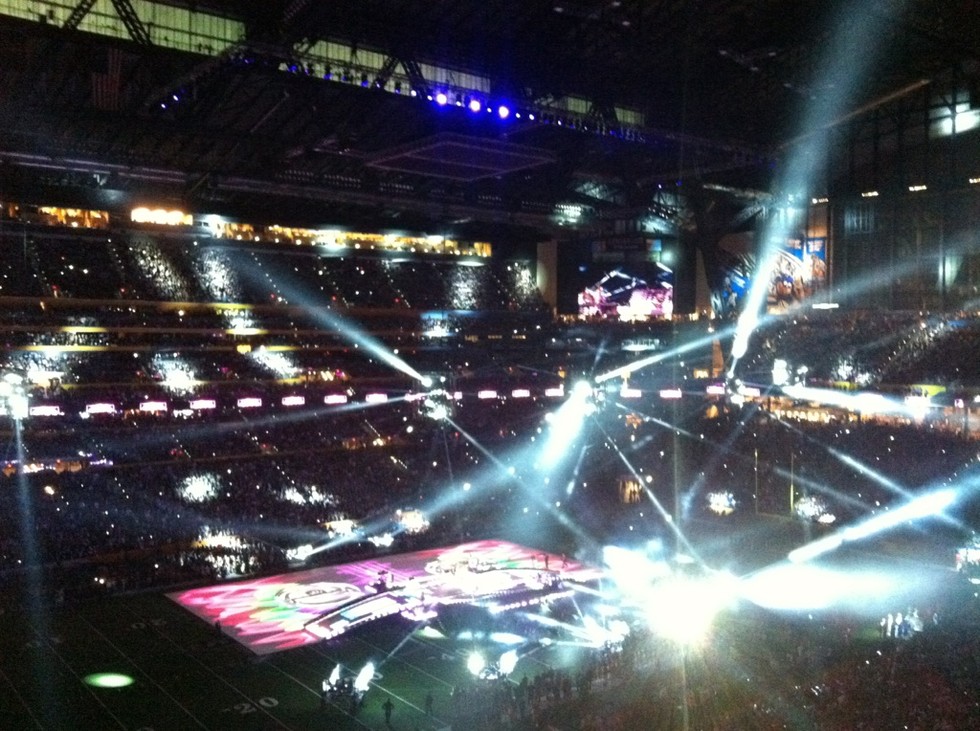 The game was incredible -- so much energy.  Everybody was in a really good mood.  Everybody was having a really good time -- no angry, obnoxious people.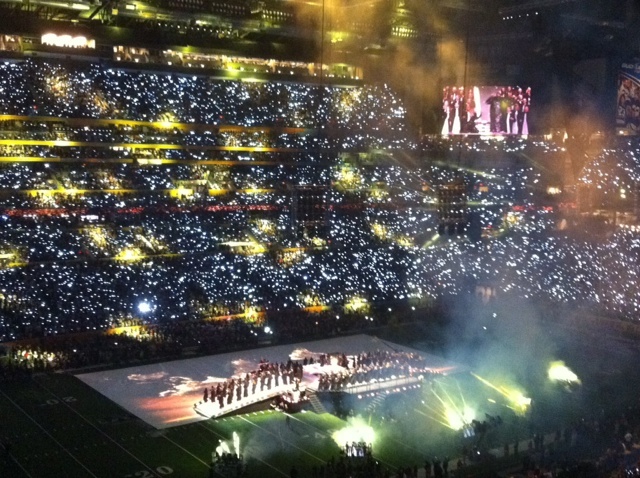 The half-time show was awesome.  They gave these LED lights that you could squeeze and there was a cue to tell us when to flash it. Everybody in the stadium had them so it was crazy.  They assembled that stage in six minutes or something.  Groups of 25 men would come with chunks of the stage on their backs... it was incredible.  Madonna killed it.  She looked like she was having so much fun.  She looked like a little girl up there -- you'd never know for a million years how old she is.  She was just bouncing around.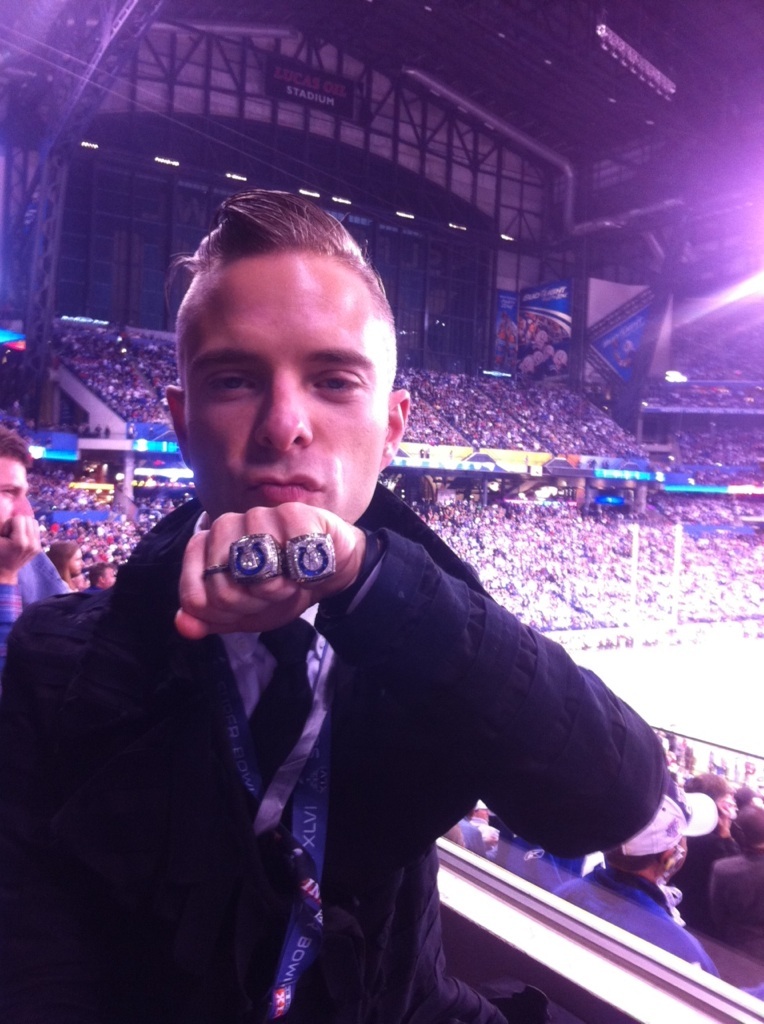 Drew is friends with the owner of the Colt's daughter, and he took us into the owner's suite, which was crazy and where
Meg Ryan
and people were sitting.  I kind of bounced around and went to the
Rolling Stone
suite where
Jane's Addiction
was hanging out.  We went and got merch.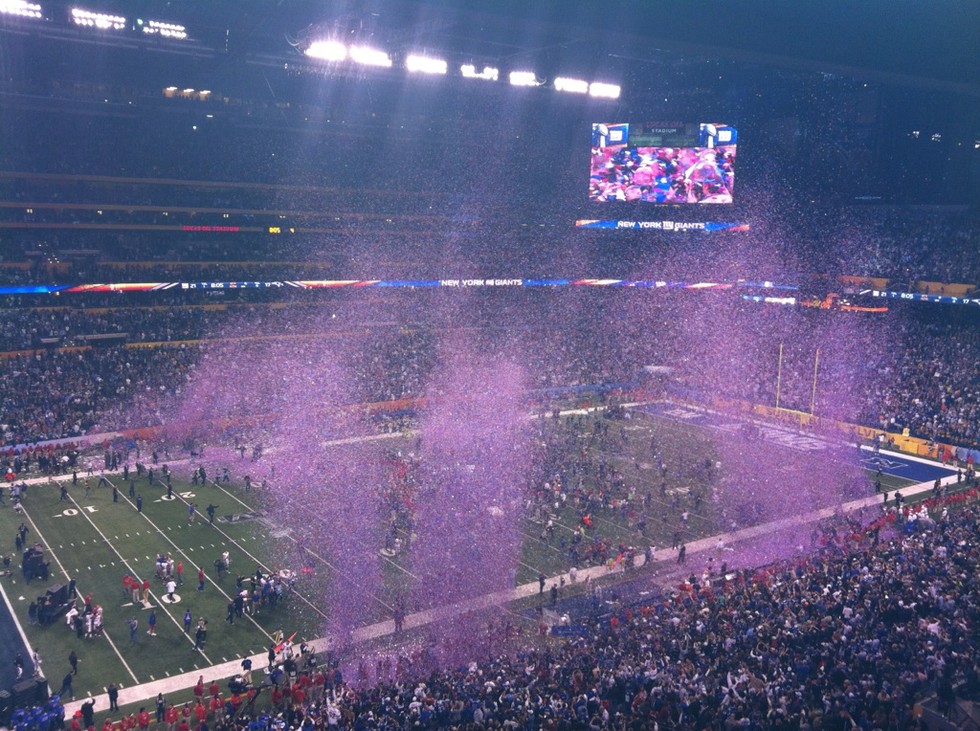 When the Giants won, it was crazy.  At the last minute of the game, it really could've gone either way.  As a New Yorker, it would've been kind of awful going back to New York the next day, having lost, with our tail between our legs.  I don't think the cheering stopped for 20 minutes after the game.  As soon as the clock struck zero, people started bum rushing the field...The field was covered in glitter.  You would've thought it was New Year's Eve or something.

From there, we went to the actual Giants party.  That was cool.  It was at the Marriott Hotel.  They had a cover band playing.  We saw Rooney and Kate Mara.  There were so many people -- it was a little out of control so we ended up heading to Jimmy Fallon's party at Libertine.  He had a much more low-key celebration party and that was more of a chic wine bar thing.  It was one of the cuter places in downtown Indianapolis.  They had sloppy joes and margaritas and wine.  It was fun.

I left everyone early at 4 a.m. to head back to the hotel.