Back in 1992, Andre Harrell, then CEO of Uptown Records, told me that he had a new female singer from Yonkers who was going to become a superstar. Her cover of Anita Baker's "Caught Up in the Rapture," recorded at a local mall, had landed in his hands and Harrell's intern at the time, a young producer by the name of Sean Combs, had requested to take on this project. I was the newly-appointed associate editor of the newly-launched music magazine VIBE, and Uptown's publicist Lisa Cambridge gushed to me that this young artist's style was "glam meets hip-hop meets rock 'n' roll." And the hair... she promised it would be like nothing I'd ever seen before. So she sent over a cassette tape with "What's the 411?" written in Sharpie across the front. As soon as I pressed play and heard "Real Love," with those textured, beautiful and imperfect vocals, I was turned out. Her sound was both deeply powerful and eerily familiar.

Several days later, I was sitting across from a 21-year-old Mary J. Blige at an Italian restaurant in midtown Manhattan. I couldn't take my eyes off of her. Clad in a red leather motorcycle jacket, matching shorts and black Dr. Martens; her hair styled in an impressive copper-colored beehive piled high on top of her head; and a small scar under her left eye -- she was so fierce. Though dressed to thrill, Blige was quiet, distant and shy.

Finally she spoke. In a heavy New York accent, Blige ordered her lunch: "I'll have the... scrimp scampi," she said assuredly. It was then that I officially fell in love. She was confident and tough -- but vulnerable, and visibly (and endearingly) rough around the edges.

That first album, What's the 411?, executive produced by Combs, went on to change the R&B landscape, and by the mid-'90s, Blige was known as the "Queen of Hip-Hop Soul" for her ability to merge the soulfulness of R&B with the beats and edge of rap music.

Over 50 million records sold, nine Grammys and two American Music Awards later, Blige is worlds away from that high school dropout I met nearly 20 years ago (she even got her GED in 2010). In addition to producing hit records, the 40-year-old powerhouse can now add successful businesswoman (last year saw the launch of her fragrance line in collaboration with HSN), philanthropist (she runs the Foundation for the Advancement of Women Now -- FFAWN -- and has been active in relief efforts following the earthquake in Haiti and Hurricane Katrina) and actress (she has two major films in the works) to her résumé.

All this, despite several decades dealing with sexual, emotional, drug and alcohol abuse. But Blige never let those demons get the best of her. Instead, she used music as a form of therapy, and has gone on to grow her multimedia brand built on themes of self-empowerment and emotional evaluation. These days, she speaks calmly and with purpose, at times even channeling a self-help guru. When describing her new album, out this November, My Life II... The Journey Continues (Act I), a follow-up of sorts to her 1994 classic My Life, she explains, "I wanted to make sure everyone understands that this is me taking things to the next level. It's about learning how to live after the drama."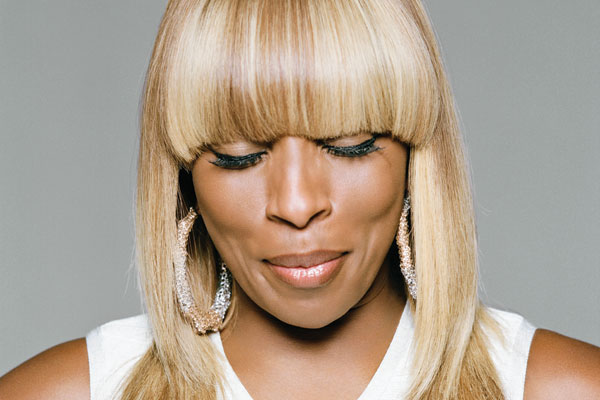 Upon its release, My Life was an instant critical success. The record, also produced by Combs, established her signature sound -- lush rhythms mixed with old-school hip-hop beats and raw, soulful emotion and was crowned one of the greatest albums of all time by Rolling Stone and Time. It also marked her long tradition of expressing the hurt and drama of her life through music; she took us to the dark side.

She followed My Life with a slew of hit-making, soul-baring albums, each album title -- No More Drama, The Breakthrough, Growing Pains, Stronger With Each Tear -- telling her story. With the release of My Life II, almost two decades later, a sober and happily married Blige (she's been married to her former manager Kendu Isaacs since 2003) returns with an album about what happens when you get through the pain and suffering. The songs are heavy on the bass lines and romantic themes, like "Someone to Love Me (Naked)" -- and lest you think turning 40 has turned her into a soft-rock songstress she's joined on the track by her old friend Sean "Diddy" Combs and hip-hop's man-of-the-moment Lil Wayne. Then there's the lush, upbeat anthem, "25/8" on which she declares "I got so much love for you boy / I need another hour and a day so I can love you 25/8." "I've been learning how to weather the storm with each album, and with this one," she says, "I want to make clear that the journey continues in every positive way. Every time you conquer something there will always be bigger challenges."

Next up she'll be conquering the big screen. This summer, she wrapped up Rock of Ages, the film based on the campy Broadway musical that celebrates glam metal rock hits from the '80s (think Journey, Styx, Whitesnake, et. al.), and features a bold-faced ensemble cast including Tom Cruise, Catherine Zeta-Jones, Alec Baldwin, Russell Brand and Paul Giamatti. Blige began her acting career in 2001, appearing in the indie film Prison Song opposite the rapper Q-Tip. In 2009, she had a supporting role in Tyler Perry's I Can Do Bad All By Myself, and she's appeared on TV in shows like The Jamie Foxx Show, 30 Rock and Entourage. In 2004, she even joined the Off-Broadway cast of The Exonerated as a woman who spent 20 years in prison for a crime she didn't commit.

"All I can say is I had a blast," Blige says of playing her Rock of Ages character, Justice Charlier, the maternal owner of a seedy gentleman's club. "Tom Cruise was always just so helpful and constantly giving. Just watching him and Catherine Zeta-Jones transform into their characters, it was like, OMG these people are incredible!"

For Blige, who remade the classic Led Zeppelin anthem "Stairway to Heaven" last year, Rock of Ages feels like a natural fit. "When I was five years old there was soft rock on the radio and there was rock 'n' roll on the radio, you would hear 'Bennie and the Jets' and Marilyn McCoo and Billy Davis, Jr.'s 'You Don't Have to Be a Star,'" she says getting nostalgic. "Everything wasn't so segregated and I got a chance to hear everything."

She adds, "My father had a Grateful Dead album in his crates and he used to play all that stuff. So I got introduced to rock 'n' roll on my own as a teenager. When MTV was big we would all tune in to watch Pat Benatar, Journey, Tears for Fears, Duran Duran and U2. I love it all!" she continues. "I just love music period... great music."

After that, Blige is getting back to her soul roots, and gearing up for her next big role, playing the iconic songstress and activist Nina Simone in an upcoming biopic. "Nina was different from me in a lot of ways. She was courageous and confident. I'm just growing into that," Blige explains. "But she was like that ever since she was a little girl -- she was never afraid during a period when there was so much racism. She was always bold. I have a lot to draw from -- all the trials and tribulations and battles. But my God, I hope I can do the work and pull it off."
Despite playing these many characters -- and the fact that her Dr. Martens have long been replaced by sky-high stilettos -- Blige has a firm understanding of where she came from, and what her fans expect from her: "Everybody is saying to me, 'You have to be like this person, you have to be like that; you've got to be younger.' I know that doesn't work for me. I just want
my fans to be happy about the direction I'm going in. I'm never going to stop doing me."

Styled by Marni Senofonte
Hair by Dante Blandshaw at Break Management using Aveda
Makeup by D'Andre Michael For U.G.L.Y. Girl Cosmetics/MargaretMaldonado.com

Top photo: Mary wears a dress by Emilio Pucci, earrings by Aisha Williams Style, bracelet by Ben-Amun and rings by Lorraine Schwartz.
Bottom photo: Dress by Herve Leger, earrings by Aisha Williams Style and bracelets and rungs by Lorraine Schwartz.