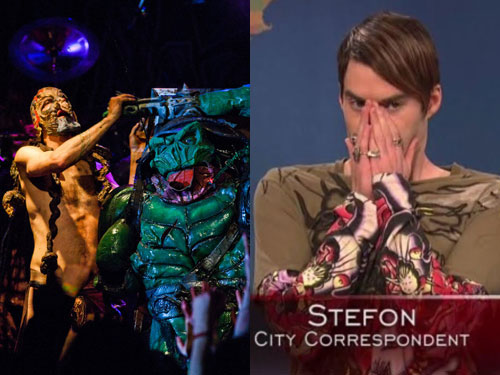 1.
Gwar
pretended to someone wearing a
Lady Gaga
mask and wearing a toilet costume on stage at the Music Hall of Williamsburg last night. The real Gaga is performing at Madison Square Garden tonight with the Scissor Sisters. She will probably also be wearing a toilet costume. [
BV
]
2. Speaking of Lady Gaga,
here's video
of
Terry Richardson
shooting her for
Supreme
's new campaign, [Terry's Diary]
3. People
have been hard at work
mashing up
Thom Yorke
's dancing in
Radiohead
's new "Lotus Flower" video. We love the one of him getting down to "You Make My Dreams Come True" by
Hall & Oates
[LAT]
4. Rejoice,
lesbians
!
Justin Bieber
cut his iconic swoopy mop today
. Your look is all yours again. [The Daily What]
5. A 17-year-old
said it took her four hours
and three sharpies to write the entire first chapter of 
Harry Potter and the Sorcerer's Stone
on a bathroom stall at school
.
[The Daily What]
6.
Bill Hader
explains the origins of Stefon, one of our favorite
SNL
characters of all time. [
EaterNY
]