In the strange 35-year dance I have been doing with the fashion biz, I always regretted that I never got to know one of my great heroes, the designer Norma Kamali. I first discovered and fell in love with her in the mid-'70s, at my very first job, selling clothes at a Madison Avenue boutique. During my lunch breaks, I would head across the street to her tiny second-floor store. I truly did a double take when I first came upon her collection of dresses, gowns and separates -- all made out of sweatshirt fabric. Not to mention the fabulous rubber lace-up high-heeled sneakers she designed to go with them. Throughout the years, I've loved everything she's done -- from her legendary sexy lycra swimsuit designs to her gowns made of parachutes to her huge kimono-style sleeping bag down coats.


But as much as what Kamali did always rang loud and clear to me, who she was continued to be a mystery. A self-admitted hider, she has grown her brand without integrating the showbiz-PR-designer-as-celebrity aspect that many designers build into their lines these days in order to succeed. Instead, her style has been to remain in the background, deflecting the spotlight back onto her customer. With this natural reticence, Kamali fell comfortably into a role as a fashion outsider, developing her business in a personalized and quirky way -- not just through clothes but also by integrating a strong "wellness" lifestyle philosophy into her brand, that even includes her own soaps, juices and olive oils that she sells in the small café inside her flagship store.


So I was thrilled to finally hang out with this talented woman a few weeks ago. At 66, Kamali is (still) a drop-dead gorgeous natural beauty who looks and acts decades younger than her age. She is a voracious enthusiast of acupuncture, unprocessed food, dogs (especially dachshunds), music, camping, Apple computers, comedy (especially Mel Brooks and Larry David), fitness, patternmaking, the year 1939 and olive oil. After our long-overdue lunch (we didn't come up for air for three hours), I am now officially crazy about this woman. Here is just a slice of what we gabbed about the other day.
KIM HASTREITER: You're a New York girl!
NORMA KAMALI: I grew up on East 77th Street and went to Washington Irving High School. 
KH: Then you went to FIT.
NK: Yes, although I absolutely did not want to be a designer. My mother painted, so I wanted to be a painter. But she told me, "You better get a job." So I got a scholarship to FIT to study fashion illustration. I was always at the museum, looking at old magazines and obsessively memorizing every outfit. At school, though, I just couldn't bring myself to draw those little doll faces with eyelashes everybody wanted in those days. So I decided maybe if I traveled, it would help me figure out what I wanted to do. I got an office job at Northwest Airlines for $80 a week so every weekend I could go to London for $29 round trip. It was 1965 and the fashion there was so creative and so different from the Mad Men looks going on at home that I couldn't relate to. London in the '60s was the most inspirational, revolutionary time.
KH: What was your personal style like at the time?
NK: I was into vintage big-time -- '20s, '30s, '40s. In London, there were a lot of people like me so I almost moved there, but at the last minute I realized that I was a true New Yorker. I found an ad in the Times for a basement at $285 a month on East 53rd Street and opened a store. I started bringing back clothes from London which I had found at places like Biba and Bus Stop as well as vintage things. Within six months I started to make my own pieces.
KH: What did you make at first?
NK: A lot of hand-laced leather and suede, patchwork, snakeskins and velvets with very intricate details. I was addicted to it. An editor from Bazaar who also lived on 53rd Street pulled some strings and soon I had a full page in the magazine, which was awesome in those days. Then within a month I had a full page in Vogue. I was probably 24 at this time.
KH: Were you married?
NK: Yeah. I got married when I was 19 to get out of the house. My mother was crazy; she was going through menopause and it was too much.
KH: Were you close to your mother?
NK: Yes, but she didn't speak to me when I moved out. She was so upset.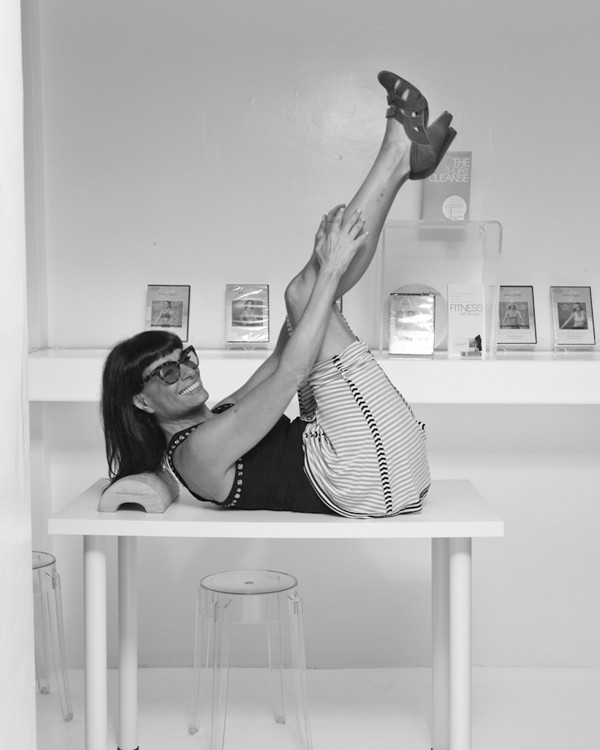 KH: What's your nationality?
NK: My mother was Lebanese and my father was Basque -- fiery, crazy people -- so I'm used to being around people who are intense and big. Back then I was very shy. Nobody knew that I existed. Everybody thought my ex-husband Eddie did everything. I didn't care. I was hidden in the back doing my thing. I just was so excited to have found what I loved to do.
KH: I first saw your work in the mid-'70s. What you did then is in a way the same as what you do now. You have a very strong signature that is unique and true.
NK: I discovered through the years that there are certain things that are timeless. Fashion doesn't have to be disposable. Style is about how you take something classic and make it different each year, by putting it together in a new way. To have the creativity to take something old and make it new is personal expression and true style. I always think about Jimi Hendrix and how ridiculous it is to ever think that he would have needed a stylist. Every day he invented the way he looked. And that's what everyone should do.
KH: It seems like the '40s had a real impact on you.
NK: The women then were beautiful. I think if I were to pick a year in film it would be 1939. The classic goddess glamour of the late-'30s is American beauty at its best-like Carole Lombard and Cary Grant. Women were very "female" back then, but not objectified. They looked glamorous and were held in great respect. My mother told me she and her friends would go to the movies the way people go to fashion shows now, to see how to wear their hair, makeup and clothes.
KH: Did your mother have a lot of style?
NK: She looked like Ann Sheridan. In those old films women strike these poses. My mother would have those mannerisms because she watched all of them. She had red lips, red nails, red hair and a huge personality. Huge. She should've been me, and I should've been her. She would have relished the spotlight and that's not my thing at all. There isn't a rock I couldn't hide under. Her influence on me was incredible. I remember when I was 11 she told me, "You have to earn your own living so that you marry the man you love, not the man you need." I never forgot it.
KH: I remember in your shop you used to sometimes sell a little rack of your mother's hand-knitted children's sweaters among all your glamorous jersey gowns. I loved that you did that. 
NK: We sold so many of those pieces. There wasn't anything she couldn't do. She could cook, sew, paint, build dollhouses... She would have tables in flea markets. Her next-door neighbor was a Ziegfeld girl in Busby Berkeley movies. I grew up in a world full of these eccentric special people. I thought this was normal. Every gay guy loved her. She had a flock of young gay men around her always. I remember coming home from work one day to my apartment on 80th Street and she's at my house with 15 gay guys. She goes, "I wanted to show them your shoes." I was like, "Ma, excuse me?"
KH: Why do you think some gay men have such an amazing understanding of women?
NK: Gay men seem to understand women from this fantasy they have of who we are.
KH: Sometimes I think the fashion world kind of has a love-hate relationship with women. The big fashion jobs always seem to go to men, not women, and much of the designer clothes you see most heralded by fashion magazines and sold in department stores today are by men, with a few exceptions. And the big fashion magazines, although run by women, still seem to love their big stable of men designers. Am I wrong? Am I exaggerating this?
NK: I think one fact is that women have babies and are nurturers. There's a struggle to balance that with a career. And that struggle is what causes questions from the people doing the hiring: "How long will she be out?" "How will that effect the collection?" "How much will she stay at home with the babies?" And then there's the fact that women tend to favor their boys. I have a boy dog and I don't know why, but I love little boys. There is something in us that looks at men as if they are better. I really believe that. There wouldn't be this many male designers if women didn't adore men. It seems ironic since women wear the clothes.
KH: That's my next question -- what's the difference between how men design for women and how women design for women?
NK: I think men can have this extreme fantasy about dressing a woman. On the other hand, I wear my clothes, I live in a female body, I am my customer, which is a great advantage. But I think our self- esteem is challenged everyday. As long as we feel insecure about how we look, we are never going to stop giving it over to men. We have to look at ourselves. We didn't choose to be judged by the way we look but we play into it because everyday we try to look good.
KH: Talk to me about wellness. Your mother was into this also.
NK: She did not have a wrinkle on her face. She was into juicing! She would never lie out in the sun. We grew up with olive oil as the go-to for everything. So I am my mother's daughter. I have olive oil in the morning, noon and at night. I have five orchards that produce olive oil for me every year.
KH: You sell this in your café?
NK: Yes. I have all sorts of products that I've developed -- olive oil, liniments, soaps. We do a soap that is made out of olive purée.
KH: Wellness seems to be a big part of your work these days as a designer.
NK: Now that I'm on the board of the CFDA, I am involved with their health initiative. If our industry is about beauty then it must be a part of it. When I have go-sees with models I'm so upset, because these girls are starving. They look so un-healthy. They are young and still look bad. I know they could be healthy and thin if they had some guidance on the right way to do it. Their eyes should sparkle, hair should shine and skin should glow if they just do simple things that involve consuming food. Not eating food is not good. Being healthy is true luxury. I want to show that health, fitness and wellness are really what this modern world is about. I want to empower women. If you can feel good without anything on, you'll feel amazing in whatever you put on.