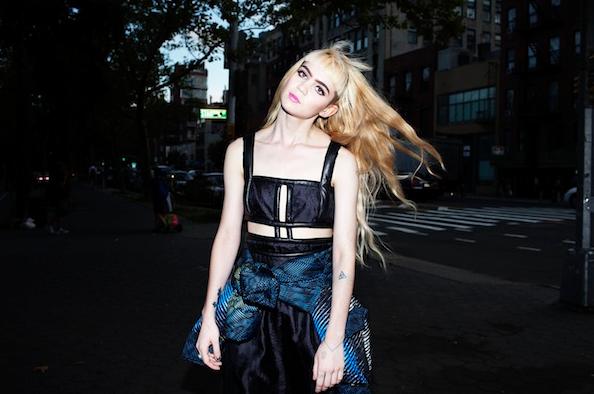 After
debuting "Go" 
-- a track Grimes and Canadian collaborator Blood Diamonds originally wrote for Rihanna (who passed), at the Governors Ball festival earlier this month -- Grimes has finally released the studio version for free.
The result is nothing like the spacey electro-Goth sound we first heard on her album
Visions
.
"Go" was clearly written for chart-topping radio success, aligning itself with the recent flux of pop-trap hybrids like Katy Perry's "Dark Horse" and Iggy Azalea's "Black Widow." The song opens with an eerie harpsichord melody, matched with Grimes' signature breathy vocals fluttering faintly above. "When I go, can I go with you?" she softly begs, as the track dramatically surges and drops with an aggressive dubstep climax, built for one of those underground fetish parties we've all heard horror stories about. Distinctly dark and club-ready, "Go" was released just in time for New York to erupt with
Pride this weekend
. Your loss, Rihanna.
Photo of Grimes by Eric T. White